All automobiles wearing the Porsche crest are special, but some play a larger role in history than others. When Porschephiles discuss the relative merits of the Stuttgart-built cars, the discussion typically includes Porsche's multiple motorsport victories claimed in-period over tough competition. By that measure, this 718 RSK is worthy of being included in any discussion of great Porsche competition cars.
Though Porsche powerplants usually came in at lower displacements than their rivals, the four-cam Type 547 'Carrera' four-cylinder engine designed by Dr. Ernst Fuhrmann was destined to become a legend in Porsche circles, especially when equipped with Weber twin-choke carburetors like those installed on this example. Producing potent output for its weight, this chassis, no. 718-006, became one of the few Werks Spyders campaigned by the factory team. The result was a consistent record of outsized victories on tracks around the world.
Itself a development of the already-heralded Type 550 A Spyder, which had been a contender for nearly a decade, the Type 718 RSK was a testbed for advanced engineering by the Porsche Motorsport Division. With all ten Werks racers constructed to different specifications to optimize them for different tracks and competitions, this chassis particularly was the beneficiary of several advanced features. Piloted in-period by drivers including von Trips, Bonnier, Herrmann, Maglioli, Barth, and McAfee, this is a prized Porsche indeed. Restored by marque expert Dick Koenig in 2012, this air-cooled icon is set for its next great appearance: Crossing the block at RM Sotheby's signature auction in Monterey 2022: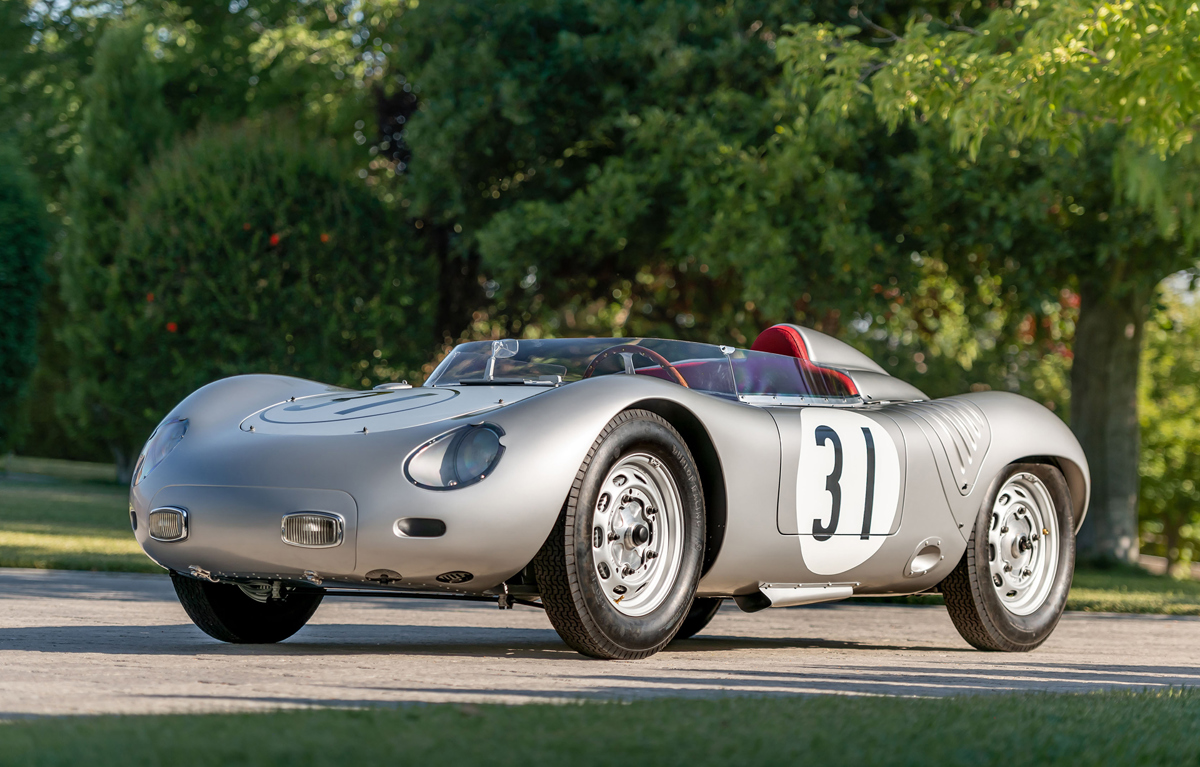 1959 Porsche 718 RSK Werks Spyder
Estimate: $4,800,000 - $5,200,000 USD 
It is worth taking a step back to think of the 718 RSK in terms of its place in history. A decade after the end of World War II, most competition-bred automobiles still shared a fundamental architecture that could be traced back to the horse-and-carriage era. With its mid-mounted engine and lightweight, tube-frame chassis construction, the 718 RSK was different from its peers from the ground-up. Producing between 150 and 170 horsepower depending on engine configuration, the 1,240-pound Porsche proved to be a useful tool in the hands of the team's skilled drivers.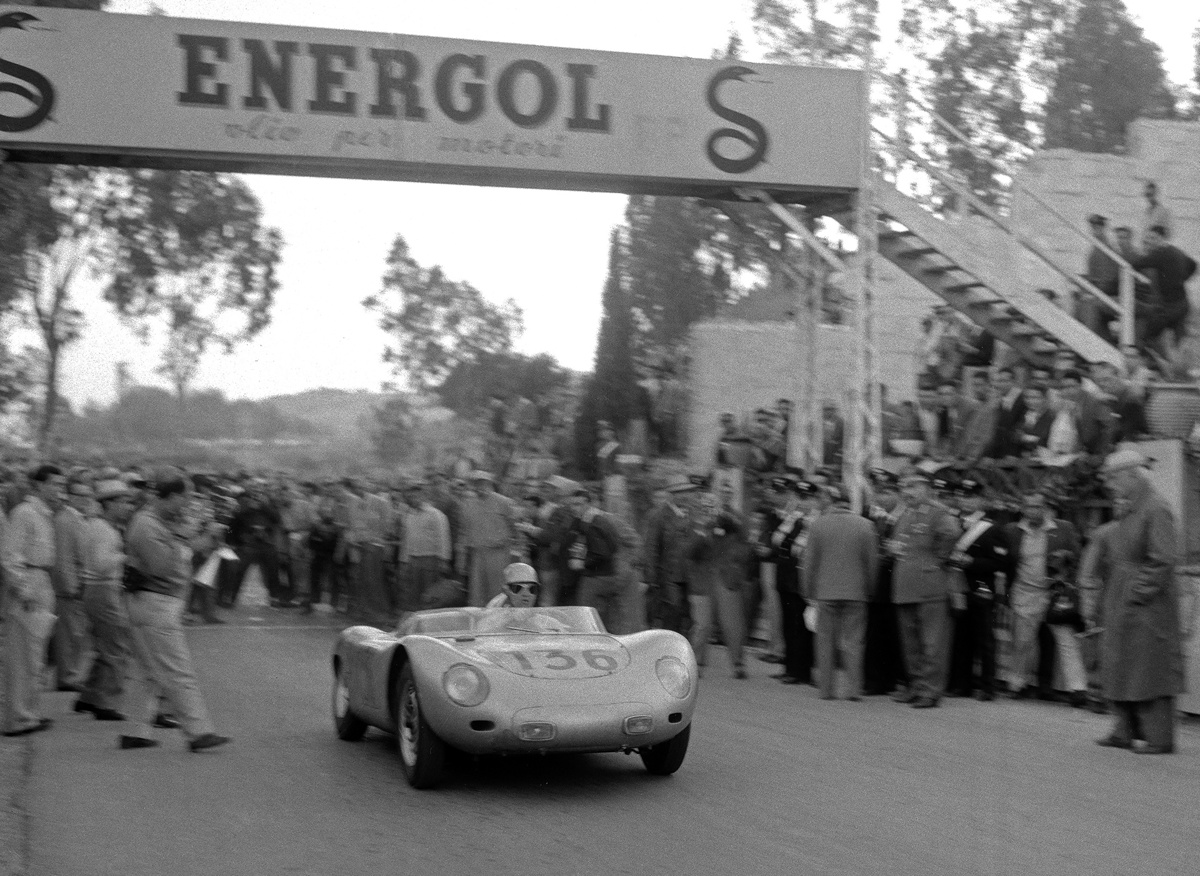 718-006 at the 1959 Targa Florio. Driven by Umberto Maglioli and Hans Herrmann. Courtesy of The Klemantaski Collection.
One of the most significant advancements, influencing the design of racecars ever after, was a novel suspension configuration featuring twin A-shaped control arms and coil-over springs at the rear. The so-called "double-wishbone" design debuted on chassis no. 718-006, at least as far as Porsche is concerned. Independent suspension helped this Werks Spyder put down power over rough surfaces, helping it remain stable on long-distance endurance races like the Targa Florio and the ADAC Nürburgring 1000 KM. Another experimental feature on some of the Werks chassis including this prototype racer was a very clever oil-filled radiator system, which was built-in to the front hood and intended to regulate the temperature of the fuel and oil tanks. The advancements underlined the intelligent features and thoughtful engineering that Porsche poured into its motorsports effort.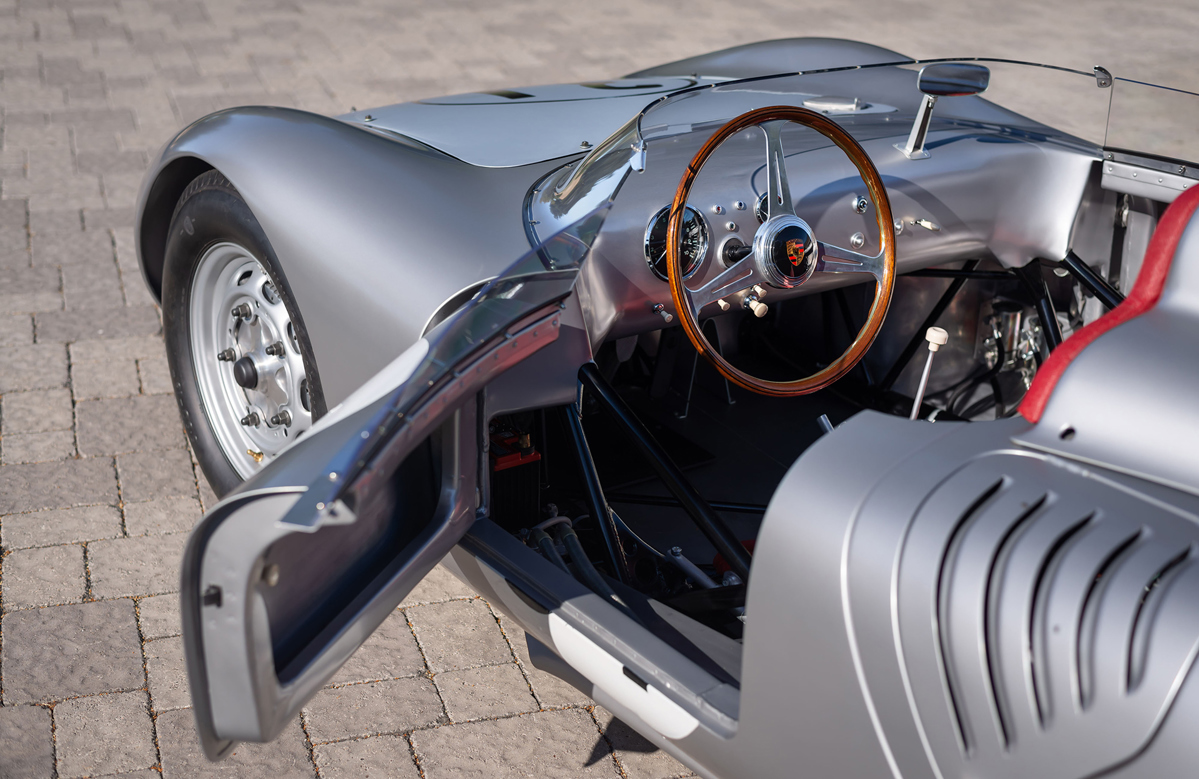 The list of prestigious racetracks where chassis no. 718-006 competed includes some of the most significant venues of the era, including the 24 Hours of Le Mans and the Targa Florio in 1959. Perhaps the biggest proof of its capability under difficult circumstances was a class victory at the Nürburgring 1000 KM, with Hans Herrmann and Umberto Maglioli taking up co-driving duties and finishing a respectable fourth place overall.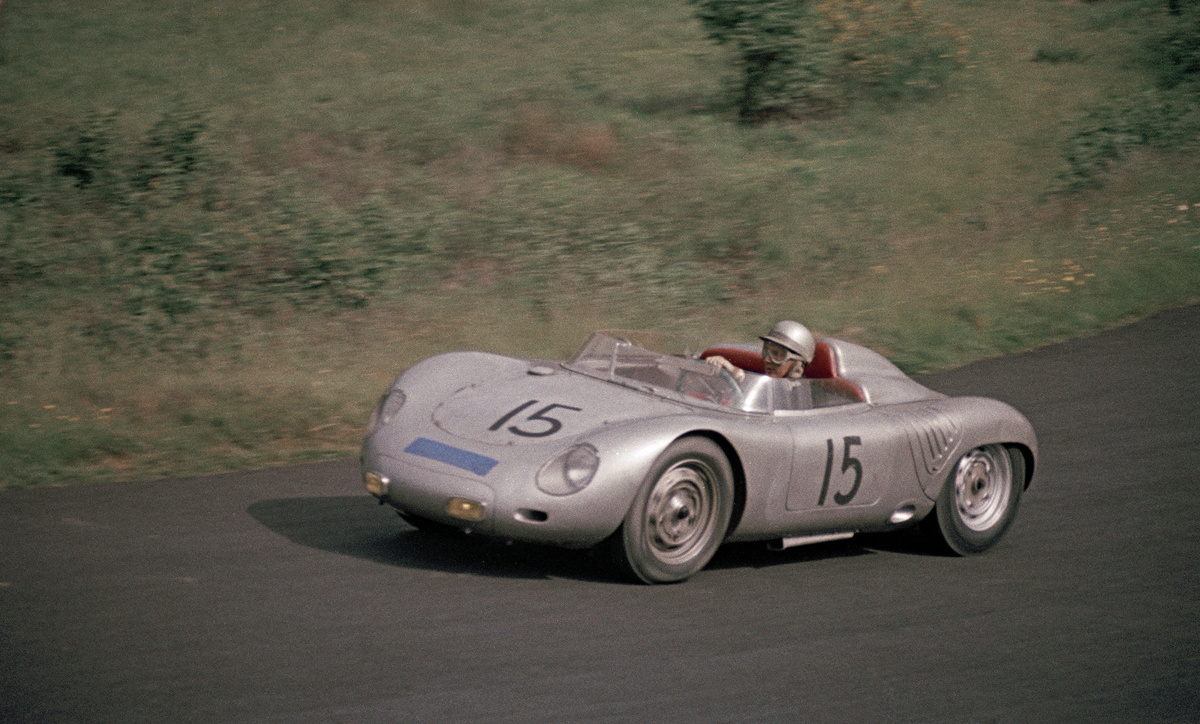 718-006 at the 1959 Nürburgring 1000 km on its way to a 4th overall and 1st in class finish, driven by Umberto Maglioli and Hans Herrmann. Courtesy of The Klemantaski Collection.
Earlier that year, this advanced racer earned a victory that would be the envy of any competitive car. At its debut outing, chassis no. 718-006 managed to finish first-in-class and third overall at the 12 Hours of Sebring endurance race. Wolfgang von Trips and Jo Bonnier split the driving duties and managed to cross the finish line before any of their Porsche teammates. The result was a resounding victory for the Stuttgart brand, with Werks-prepared 718 RSK entrants finishing in 3rd, 4th, 5th, 8th, and 10th overall. The positive outcome was celebrated by Porsche with a colorful poster designed by talented artist H. W. Kapitzki and distributed to their growing dealer network. An early and substantial piece of evidence that the Porsche ethos of racecar construction could succeed against tough competition.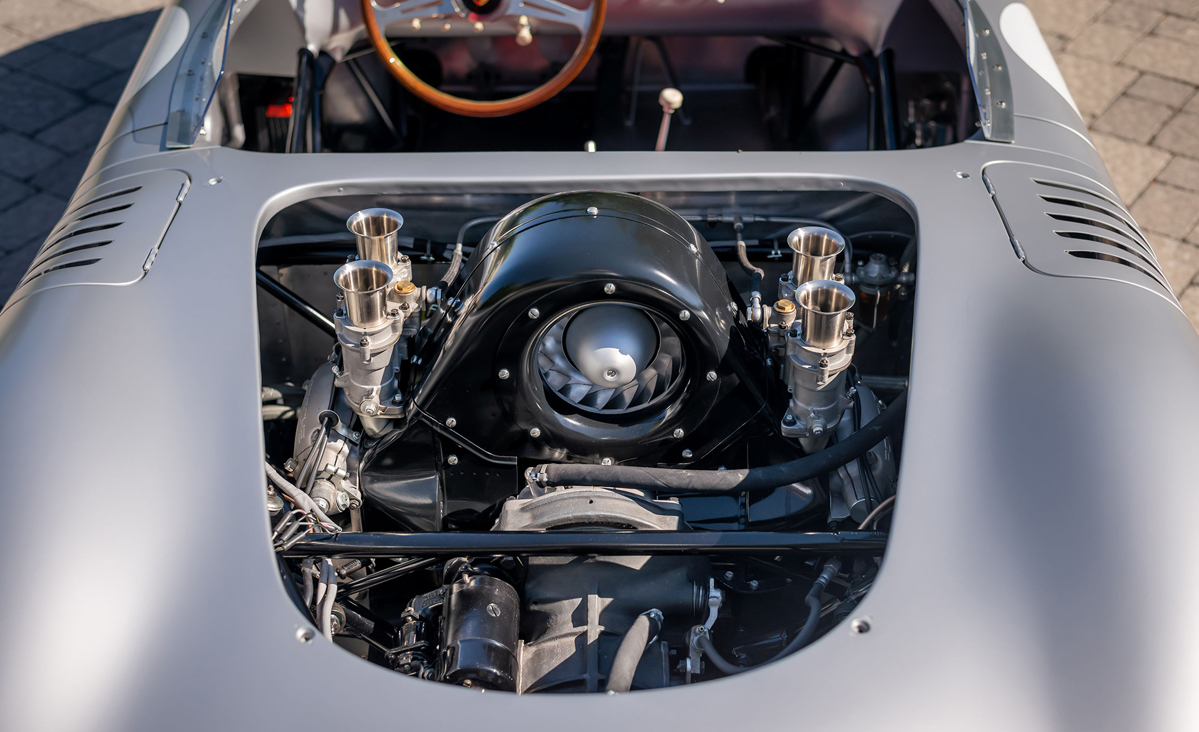 After its major endurance race victories, this four-cam Porsche also held its own at several events across Europe, scoring second-place at the Berlin Grand Prix in 1959 and fourth at the Karlskoga Motorstadion in Sweden.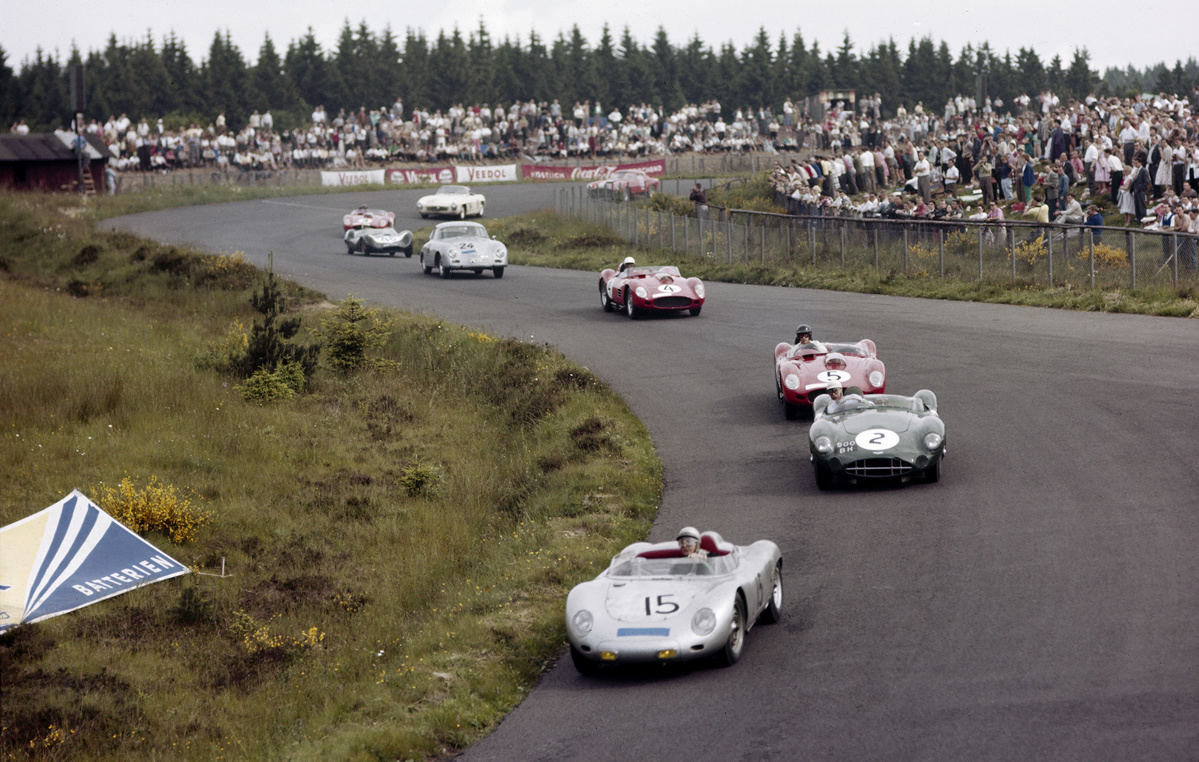 718-006 at the 1959 Nürburgring 1000 km closely followed into a turn by an Aston Martin DBR1 and a Ferrari 250 TR 59. Courtesy of The Klemantaski Collection.
Having fended off formidable opponents Ferrari and Aston Martin, this chassis was dispatched to The Bahamas to compete in the races held over Nassau Speed Week in December 1959 and hopefully attract an American buyer. While there, chassis no. 718-006 managed a third-place finish at the Nassau Trophy race. In sum, this Porsche scored a podium place in more than 50 percent of the races it entered, a win record that would be difficult to replicate in any era. The only thing that prompted Porsche to move on from the winning design underpinning chassis no. 718-006 was a change in the FIA regulations for the 1960 season, that would render the RSK uncompetitive.
Today, such a significant example would likely never be sold from the factory, but this artifact of motorsport history serves as a reference of how far the brand has come since then. Porsche stands for unyielding excellence, and a fair amount of that legend started with the 718 RSK.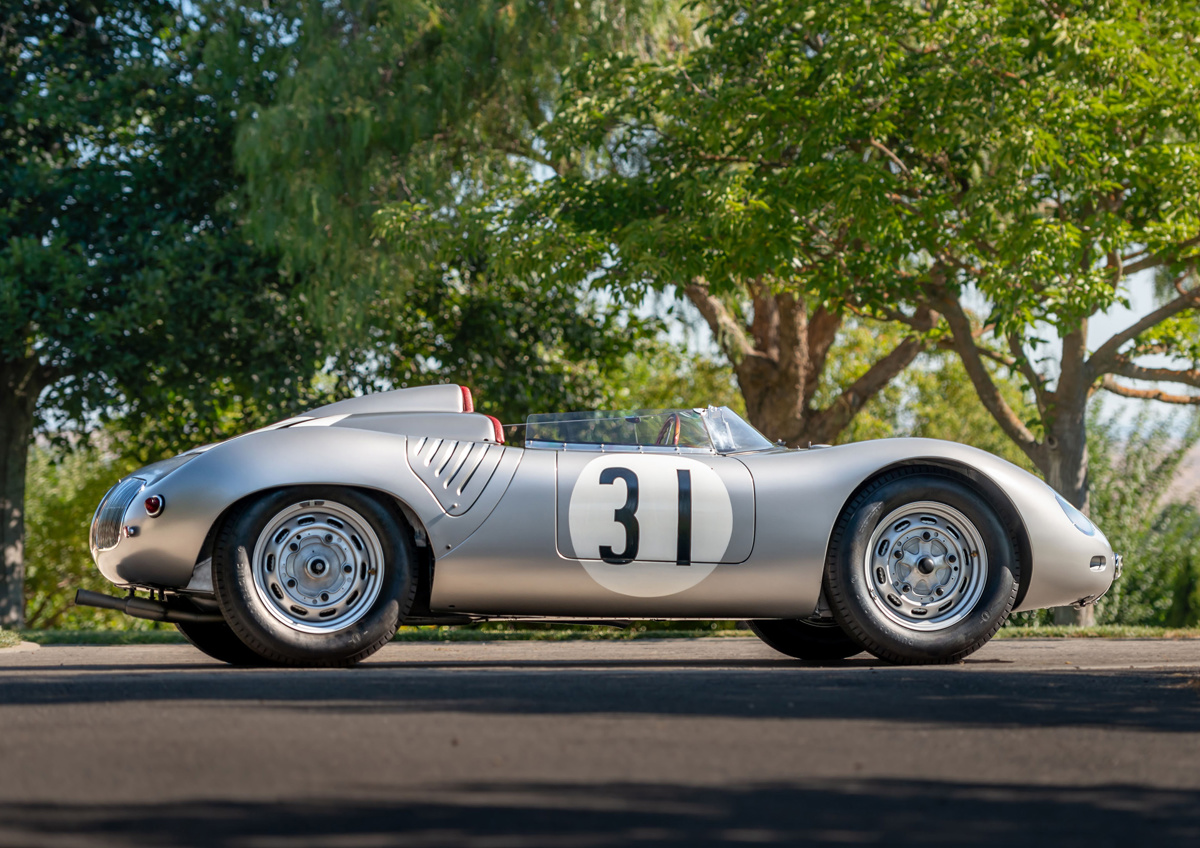 With a legacy that lives on in the company's modern lineup, this particular Porsche chassis had a stunning second act as a privateer-entered car, campaigned in vintage racing by German collector Dr. Klaus-Otto Räker. Returning to the site of its former outsized victory, during the 1985 Old-Timers Grand Prix at the Nürburgring, this stunning Porsche caught the eye of a young automotive designer named Grant Larson, who eventually created the Boxster in partial homage to the great mid-engined racer.
Owning a piece of Porsche motorsport history means a connection with the brand that not many collectors can claim. As the sixth of ten 718 RSK chassis prepared by the Porsche factory team, this example carries many memories in its chassis. With its considerable race history and innovative engineering, chassis no. 718-006 ranks as one of the most storied mid-century competition cars offered at RM Sotheby's signature Monterey 2022 sale.
For an even more extensive history and to browse the documentation associated with this celebrated Porsche race car, please click this link and be sure to tune in on 18 to 20 August to see the exciting result of this sale!