Representing Germany on the world stage in terms of automotive engineering is a feat that few cars can properly pull off. With a history that stretches back to the dawn of personal transportation, German cars are innovative by their very nature. The spirit of exploration that inspired Bertha Benz to take the world's first long-distance automotive journey in her husband Carl's three-wheeled Patent Motorwagen set a high bar indeed, and every German car made since has had to measure up to that legacy. With examples from both Porsche and Mercedes-Benz on this rare list of luxurious German sports cars, The Tenenbaum Collection can be said to represent the best-of-breed in terms of both technological advancements and desirable specifications.
Owned by an avid enthusiast and set to be offered at RM Sotheby's annual Arizona event, the chance to bid at the historic Arizona Biltmore Hotel and Resort and win one of these uncommon sporting examples is closer than ever. With the hammer set to fall on 27 January 2022, this is one opportunity that will not require much waiting. Perhaps the toughest consideration with The Tenenbaum Collection will be deciding which of these cutting-edge examples is the most appealing: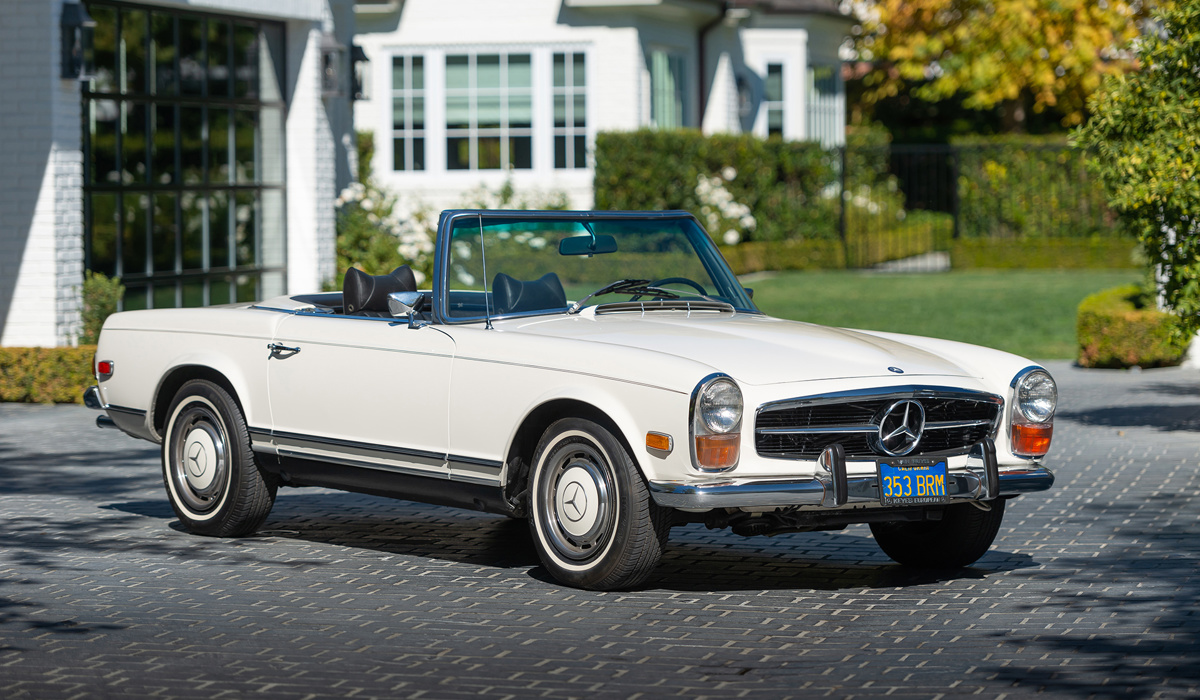 1970 Mercedes-Benz 280 SL 'Pagoda'
Estimate: $60,000 - $80,000 USD | Offered Without Reserve
While today we mainly think of the top-end Mercedes-Benz models in terms of technology-packed features and no-compromise luxury, the 'Pagoda' models prove that this conception has been part of the company's ethos for decades. Ironically, the 280 SL was intended as a simplification, at least in terms of the Mercedes-Benz lineup. Intended to replace both the dominant yet complex 300 SL as well as the lower-tier 190 SL with one universally appealing model, the 280 SL is notable for providing smooth power delivery from its inline-six-cylinder engine. This well-equipped example features the perfect accessory for top-up cruising: A Frigiking air conditioning system.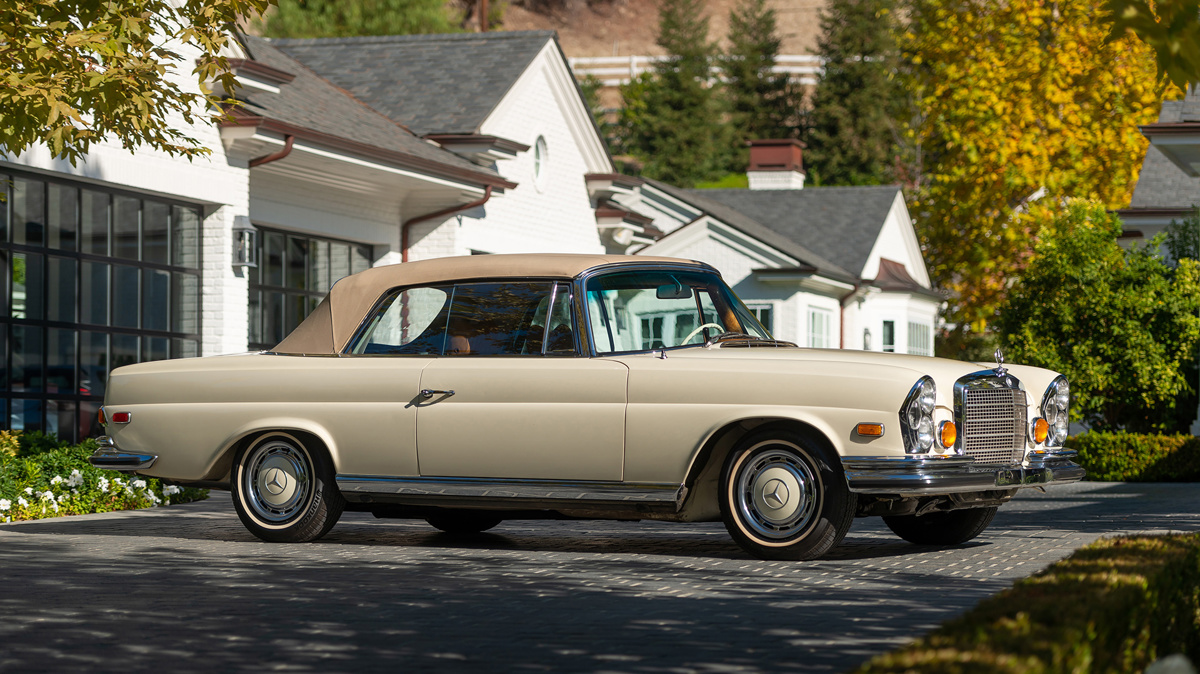 1971 Mercedes-Benz 280 SE 3.5 Cabriolet
Estimate: $300,000 - $350,000 USD | Offered Without Reserve
One of a mere 347 examples produced for 1971, this Mercedes-Benz 280 SE 3.5 Cabriolet is still cutting edge today in terms of its build quality. Considered to be the last model that was assembled mostly by hand by top Mercedes-Benz technicians in Stuttgart, the 280 SE featured a Bosch fuel-injected V-8 engine which was also advanced for its time and aimed at the American market. With sufficient power to handle even modern traffic, the 280 SE has become a favorite among collectors for its still-potent performance to complement its timeless style. It is no wonder that this example, which retains its handsome original Light Ivory over Cognac leather color combination, was kept by its original owner from 1971 until 2016. Equipped with factory air conditioning and rear power windows, this example shows how cutting-edge vehicles transition into timeless machines.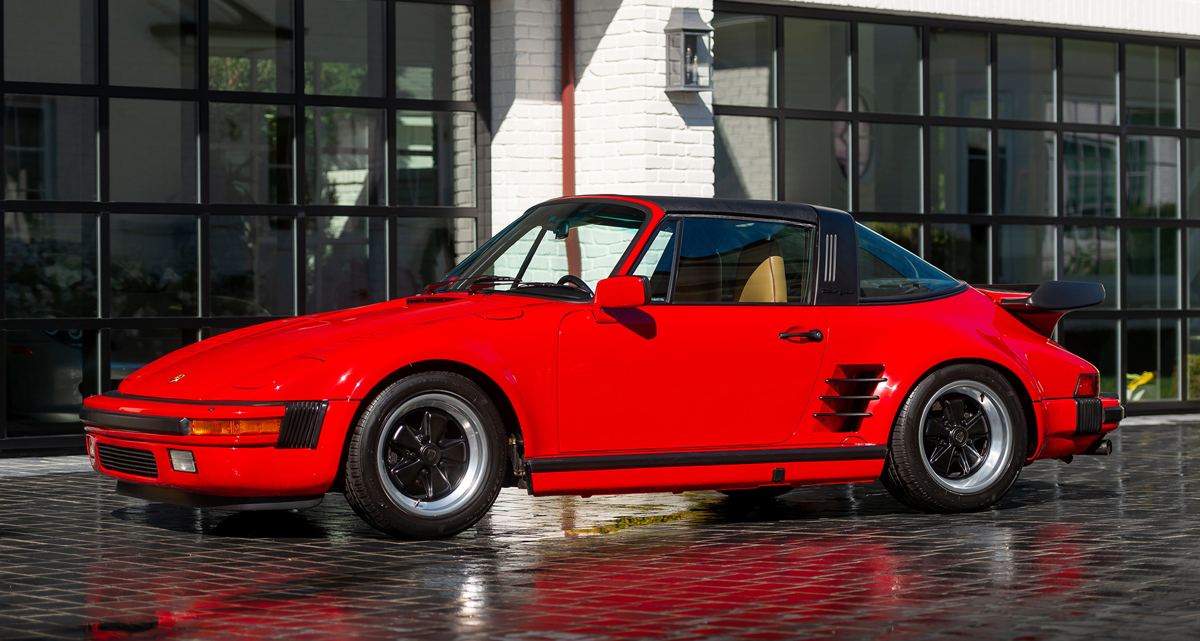 1989 Porsche 911 Turbo 'Flachbau' Targa
Estimate: $350,000 - $450,000 USD
Perhaps the most befitting of our descriptor of cutting-edge, at least in a literal sense, the 'Flachbau' (or "flat-nose") variant of the venerable Porsche 911 was engineered to echo the aerodynamic hood shape of the motorsport-spec 935. Few were ordered in-period in this specification, in part because of the extreme additional cost required, which totaled $23,244 in-period. This example is one of a mere nine 911 sports cars ordered for the United States with both the 'Flachbau' package and the Targa roof in 1989. Said to have been personally specified from the Porsche Special Wishes department and collected by its first owner, the head of the popular Sbarro restaurant chain, this example comes accompanied by a Porsche Certificate of Authenticity, showed fewer than 8,000 miles at the time of cataloguing, and is factory-equipped with the desirable G50 five-speed transmission.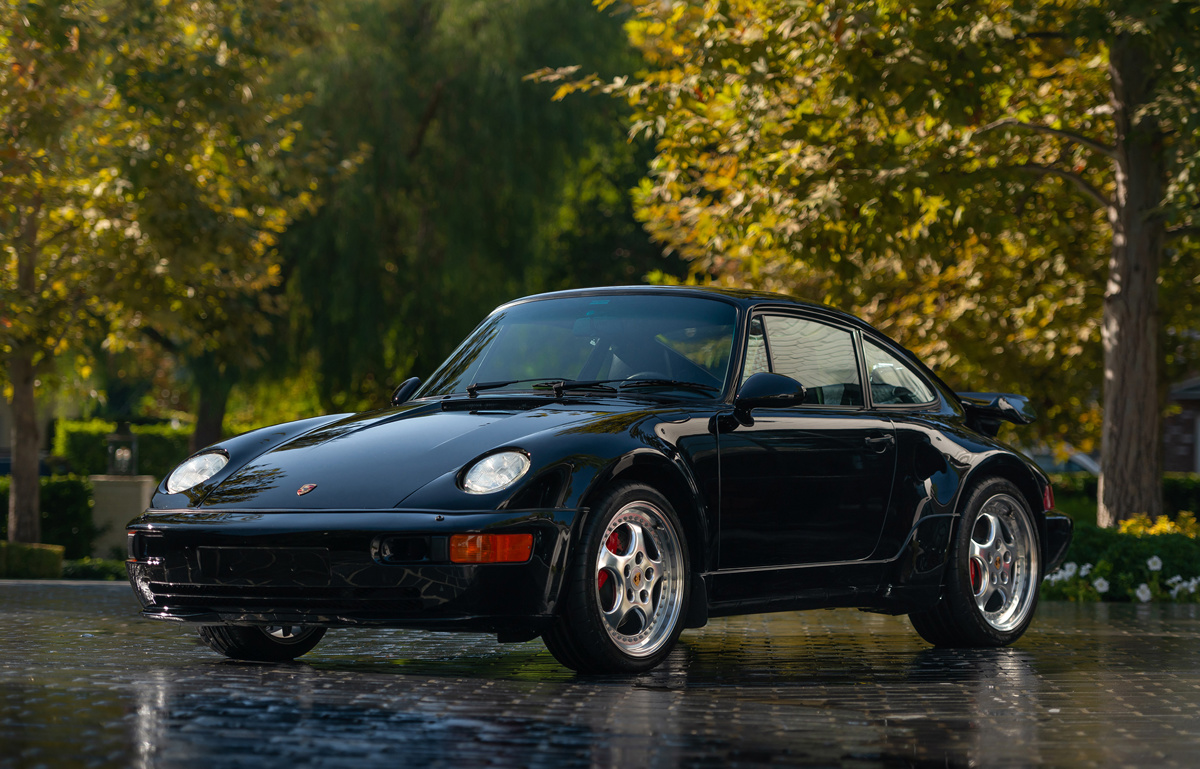 1994 Porsche 911 Turbo S 'Flachbau'
Estimate: $800,000 - $1,100,000 USD
Some examples fit the definition of top-of-the-line perfectly, as is the case with this 964-generation Porsche 911 Turbo S. Another beneficiary of the lineage from the Porsche 935, this 'Flachbau' example shows the differences in "flat-nose" style offered by the Stuttgart firm under option code X85. Part of this look was accomplished because of the pop-up headlights, similar in function to the 928 and 968. But underneath the surface, this example shows off even further, with an X88 engine upgrade option which delivered 25 additional horsepower courtesy of a larger KKK turbocharger, a more efficient intercooler, and more boost. Asymmetrical 959-style air ducts added even more intake to the flat-six engine. This example, one of a mere 39 made to U.S. specifications, is elevated further still by its black interior, exterior, and headliner, making it a highly desirable "triple-black" Porsche. With an odometer reading showing only 3,800 miles, this may be the ideal Turbo S for you.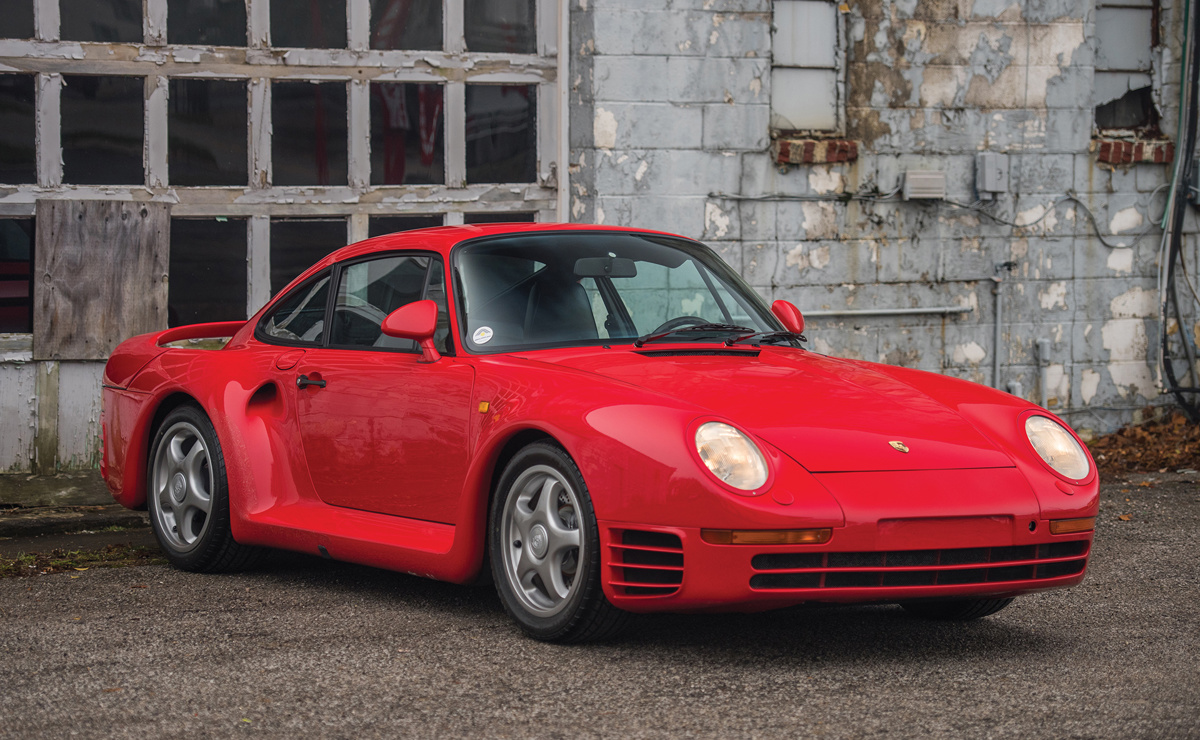 1987 Porsche 959
Estimate: $1,200,000 - $1,500,000 USD
Of course, The Tenenbaum Collection also includes three heavy hitters when it comes to Porsche supercars. Made with four-wheel-drive technology that was truly groundbreaking at the time, the 959 was developed initially as a homologation car for Group B rallying. Though its twin-turbocharged engine has only 2.8-litres of displacement (only slightly larger than the venerable 2.7 RS), its power output is substantial, producing 444 horsepower. In a first for a production Porsche, the 959's six-speed gearbox featured a Gellinde gear, expressly for crawling over terrain. This example has traveled only 14,000 km from new; its Guards Red-over-black color scheme is nothing short of iconic. Once again, The Tenenbaum Collection offers tantalizing choices for Porschephiles.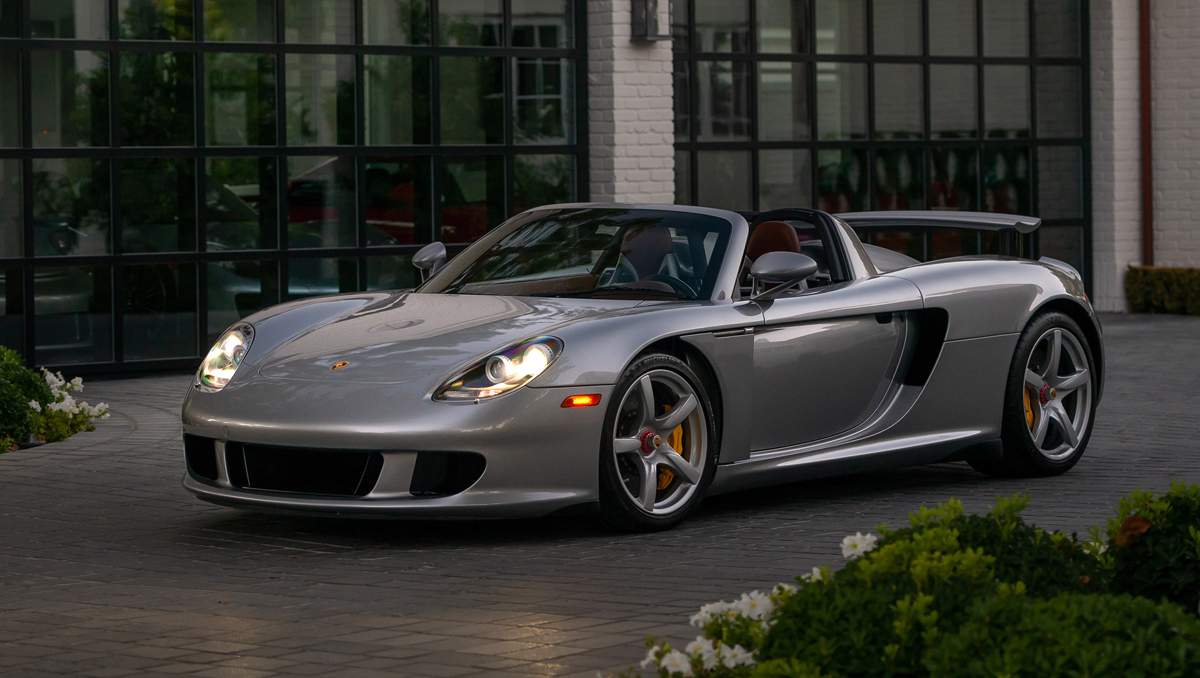 2005 Porsche Carrera GT
Estimate: $1,000,000 - $1,300,000 USD | Offered Without Reserve
Once again, the Carrera GT represents an advancement from motorsport that filtered down into the finest Porsche models. In this case, the V-10 powerplant itself was first famously destined for Formula One before their racing partnership with team Footwork was abruptly canceled, then the motor was chosen for a similarly ill-fated LMP1 car designed to race at the 24 Hours of Le Mans. Transforming these minor motorsport misfortunes into a supercar unlike any other is part of the magic of Porsche; the racing roots of the Carrera GT's V-10 mean that it revs like a car built for competition. This example, wearing a tasteful color combination of Classic GT Silver over Ascot Brown leather, has only three owners from new and has traveled approximately 5,400 miles. With a seven-piece luggage set accompanying the sale in matching Ascot Brown leather, one begins to imagine treating this iconic engine to a celebratory road trip.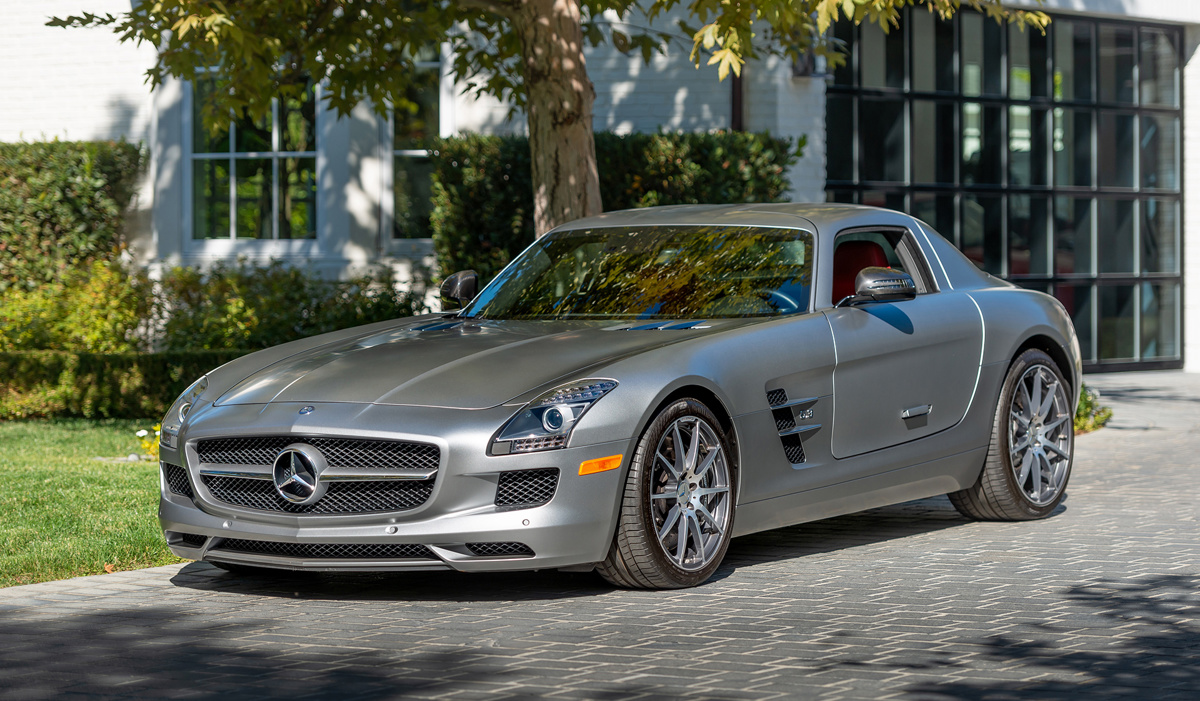 2011 Mercedes-Benz SLS AMG Coupe
Estimate: $225,000 - $275,000 USD | Offered Without Reserve
A brief detour from our Porsche-centric supercar list, this Mercedes-Benz SLS AMG Coupe represents a spiritual successor to perhaps the most famous car ever released by the three-pointed star brand. With its signature "Gullwing" doors designed with tiny explosive charges to dislodge in the case of a roll-over accident, the modern SLS AMG takes the template of the 300 SL into the 21st century. Of course, equipped with an AMG-designed, 6.2-litre dual overhead cam V-8, the modern version carried the benefit of two extra cylinders. This example benefits from its single ownership status by The Tenenbaum Collection, with fewer than 3,470 miles showing at the time of cataloguing. Ordered new with desirable options such as the AMG Performance suspension, Bang & Olufsen BeoSound audio system, and interior and exterior carbon trim accents, this designo Magno Allanite Gray over Exclusive Red leather SLS AMG is a worthy successor indeed.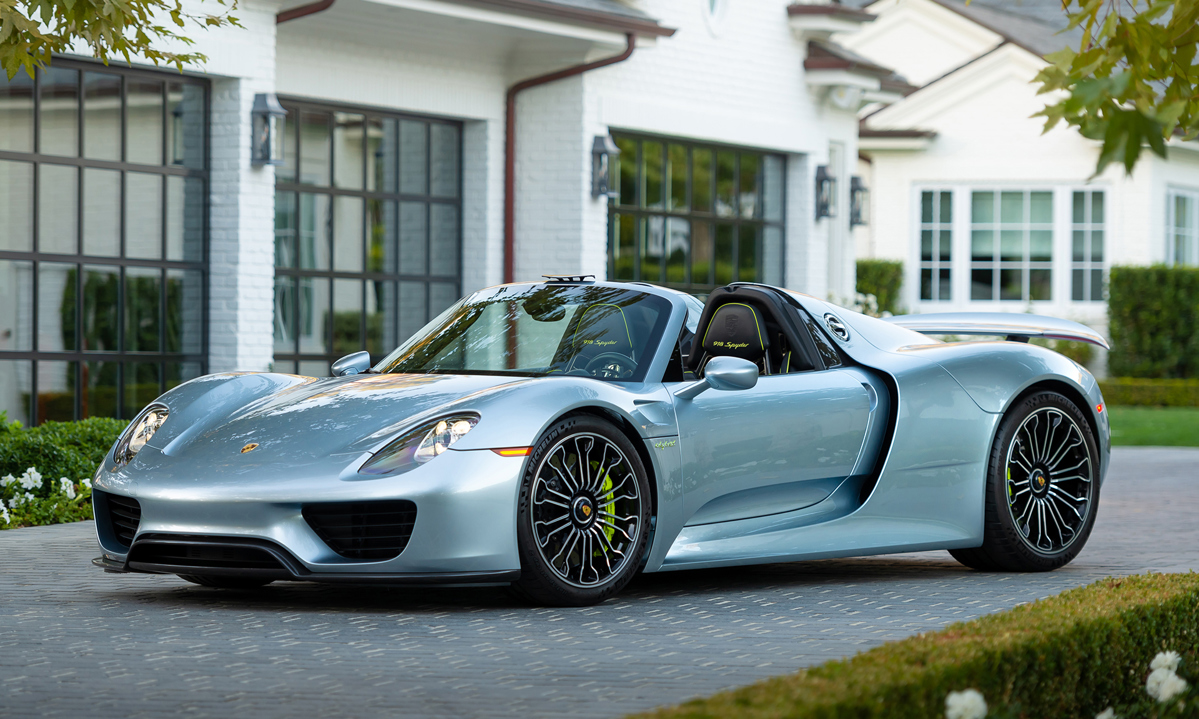 2015 Porsche 918 Spyder
Estimate: $1,200,000 - $1,400,000 USD
A worthy end to our rumination on the qualities of cutting-edge cars, this exceptional Porsche 918 Spyder will likely forever be measured up against its competition. Unlike the McLaren P1 or Ferrari LaFerrari, the 918 Spyder made the most out of its hybrid drivetrain, allowing the Porsche to travel on its electric battery alone. Though the range was limited to twelve miles, the 918 Spyder doubtlessly pushed Porsche into greater levels of EV experience, which notably paid off in their successful launch of the Taycan model. This example is only two owners from new, with a mere 1,396 miles covered at the time of cataloguing. Optioned with this gorgeous Liquid Chrome Metal Blue exterior paint (an extremely desirable option originally priced at $53,000) and a striking interior of Authentic Onyx Black with Acid Green piping, this example was the 465th built of 918 total. A fitting finish for our list of highlights, all heading to Arizona in 2022. Stay tuned!