Practically no automaker can claim to be as associated with a single color more than Ferrari with red. When wearing the official competition colors of its native Italy, sports cars built by the prancing horse brand have captivated luminaries ranging from racers Jim Hall and Carroll Shelby to rock-and-rollers Nick Mason and Brian Johnson. With Rosso Corsa becoming de rigueur for so many Ferrari owners worldwide, it takes an inspired client to order their new sports car in any other shade. And yet, for the most colorful connoisseurs, Ferrari offers a special program called Extra Campionario. Practically any shade could be chosen, including the lovely Verde British exterior on this 2005 Ferrari Superamerica.  
Already a special edition variant, one of a mere 170 produced for the US market, this 21st century supercar is essentially a one-of-one. Paired with a stunning interior in Crema leather with contrasting Bordeaux piping, this Extra Campionario example was ordered early in the Superamerica's production run and was delivered to its original owner in July 2005 at one of the brand's most prestigious importers, Miller Motorcars of Greenwich, Connecticut. Acquired by its current consignor in February 2017, this two-owner example has been cherished for its unique qualities. Blessed with a perfect color scheme, RM Sotheby's is proud to announce that this Verde British Ferrari will join its other offerings at our signature auction in Monterey, California, from 18 to 20 August 2022.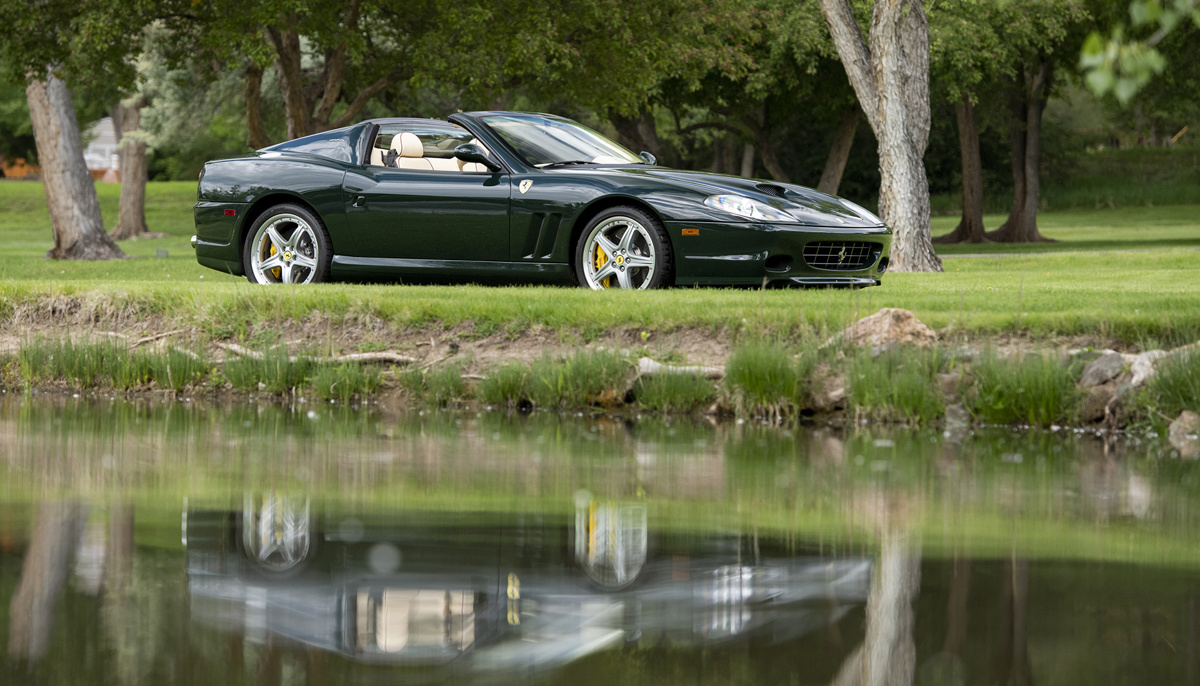 2005 Ferrari Superamerica
Estimate: $330,000 - $360,000 USD
Named for a lineage of top-of-the-line Ferrari touring coupes, the Superamerica of the early 2000s lived up to its predecessors with its front-mounted 5.7-litre V-12 engine. A modified version of the powertrain in the grand touring 575, the engine in the Superamerica produced 532 horsepower at 7,250 rpm. And with its signature Revocromico hardtop fully open and optional sports exhaust singing, certainly the driver of this Verde Ferrari will get to experience the improved sound of this Ferrari in any environment.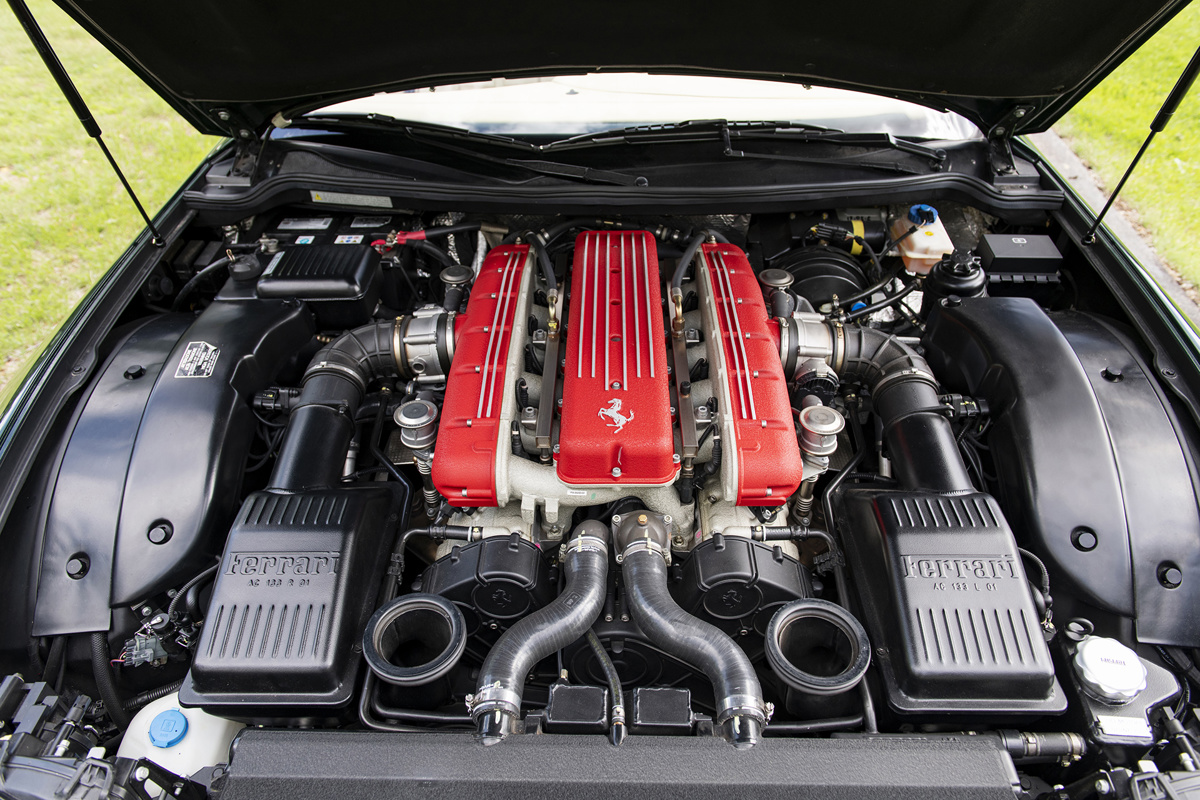 With fewer than 11,870 miles on its odometer at the time of cataloguing, this Ferrari has been exercised appropriately, but not excessively, by its two prior owners. Critical for many followers of cars from the family tree of the Ferrari 575, this example was originally specified with the performance-oriented "GTC" package, which added ceramic brakes, a stiffer suspension, sport exhaust, and special 19-inch, three-piece modular wheels.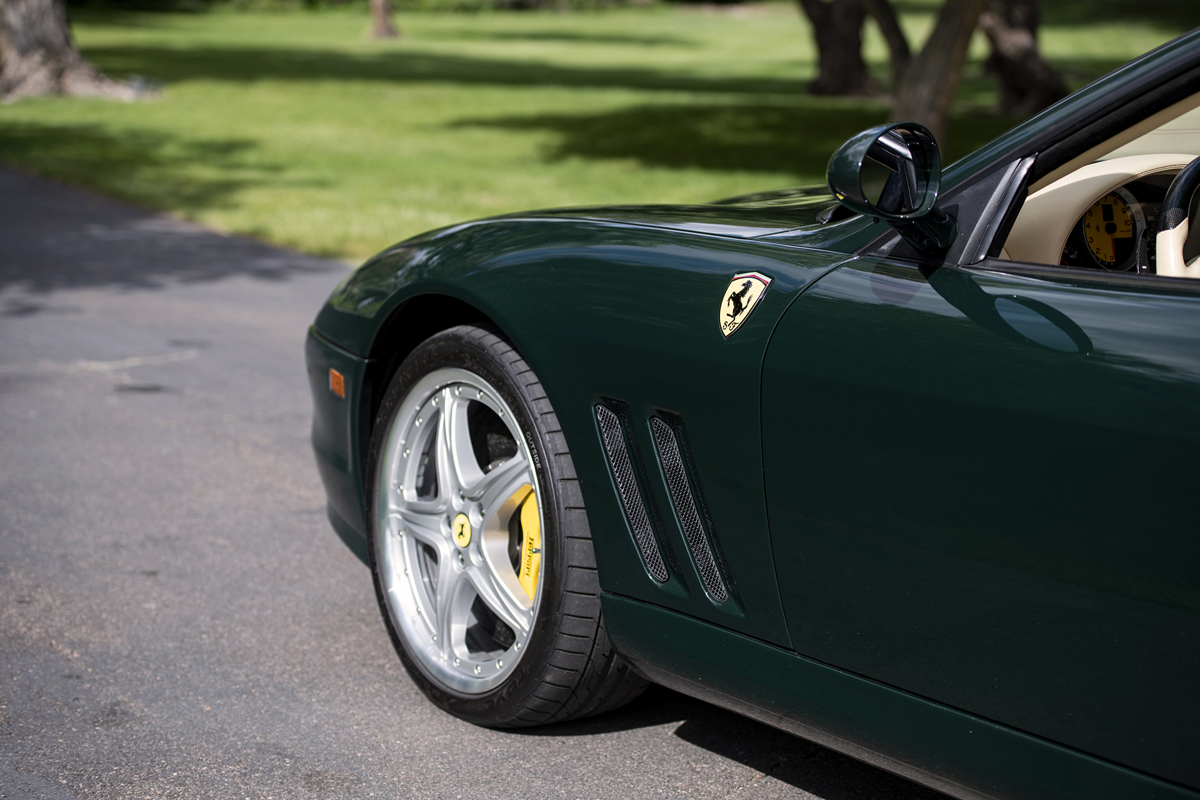 Yellow brake calipers match the Scuderia side shields. Designer Lorenzo Ramaciotti is credited with overseeing the overall design of the 575 Maranello at Pininfarina, perhaps the peak of a career that spanned from the Ferrari 456 GT to the recent Alfa Romeo 4C. Ramaciotti's classic proportions make this car one of the great modern grand tourers. But the signature feature of the Superamerica variant had to be its patented Revocromico roof, developed in conjunction with French supplier Saint-Gorbain. The advanced setup got an article in Popular Science and reportedly opened in six seconds.

Known for being able to control the amount of light inside the cabin, the Superamerica's roof could become nearly opaque, allowing only one percent of solar rays to pass.  The process of darkening and lightening took about sixty seconds in total and represented a real leap forward in automotive interiors. Built with lightweight carbon fiber, the roof also allowed the Superamerica to achieve a real record of the fastest production convertible in the world, nearly 200 mph, a distinction it held until the Bugatti Veyron Super Sport debuted in 2008. Most critically, with supplies of the novel Superamerica convertible top reported to be scarce, it is comforting to know that this example's Revocromico roof was replaced by Ferrari of Scottsdale, Arizona, in 2014.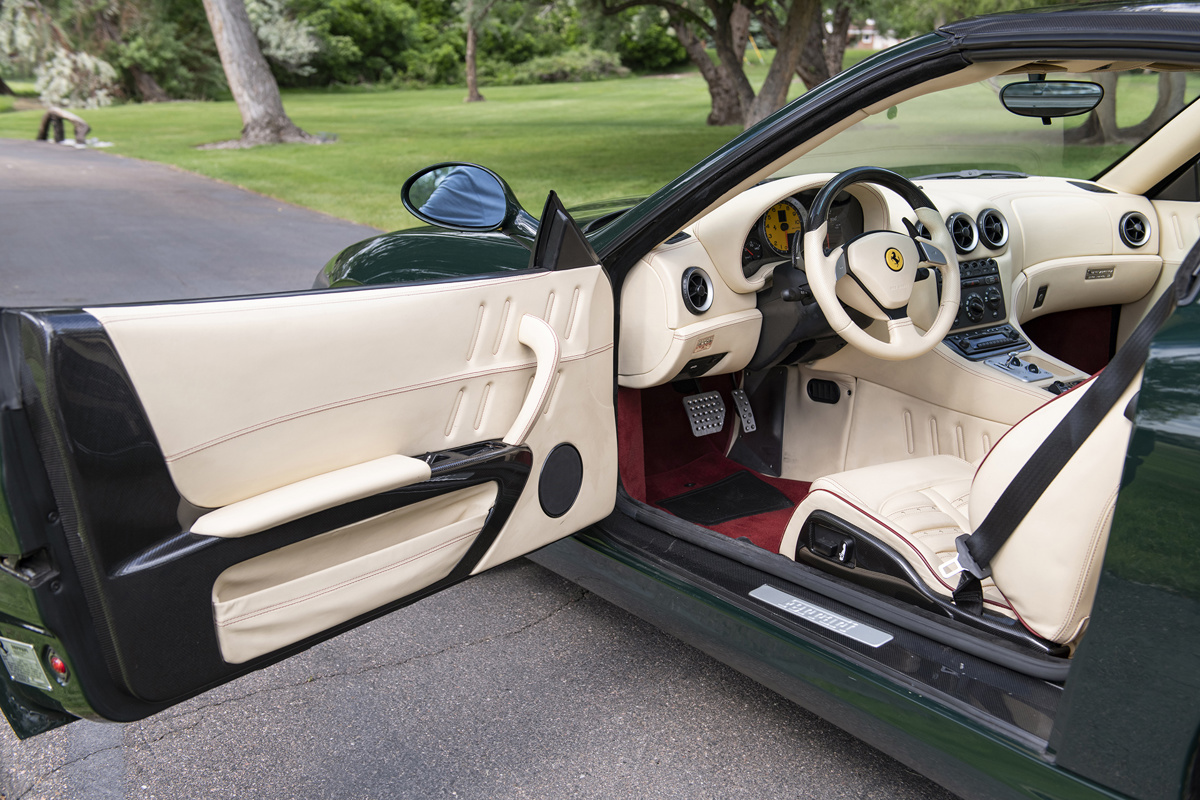 With its stunning Crema-and-Bordeaux leather interior scheme complementing its delicate Daytona-style seats perfectly, this example showcases the practical thinking behind the Superamerica's trick roof. As the driver exits the car on a hot day, the Revocromico roof was programmed to darken, protecting the cabin. A specially ordered yellow tachometer and a generous, though restrained, helping of carbon fiber accents complete the interior of this tasteful Ferrari.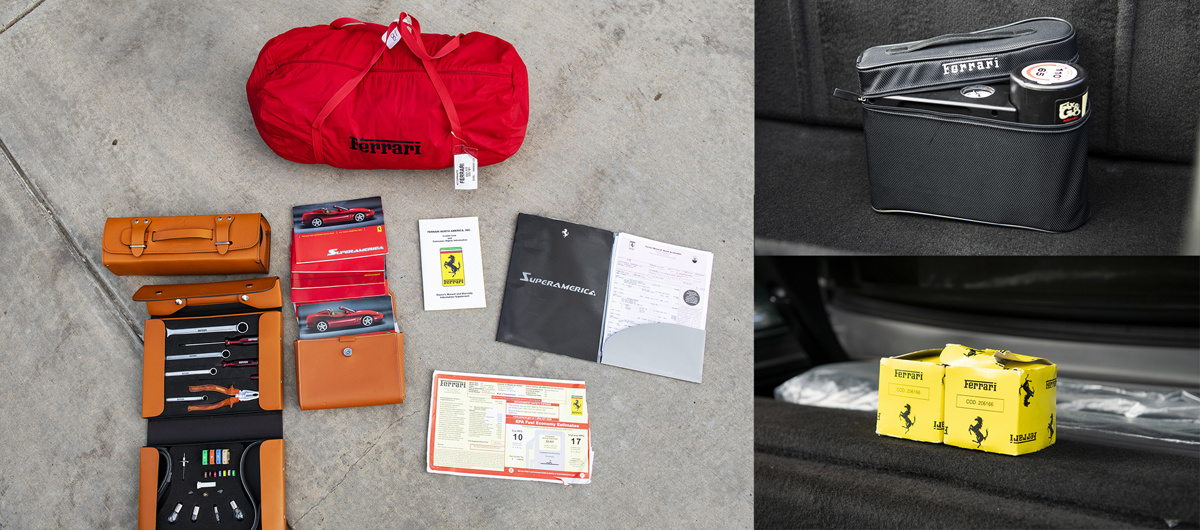 Accompanied by an extensive set of accessories spanning from its original window sticker to a complete tool set, tire pump, and two oil filters, this Superamerica has been in fine stewardship. For those who want a truly unique Ferrari, one needs to locate not just the limited-edition variants, but also source and select the truly exceptional among that already special group. This Verde British Superamerica is one of those special cars, embodying its Extra Campionario status with style. With its top up or down, it is certain to draw a crowd at RM Sotheby's Monterey 2022 auction.
For more info, a detailed photo gallery, and to register interest in this very special Ferrari Superamerica, please click this link and best of luck to all interested bidders.