Consider the time of this article's publishing as the start of the clock's ticking on your holiday shopping season. Don't let any more sand slip through the hourglass and do some one-stop-shopping at RM Sotheby's Hoods & Hands online auction. For the perusal of the discerning automobilia shopper, we offer an incredible selection of rare timepieces that are the perfect adornment for those with automotive inclinations. We also offer a fine assortment of hard-to-find ornaments from our hood to your tree. Any enthusiastic motorist would be thrilled to own these rare and interesting pieces, all offered without reserve.
Here are 13 rare and unique pieces you could acquire courtesy of RM Sotheby's Online Only: Hoods & Hands Auction.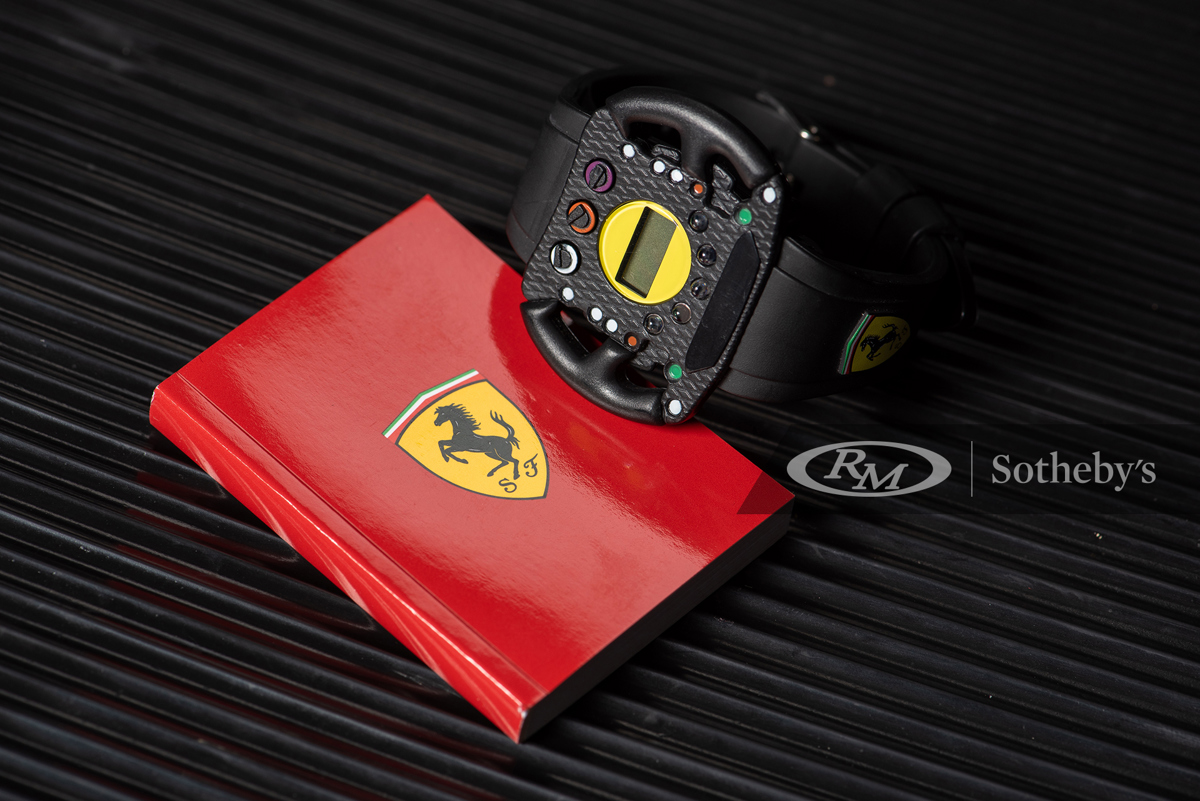 Lot 310: Ferrari Formula 1 Steering Wheel Wristwatch by Movado Group, 2018
Estimate:  $250-350
A unique and very unusual piece. This wristwatch comes from a limited production run and does not have an equivalent. The phenomenal detail work makes it seem more like a scale model of a steering wheel than a watch.  While you can find many Ferrari-branded watches, you would be very hard pressed to find one of these F1 steering wheel watches now, especially one that was never worn and has its original box and booklet.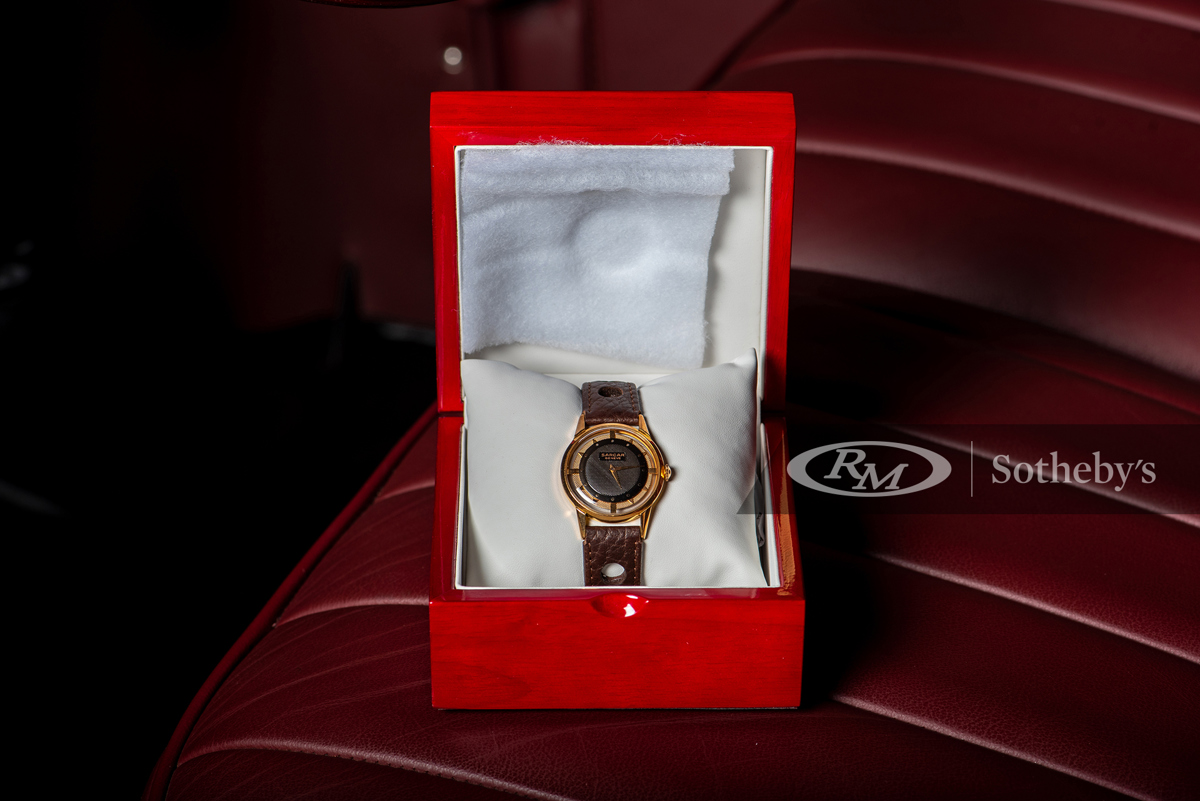 Lot 377: Ghia Wristwatch by Sarcar Geneve, ca. 1960s
Estimate:  $1,200 – $1,500
Produced for the renowned Italian coachmaker Ghia, wristwatches like this are incredibly rare. The majority of collectors do not even know about them. This piece was designed as a timepiece for Ghia executives and VIP customers and was never publicly offered. It is an extremely uncommon piece that does not surface often. It features excellent, high quality Swiss movement and a skeleton back with see-through case which were always features of higher end specialty watches in the 1950s-1960s. The imprinting of the Ghia name logo on the inside of the underside crystal is very special and was costly to produce back when this was made. This piece would be the perfect gift for the Italian automotive aficionado.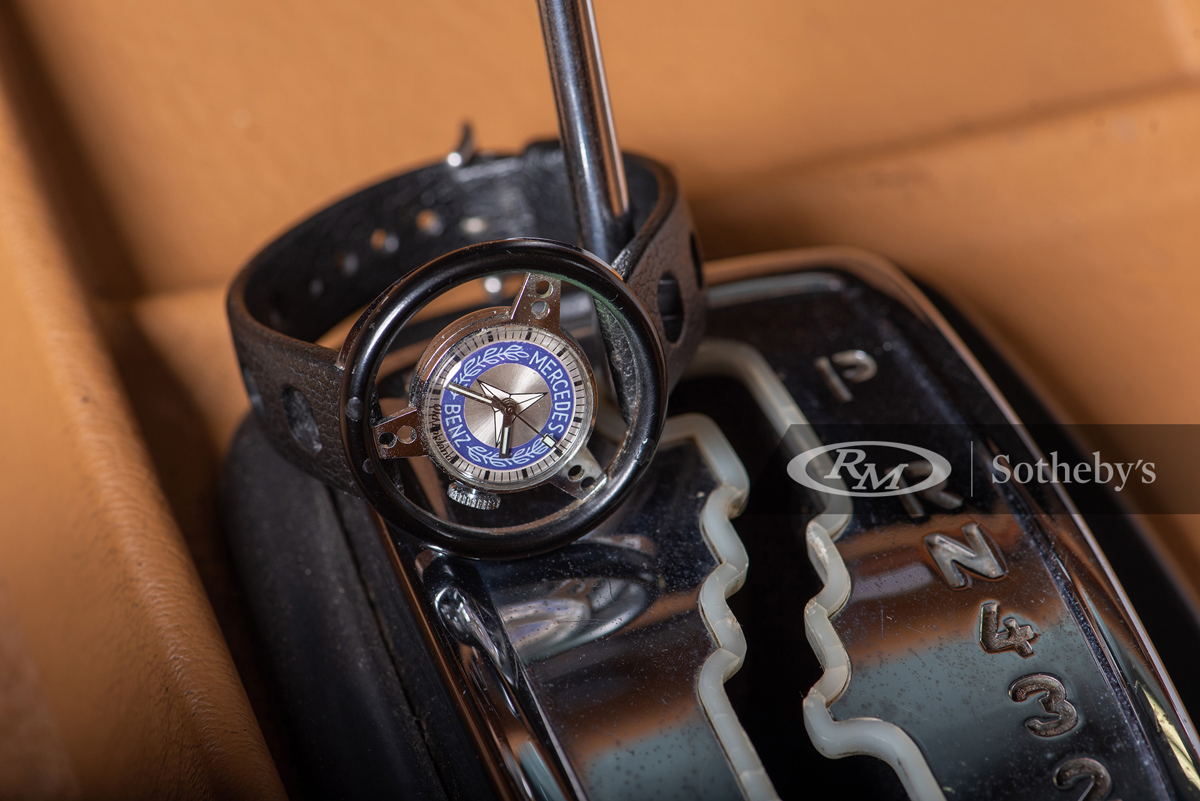 Lot 350: Mercedes-Benz 'The Motor Wrist' Steering Wheel Wristwatch by Old England, ca. mid-1960s-1972
Estimate:  $500 - $800
The Mercedes-Benz Steering Wheel Wristwatch is one of the most sought after in this series. This piece in particular is difficult to find, especially with the combination of: working condition, black outer steering rim, original Topic Sport strap, and original crystal with Old England imprinted on the inside. This Mercedes-Benz piece is not the only one of its style in the collection: There are 18 lots with 'The Motor Wrist' offerings bearing the marques of Alfa Romeo, BMW, Datsun, Union 76, Ferrari, Ford, Jaguar, Lancia, Maserati, Plymouth, Pontiac, Porsche, and Triumph, as well as the GT, Corvette brands. Any of these stylish pieces would be the ultimate timepiece for the serious collector.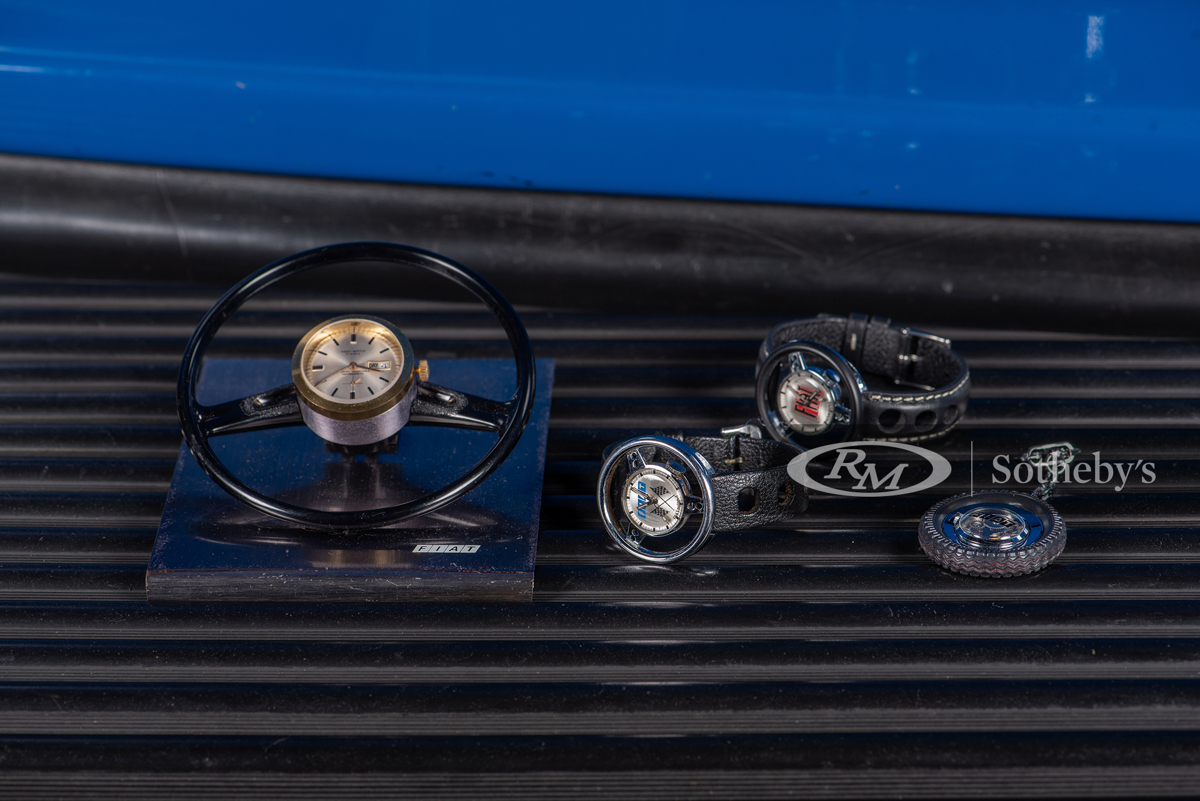 Lot 379: Four Fiat Timepieces, ca. mid-1960s - 1972
Estimate:  $2,000 - $3,000
Internationally sourced over a period of several years, the collection found in this lot is the one and only complete set of its kind. It is next to impossible to find both of these FIAT steering wheel wristwatches, let alone in such excellent condition. The tire key fob watch by itself is an incredible find - few were made and never available to the public. An added bonus is that it comes with its original box. The imprinting of the FIAT name logo on the inside of the underside crystal is very special and was costly to produce at the time of creation. Steering wheel desk clock is in superb condition, especially for its age.  It is another incredibly rare piece that was never available to the public.  Extremely limited production.  Steering rim with inner spring works perfectly to hold papers in place.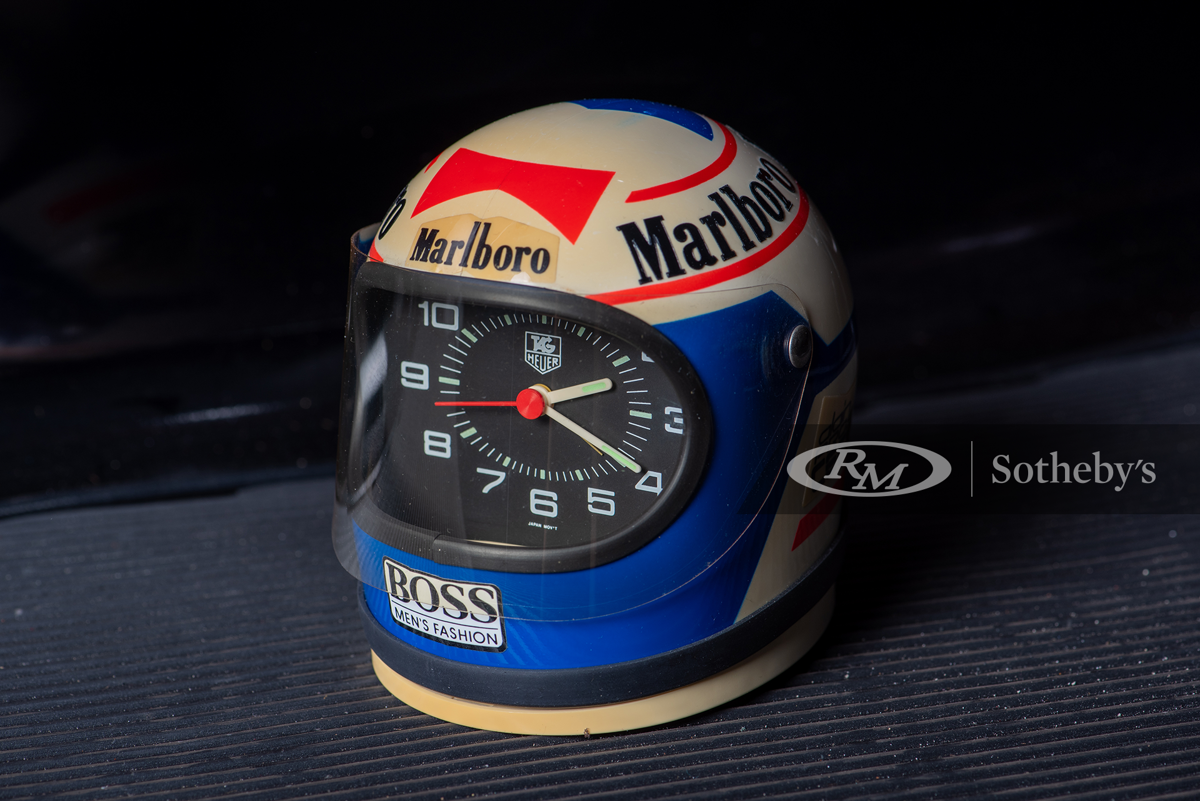 Lot 365: Alain Prost Race Helmet Alarm Clock by Tag Heuer
Estimate:  $600 - $900
This piece is still in prime operating condition in spite of its age. It is a rare find in never-used condition with its original box. Signed dial: Tag Heuer. Manufactured over 30 years ago, this piece represents a salute to one of the greatest Formula 1 race drivers of all time: "The Professor" Alain Prost. Prost once held the Formula 1 win record before he was surpassed by Michael Schumacher. This piece is one of the most sought-after collectibles in this series of Tag Heuer collectibles. It is unlikely that anything similar will be produced again.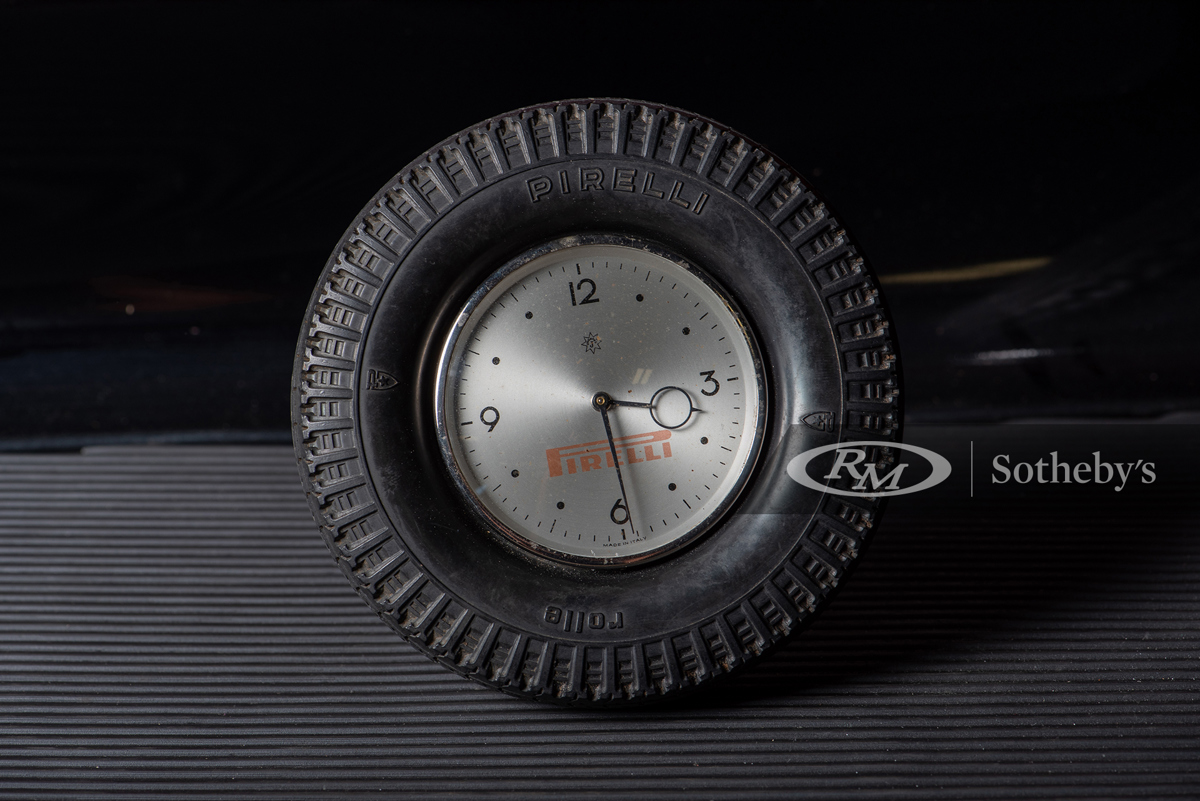 Lot 367: Pirelli Tire Desk Clock by Unchans, ca. early-1960s
Estimate:  $600 - $900
Found in Italy, this extremely rare piece is in exceptional condition and features a signed dial by Unchans. This is the rarest of Pirelli tire desk clocks. Mechanical movement tire clocks such as this are more sought after than the electric type. It features a hinged stand on the back side as well as a hook mount to be displayed on either a table or a wall. The tire itself is still soft and pliable with great tread detail and lettering and logos on both sides. This piece is an excellent example of a limited-edition collectable that shows off the longevity of Pirelli products even at a small scale.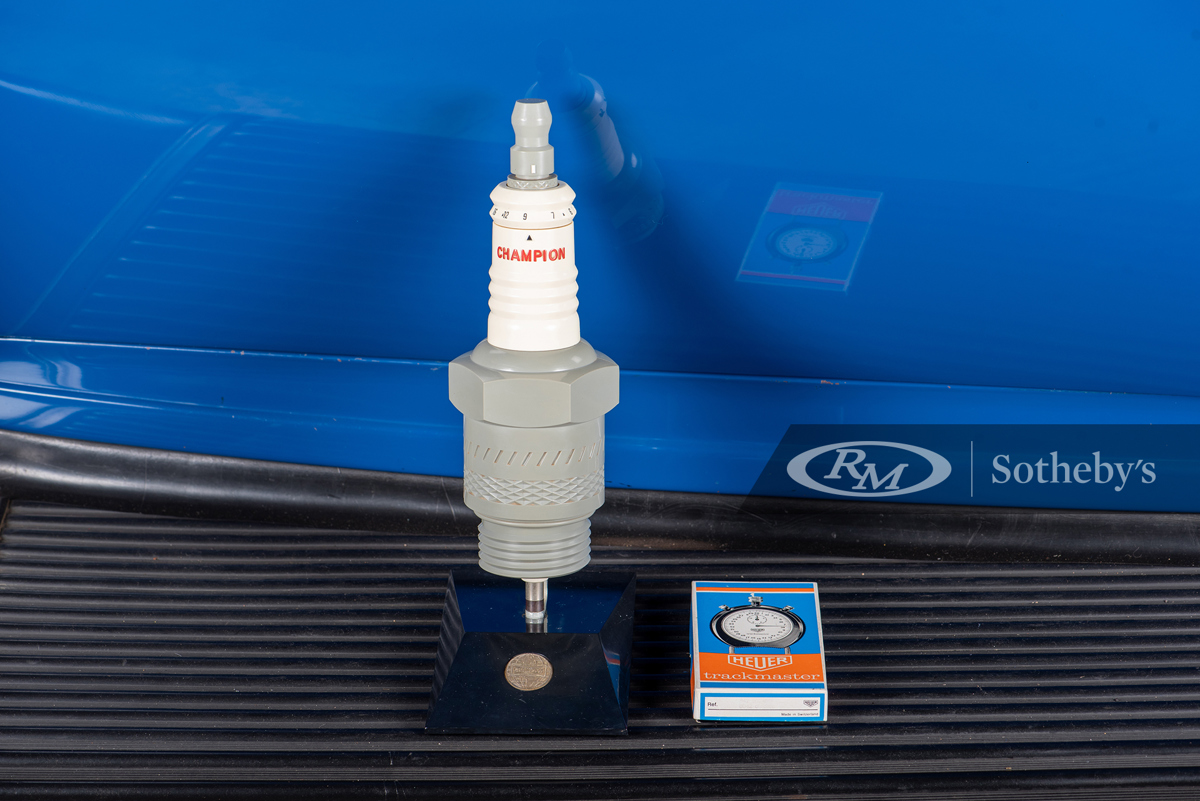 Lot 324: Champion Spark Plugs Edition Stopwatch by Heuer Trackmaster
Estimate:  $300 - $500
A high quality Swiss made mechanical stopwatch. True NOS, and complete with its original lanyard, box, 65mm case, and instruction booklet. All papers and original box and packaging are complete and in as new condition. This is yet another lot that comes from the estate of a company executive, which demonstrates that this is yet another exclusive collectible found in the Hoods and Hands collection. This lot also includes a large vintage (ca. 1960s) Champion spark plug transistor radio and a vintage Champion (corporate) ashtray measuring 3.75 in. diameter.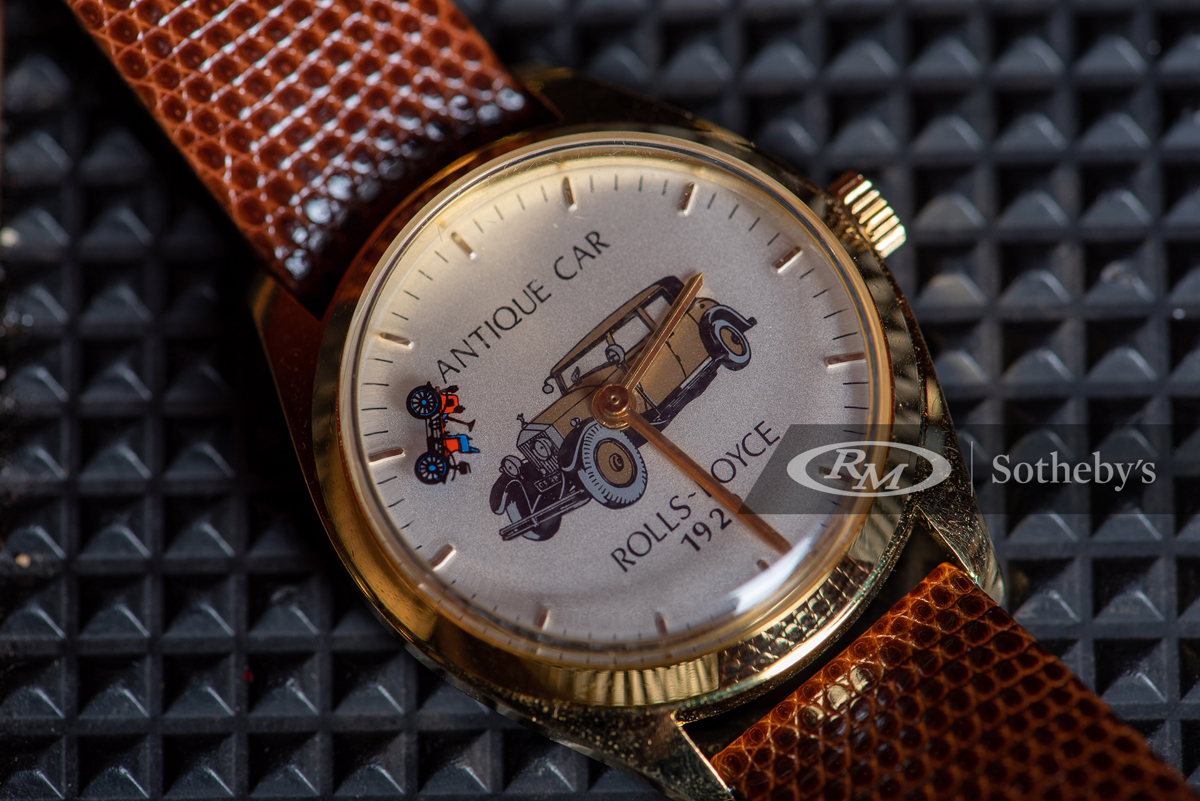 Lot 303: Rolls-Royce Animated 'Mystery' Dial Wristwatch, ca. 1980s-1990s
Estimate:  $150 - $250
This piece is in excellent condition, so much so that it appears as though it has never been worn. This piece features a beautiful dial with a very detailed Rolls-Royce image. This watch features mechanical manual wind, and one jewel movement. It has a gold-plated case and is fitted with a new genuine lizard strap. The 'mystery' dial is a clear second-hand disc with an early antique car that rotates around the dial. The dial features a detailed multi-color image of a 1929 Rolls-Royce. The case measures 38.5 mm including the crown. A new watch box is included. This whimsical piece offers the experience of a mystery dial in action –the small antique car rotates around the dial as the seconds inch closer and closer to the holiday season.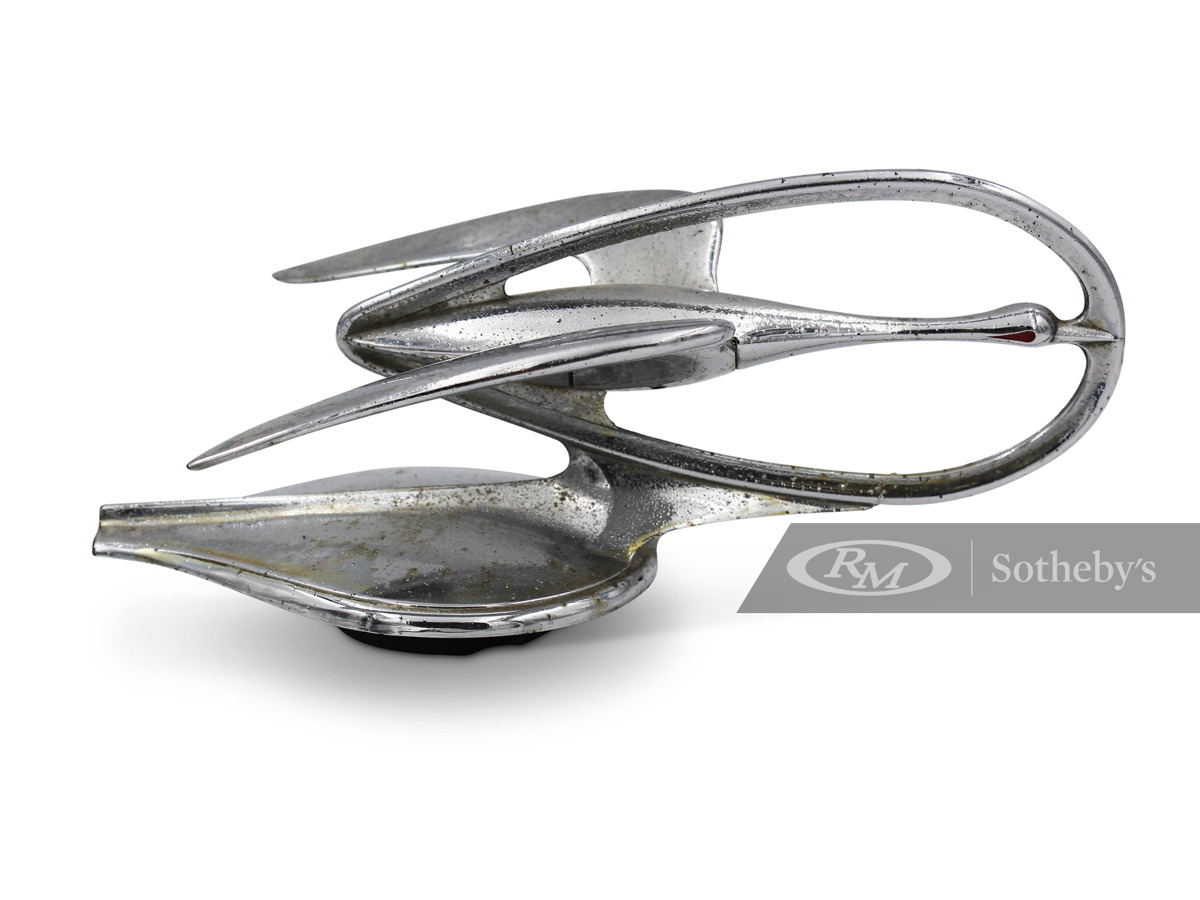 Lot 134: Studebaker 'Goose,' 1935
Estimate:  $300 - $400
While most think of turkey when they think of the holidays, the Christmas goose is a much older tradition that predates the European experience in the Americas. While the painted red eyes on this piece might seem startling, the Art Deco elegance of this piece reminds us all of the period's Christmas movies like "It's A Wonderful Life." But of course, this mascot comes from a Studebaker which firmly roots the goose in its time period.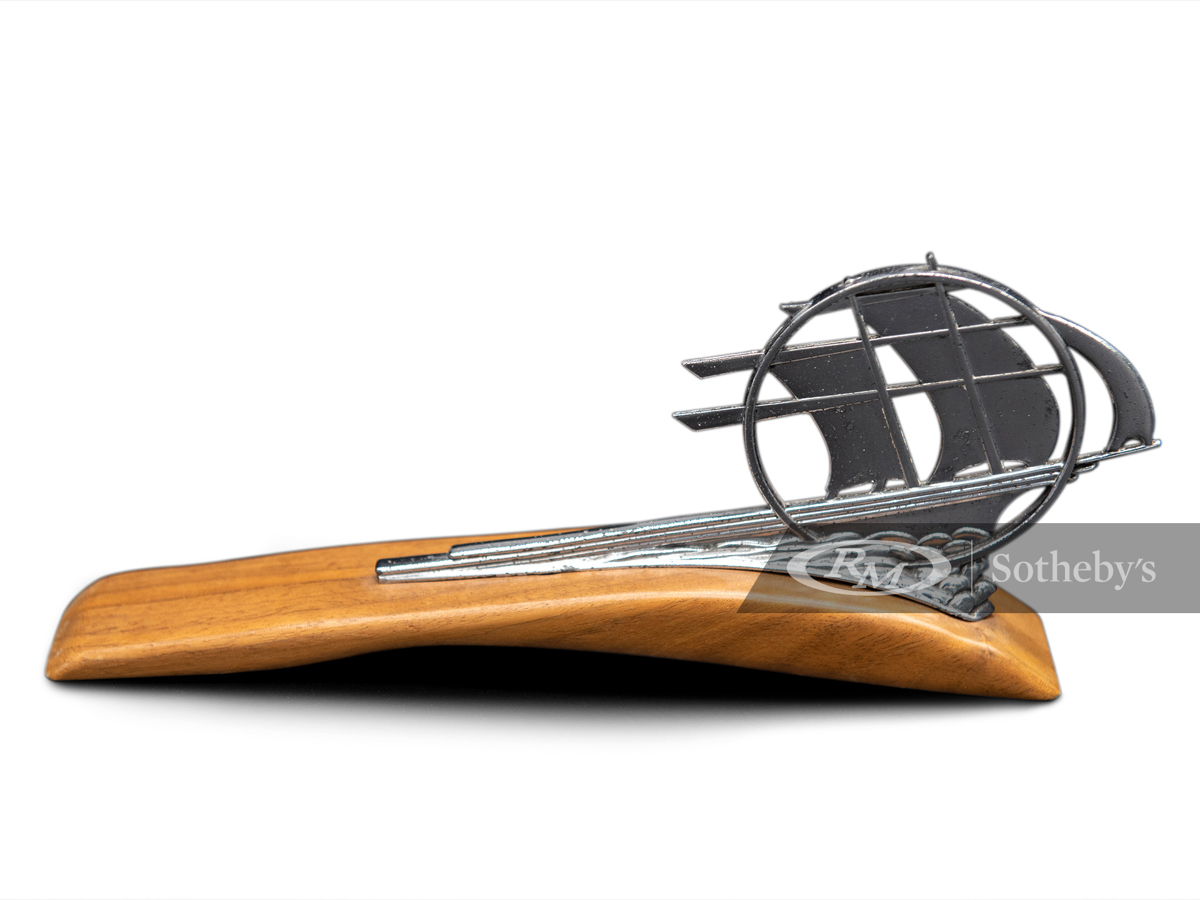 Lot 140: Plymouth 'Mayflower,' ca. 1934-35
Estimate:  $300 - $400
Perhaps you're looking for something to surprise your beloved enthusiast before the holidays with Thanksgiving being just around the corner. Is there a better way to celebrate than remembering the famous story about the Pilgrim's first Thanksgiving in America than picking up this Plymouth Mayflower hood ornament? This zinc die-cast mascot is a distinct piece of automobilia that you can feel comfortable placing on a dining room table next to a cornucopia.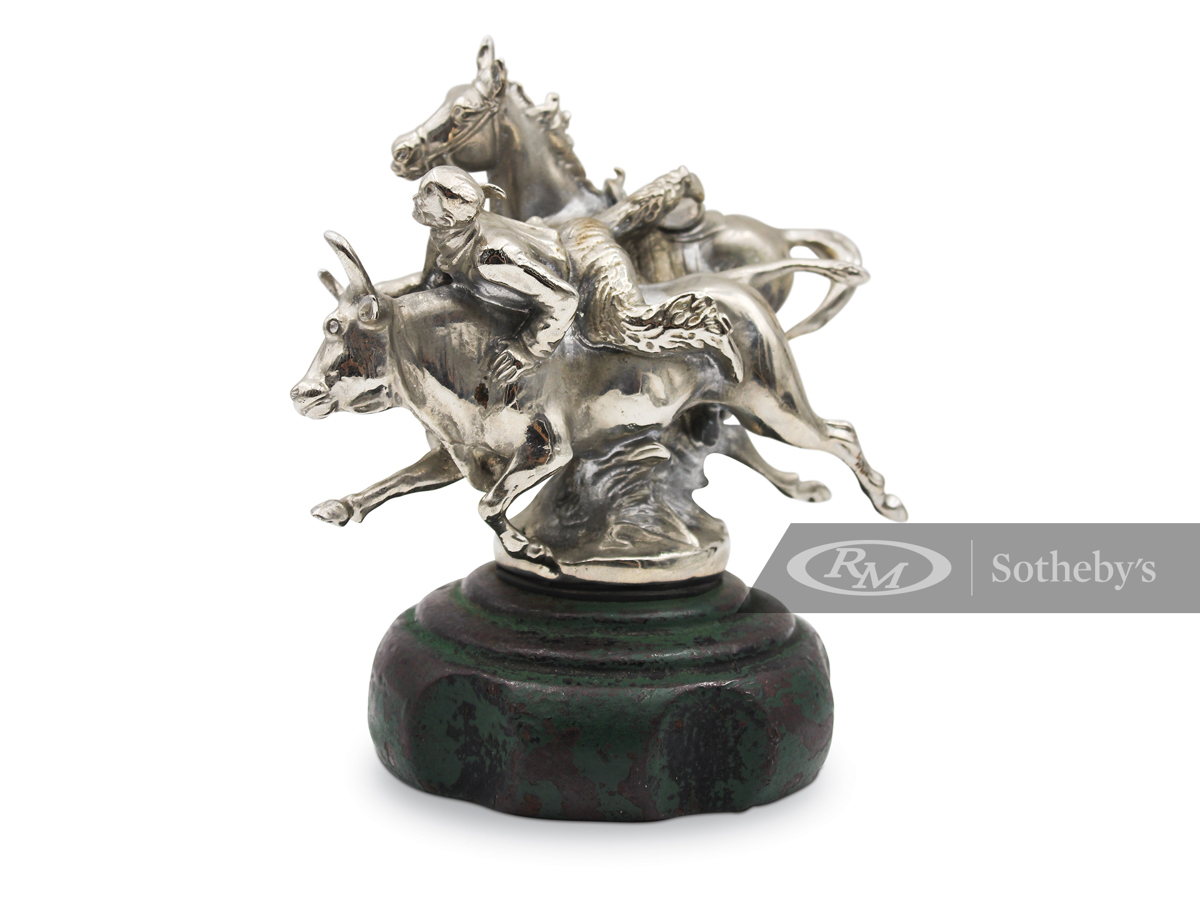 Lot 231: Rodeo by A E Lejeune, 1920
Estimate:  $700 - $900
This piece is exceptionally rare. This was originally a French mascot cast by Jean Doré of a Rodeo Cowboy capturing a steer.  This example was sold through the Rodeo establishment at 6 Rue Mansart Paris.  Mascots from the Rodeo outlet were signed at the base by CH Paillet and with the depose stamp.  Charles Paillet sold the rights to much of his work to Emile Louis Lejeune in 1917.  Emil and Augustine Lejeune first came to England in 1904.  The brothers were French by birth and neither spoke a word of English, but they went on to establish the London based A.E.L. company at both 9 Hallam St and at Great Portland St London W1.  As the two brands of this mascot had an editorial agreement, it is often noticed that there is a variation in the signatures –in addition to the Charles Paillet signature, the English version also has the A. E. L. and Copyright markings.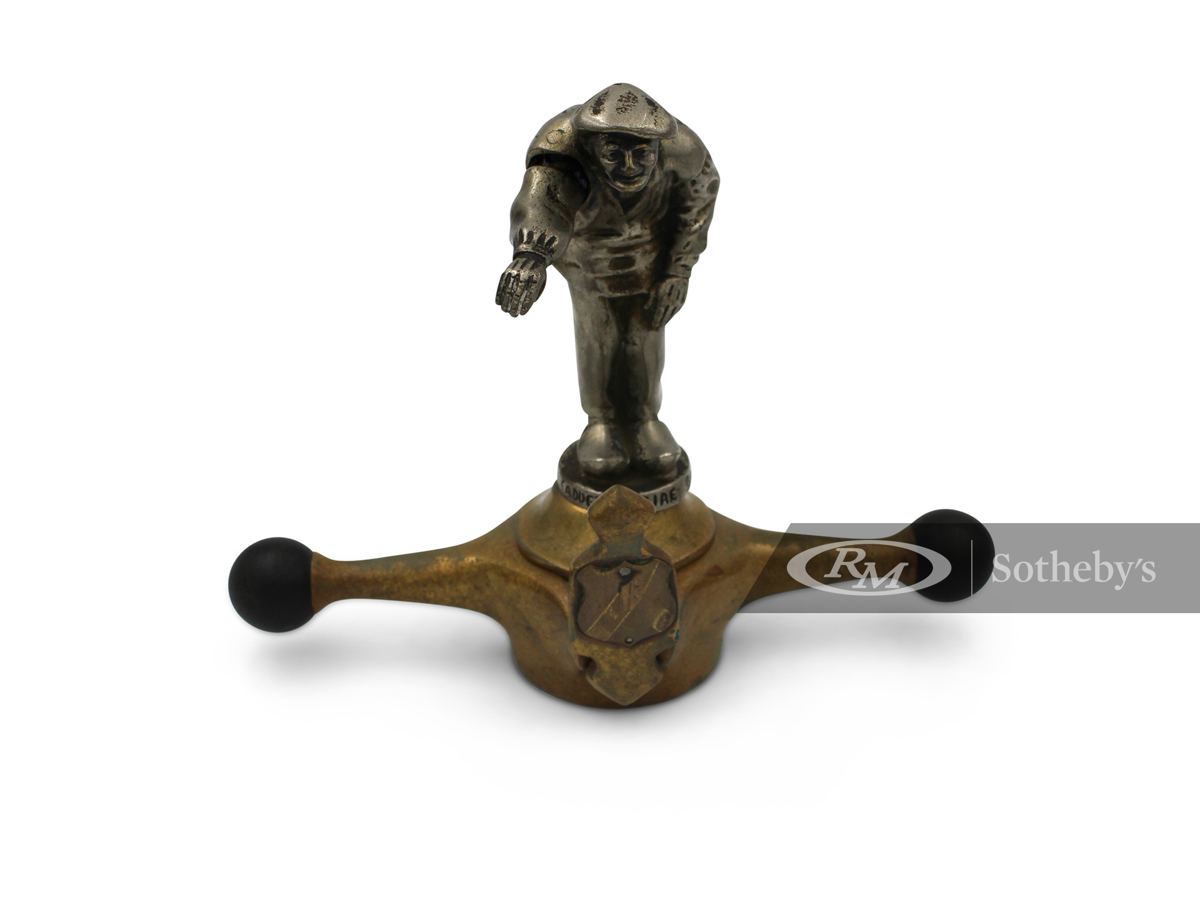 Lot 176: Catalan by Cabart, ca. 1920-25
Estimate:  $400 - $700
Mascot signed by Goubard and titled "Lou Caddetou Bire Baque" (The cadet hunts the cow). This is a representation of Goubard's famous comic strip character Caddetou, the Franco-Catalonian peasant from Béarn, France. This is an animated mascot with a mobile right arm that moves as the car is driven to depict him throwing a lawn bowling ball. This character is a good-natured old man known for his quixotic and folksy nature. While not quite Santa Claus, there is a sort of "Father Christmas" appeal to the kindly Caddetou.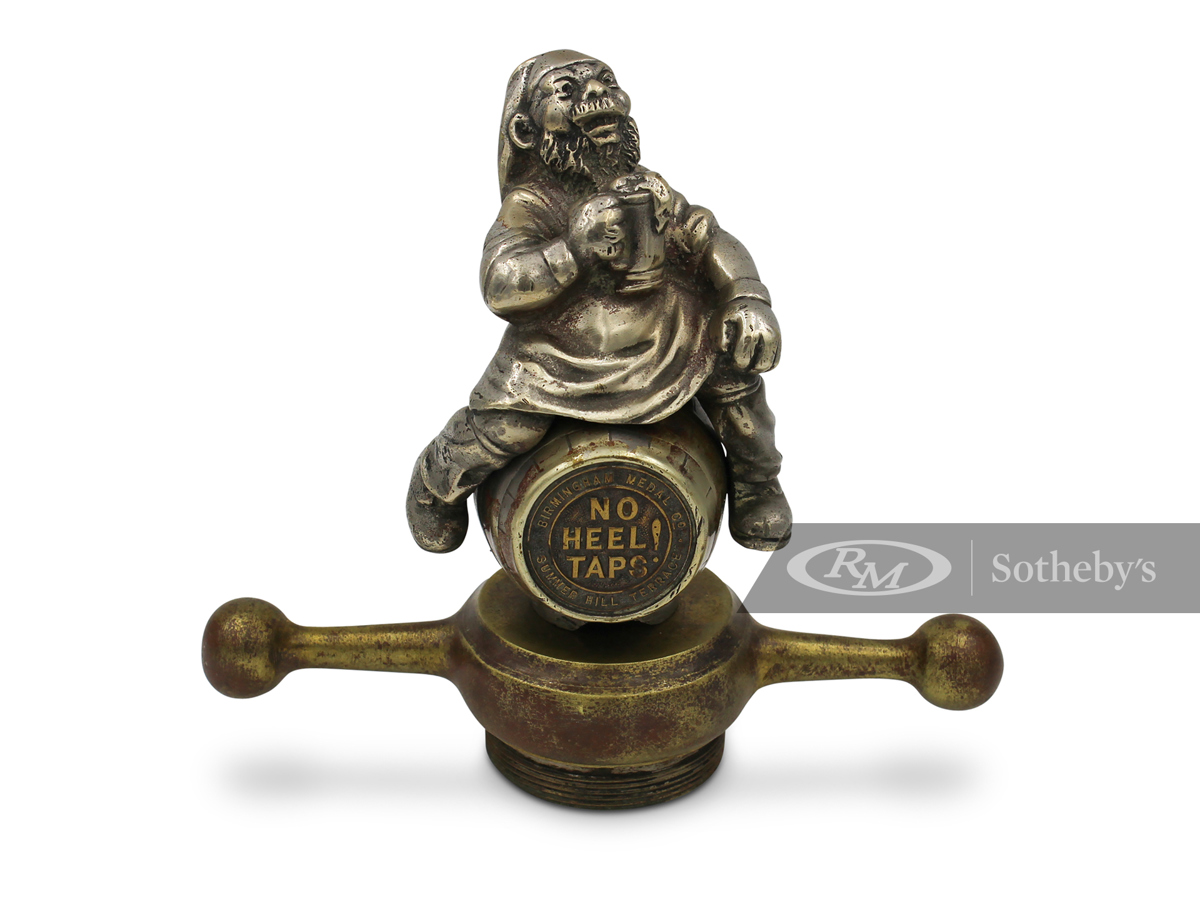 Lot 181: Gnome on Keg, ca. 1920s
Estimate:  $400 - $500
What's more festive than enjoying some beverages with your family and friends? Produced in the 1920s and made of nickel-plated brass, this piece is marked Birmingham Medal Co. "No Heel Taps!" and features a jolly gnome. This was the "Antediluvian Order Of Froth Blowers club" mascot, a club that existed to advance the cause of children's charities in Britain from 1924-1931. The mascot is constructed in four separate pieces and the barrel can point in either direction for at least sixteen different combinations of revels in the beverages of the season. RM Sotheby's Online Only: Hoods & Hands, however, offers more than simple revels. This auction offers you the opportunity to acquire a rare and distinctive piece suited for any automotive loving enthusiast.