With their powerplants pointedly situated rearward, the Porsche sports cars on this list cut an unmistakable silhouette. From today's cover star, an extremely early split-window example of the Porsche 356, to the modern motorsport-inspired GT series, the sports cars built in Stuttgart look and drive like nothing else on the road. Naturally there are some exceptions to this history—our list today features one mid-engine supercar and one example wearing the equally lauded badge of the German firm RUF—though if anything, that merely proves that Porsche cars represent a surprisingly wide range of styles, shapes, and sporting capabilities. 
Fortunately, this curated list of top-tier Porsche sports cars can all be found in one place: RM Sotheby's upcoming Arizona auction, set to cross the stage at the Arizona Biltmore resort on 27 January 2022, this list of selections says as much about their owners as it does the examples themselves. And so, in a first for this format, we have decided to delve into the profiles of these Porsche automobiles in hopes of describing who would suit them best. A lighthearted gift guide, in time for the holidays, starring Stuttgart's finest: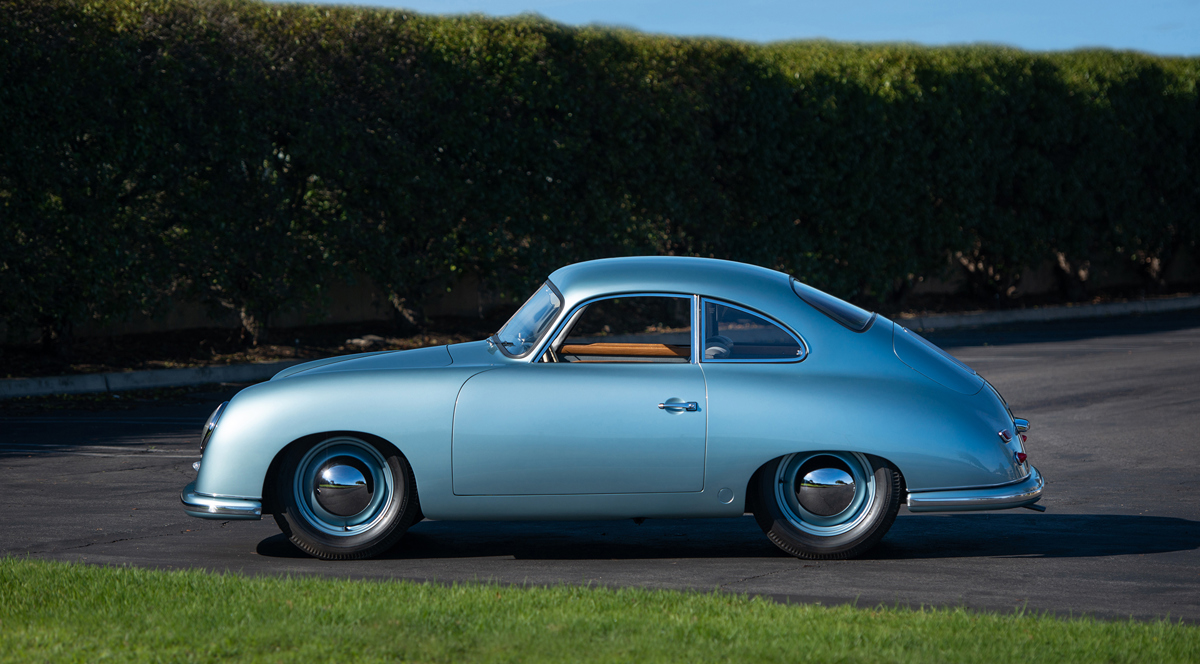 1951 Porsche 356 'Split-Window' Coupe by Reutter
Estimate: $550,000 - $600,000 USD
It goes without saying that the next owner of this Pre-A, "five-digit," Reutter-built Porsche will be an appreciator of history. Both in terms of its early build date (this example was the 96th of the first run of 749 coupes constructed by the Stuttgart-based carrosserie), but also in terms of the painstaking accuracy that went into its five-year restoration. The next owner of this gorgeous example of Porsche history will not be its only appreciator however, as this Adriablau metallisch-over-grey "Hafele" Coupe was the recent recipient of several prestigious awards including first-in-class at the Porsche Werks Reunion Monterey and secured second-in-class, as well as the Michael Furman Artist award, during the famous Carmel Concourse on the Avenue.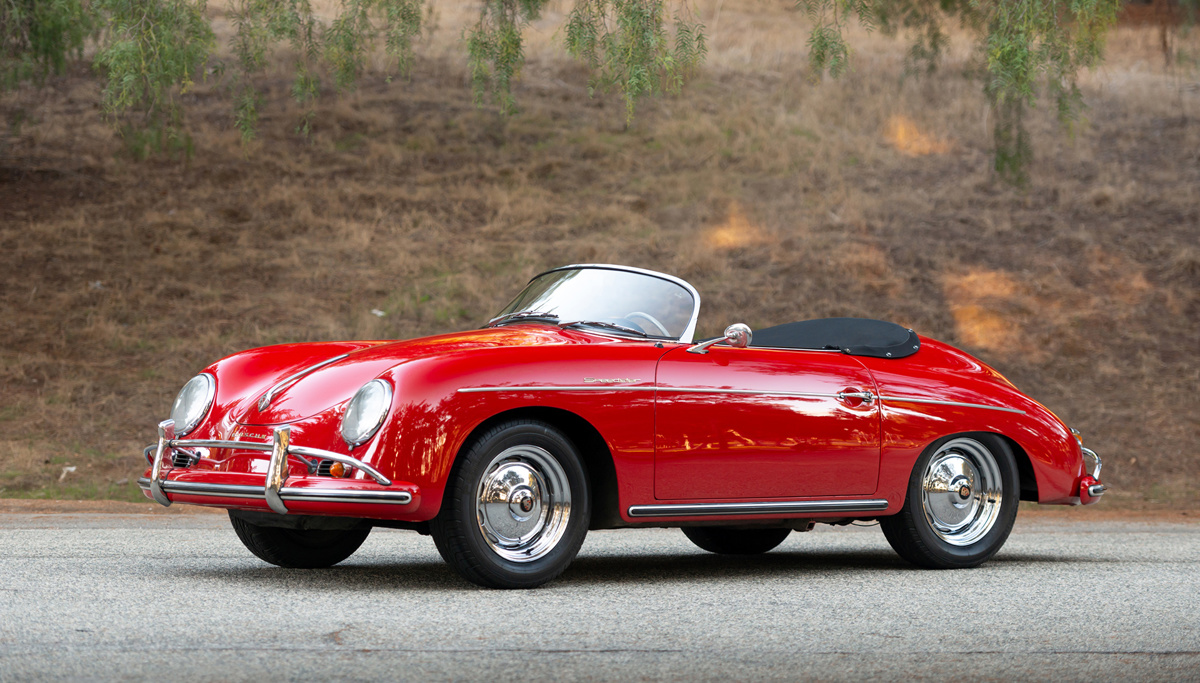 1957 Porsche 356 A 1600 Speedster by Reutter
Estimate: $350,000 - $400,000 USD
Moving forwards in Porsche history, the iconic Porsche 356 A 1600 Speedster advanced the Stuttgart firm's sporting credentials with its chopped-down windshield made of curved glass, relatively lightweight construction, and sprightly 1.6-litre engine. Profiling the owner of this handsome Speedster is difficult, as nearly every Porsche connoisseur desires a similar model in their garage. This example is made even more desirable for its "transitional" features, which combine the best of the Type 1 and Type 2 Speedster series, as well as its restoration by the well-regarded Los Angeles-based marque experts Coachcraft Limited. For many, the detail that puts this example over the top is its history of longtime ownership: Nearly 50 years in total.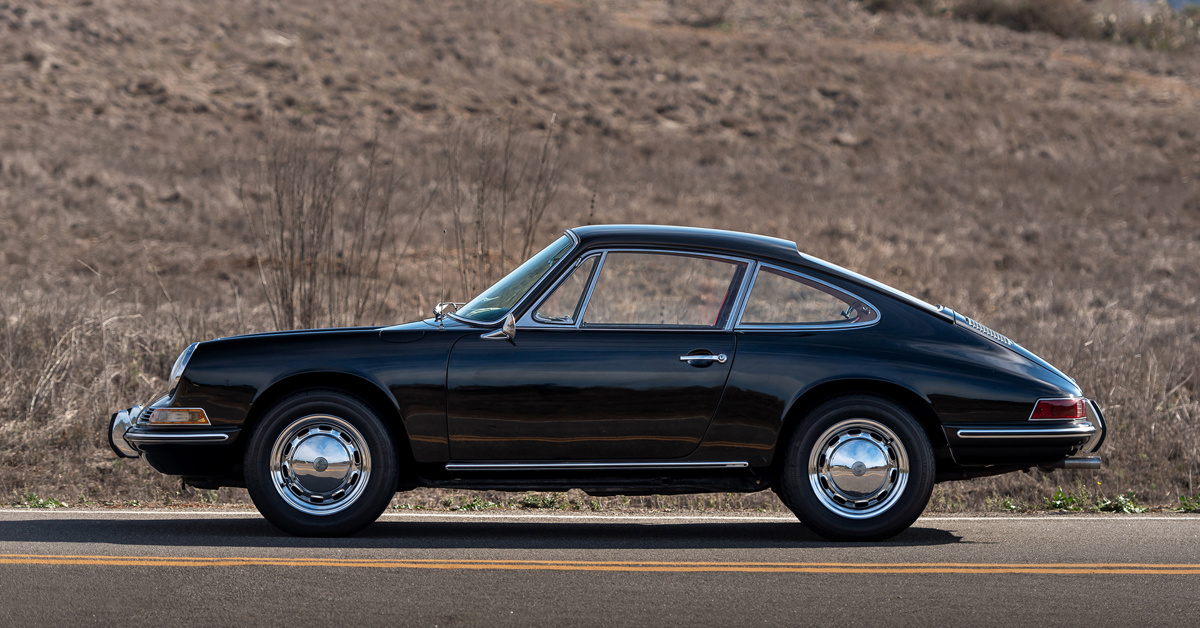 1967 Porsche 912 by Karmann
Estimate: $60,000 - $80,000 USD | Offered Without Reserve
For many Porschephiles, this is the silhouette that most represents the brand. With its debut announced at the Frankfurt Auto Show in September of 1963, the all-new shape presented by Porsche stayed true to the marque's dedication to rear-mounted powerplants, but advanced nearly every other feature to a new level of refinement. Two years later, Porsche announced the 912 variant at the New York Auto Show, and the model has been racking up devotees ever since. Appealing to owners who are either new to the Porsche brand as well as seasoned experts, this Black-over-red example would make a stunning candidate for preservation, with its original California delivery and a series of only three previous owners contributing to its current, extensively documented, well-cared-for condition. A numbers-matching "long-hood" example, offered without reserve.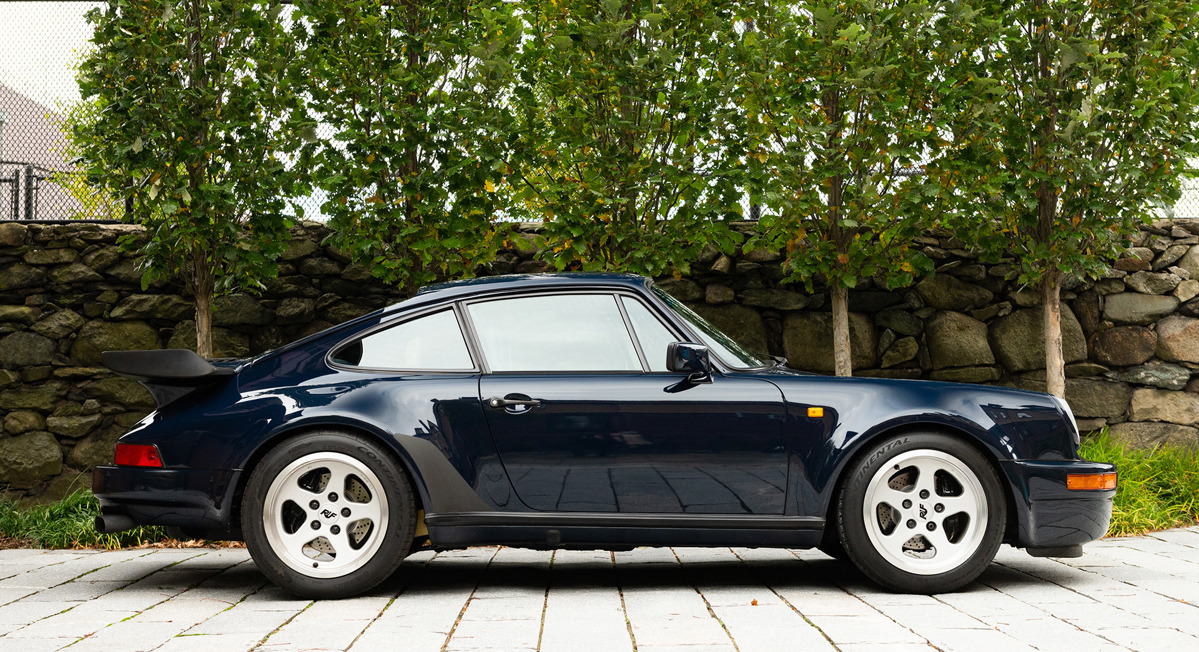 1985 Porsche RUF BTR III
Estimate: $350,000 - $450,000 USD
While the Porsche brand has long been associated with the competitive edge of each of their models, there is one German tuning shop which has developed a symbiotic relationship with the Stuttgart firm. Alois Ruf's eponymous firm has long had a history of taking the best output from Porsche and somehow making it even better. We have covered this turbocharged BTR III in a previous, more extensive post, but suffice it to say that the next owner of this RUF values their air-cooled driving experience in the most extreme manner possible. Highly developed from its revised intercooler to its user-operated "Ladedruck" boost pressure dial, the next owner of this over-the-top Porsche RUF clearly values having a car which can credibly claim to be the best.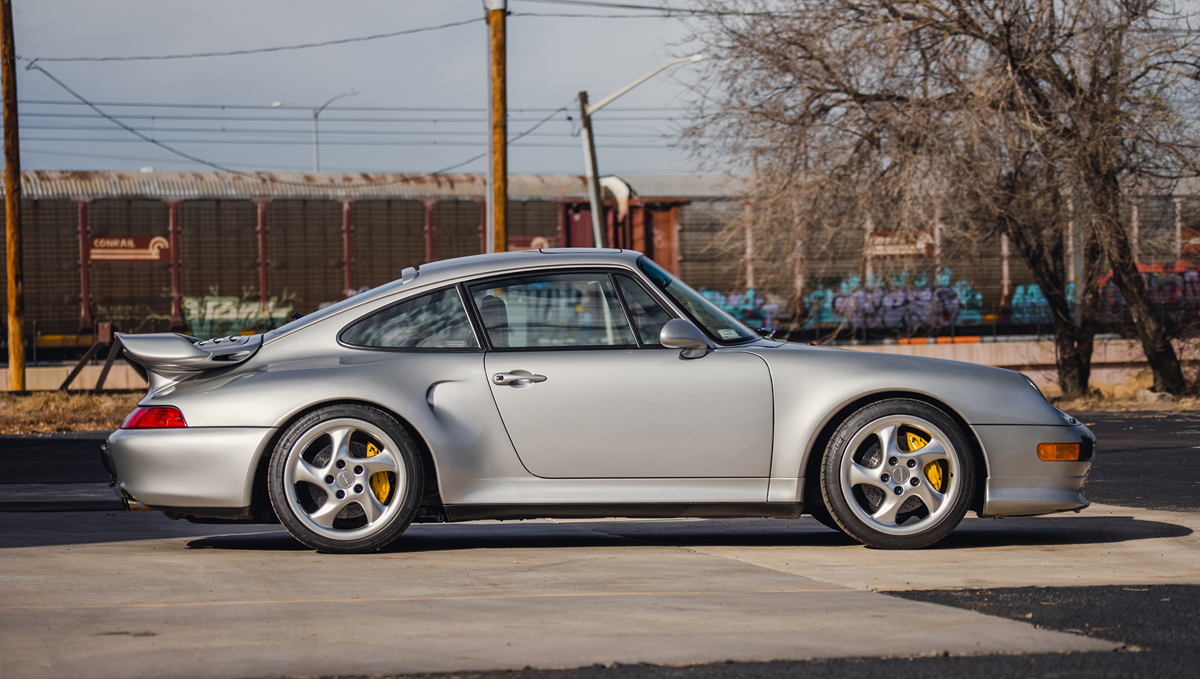 1997 Porsche 911 Turbo S
Estimate: $490,000 - $540,000 USD
Naturally, RUF was not the only route in which Porsche aficionados could procure an example which could claim to be unique. Started as a special request program in the early 1950s, Porsche launched an internal division which could service the requests of their most demanding, and creative, clients. Today known as Porsche Exclusive, the department executed truly original examples, like this limited-edition Porsche 911 Turbo S. Already an uncommon model, with a mere 182 total sports cars made for the North American market, the Turbo S represented the last gasp of air-cooled, turbocharged examples ever made by Porsche. This car, with its Arctic Silver Metallic over special-order Boxster Red leather with carbon fiber interior trim, presents itself as exceptional even before one learns about its top-of-the-line Turbo S features, encompassing upgrades to the braking system, twin KKK K24 turbochargers, and six-speed manual gearbox. A profile in exclusivity.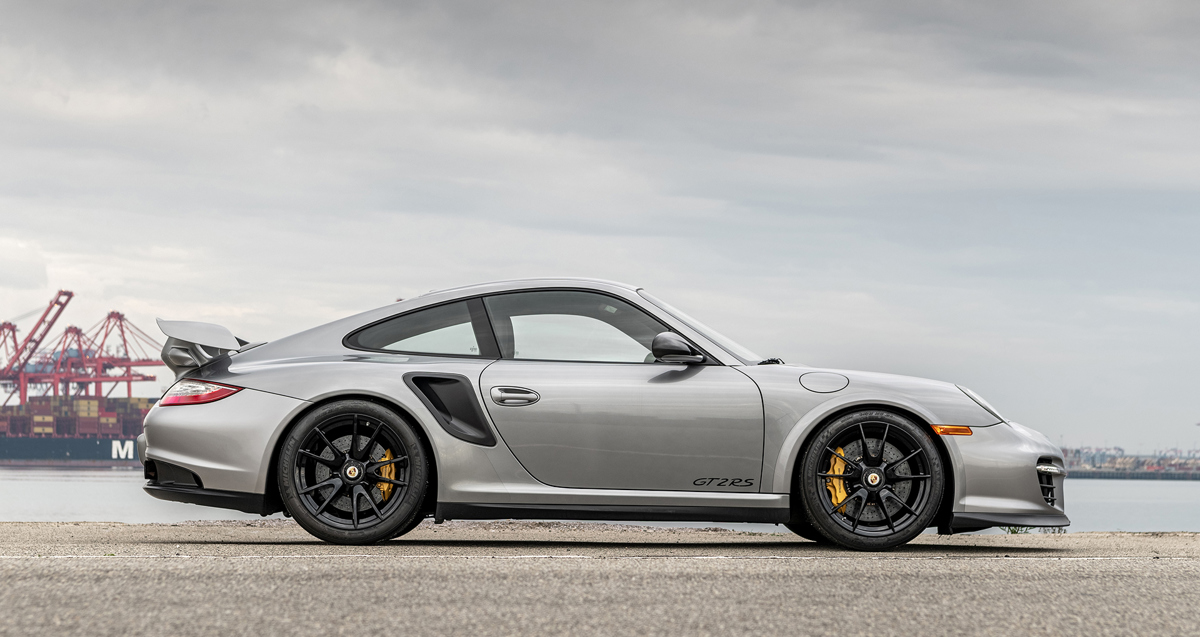 2011 Porsche 911 GT2 RS
Estimate: $450,000 - $500,000 USD
Beginning in the early 2000s, just as Porsche transitioned from air-cooled to water-cooled sports cars, the GT division has grown to become what at least one critic deemed to be, "the most important in the entire lineup." Atop that already lofty status stood a new pinnacle of Porsche performance, the GT2 RS. Built to be both lighter by 152 pounds than the featherweight GT2, as well as significantly faster with its 620-horsepower engine, the 997-generation GT2 RS could credibly stand toe-to-toe with the mid-engine supercars made by other noteworthy manufacturers. This example is one of a mere 142 built for the North American market and displayed a mere 4,500 miles on its odometer at the time of cataloguing. A well-kept performance icon, built for those who value ultimate speed the way that only Porsche can deliver it.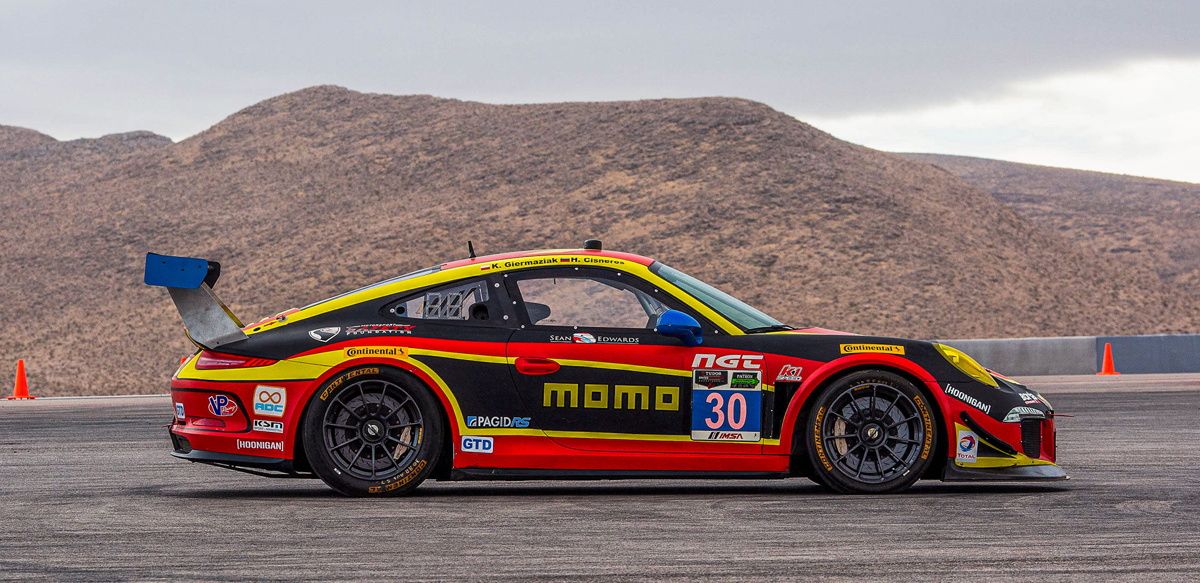 2014 Porsche 911 GT America
Estimate: $140,000 - $180,000 USD | Offered Without Reserve
Of course, the Porsche road car brand would not retain its cache without participation in motorsport. This example was built by the factory expressly for USCR endurance racing. Only 14 were constructed for the 2014 model year. This genuinely uncommon example was purchased new by the Momo factory race team and campaigned by company chief Henrique Cisneros. With the talented Momo team at the wheel, this car experienced competition at some of the most legendary races in North America, including the 24 Hours of Daytona, the 12 Hours of Sebring, the Lone Star Le Mans, the Detroit Belle Isle Grand Prix, and the Grand Prix of Monterey. Retained by Mr. Cisneros and the Momo team since new, this motorsport-spec Porsche is powered by a 470-hp, 4.0-liter, flat, six-cylinder, racing engine paired with a six-speed sequential transmission and is sure to appeal to any Porsche enthusiast who wishes to take their driving skills to the limits.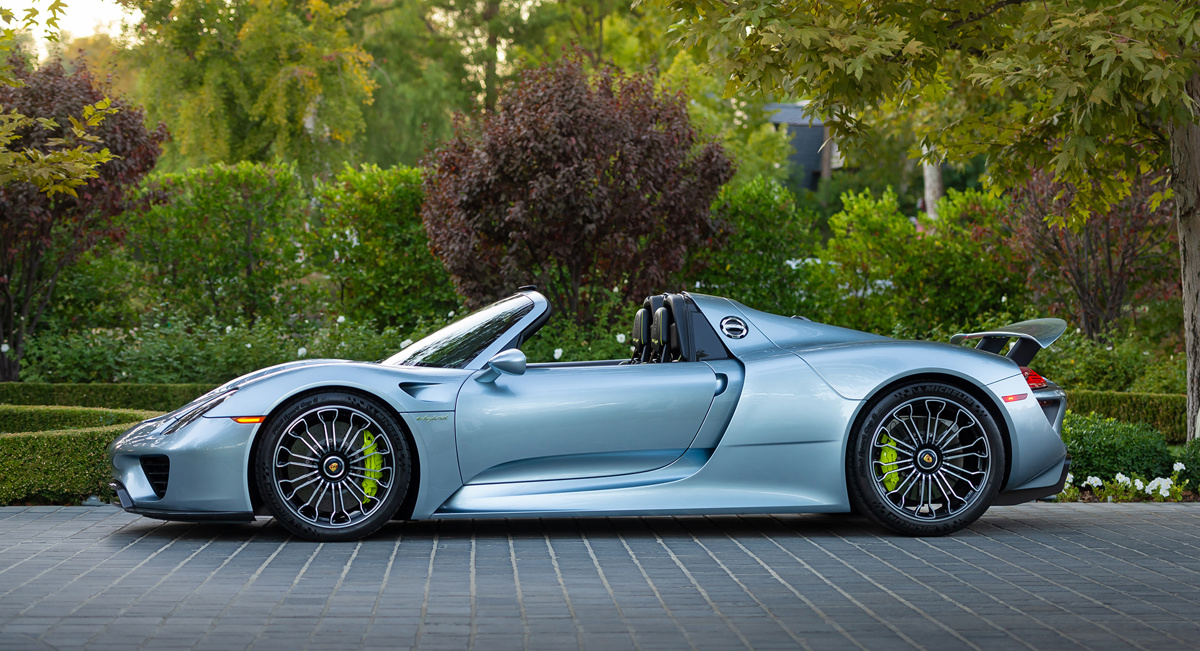 2015 Porsche 918 Spyder
Estimate: $1,200,000 - $1,400,000 USD
In many ways, we end this list of Porsche profiles in a similar sense to how we began: Featuring an aerodynamic two-seater, packed with advanced technology, wearing a shade of light blue. In this 21st century example, made some six decades after the 'Split-Window' 356 we covered first, we are dealing with a true hypercar, powered by a hybrid-electric powertrain, and fitted with nearly every performance enhancement and creature comfort available to the modern Porsche enthusiast. Naturally, the paint color would be equally advanced; this 918 Spyder was specified in the lovely shade of Liquid Metal Chrome Blue, a $53,000 option. Part of the expertly curated Tenenbaum Collection, which features an expansive and impressive selection of modern Porsche options, this mid-engine example shows how far Porsche engineering has traveled in six decades. With a world-class selection of some of the best sporting examples to ever roll out of the Stuttgart factory, RM Sotheby's Arizona 2022 auction is shaping up to be the prime place to find your next Porsche. The only difficulty is choosing which profile you prefer most.