For a true Porschephile, purity can mean many things. For some it will mean the highest-upgraded version of an air-cooled 911, with a truly classic silhouette, like the 911 sports cars "reimagined" by Singer. For others it will mean a cutting-edge, mid-engined supercar with technology derived from Porsche's motorsports division, like the Carrera GT. In both cases, practically every element of the sports car was either replated or replaced with a stronger, lighter, or more luxurious material. The two cars in question may be from different ends of the Porsche spectrum, but both are unquestionably focused on driver engagement. Both the 2005 Porsche Carrera GT and the Singer "Malibu" are now offered by RM Sotheby's for private sale.

Many carmakers claim to design their sports cars around massive motors, but it's altogether rare when car designers get a truly groundbreaking engine and few restrictions on how to design around it. The engine in question was a free-revving V-10 originally developed by Porsche's Motorsport division for LMP1-class endurance racing at the 24 Hours of Le Mans race. The 605-horsepower engine weighed only 462 lb and was attached to the advanced carbon-composite chassis as a stressed member. Reportedly, even hypercar builder Horacio Pagani was impressed when he saw how the Carrera GT's 5.5-liter engine connected to its chassis at the concept's worldwide debut at the 2000 Paris Motor Show.

By the time the production GT came out, the lightweight aluminum-block engine had expanded to 5.7 liters and was rated for a top speed of 205 miles per hour. Although many Carrera GTs were ordered in flashy color combinations, some owners chose more subtle specifications which also worked well with the car's sleek styling. This 2005 Porsche Carrera GT rolled off the line in Stuttgart as one of only 103 specified with Black exterior paint, with a tasteful Ascot brown leather interior that perfectly complemented the optional laminated balsa-wood shift knob. The yellow-painted calipers on this Carrera GT's carbon-ceramic brakes add a touch of flair to an otherwise subtle supercar package.
First delivered to a Porsche client in Newport Beach, CA, this Carrera GT spent its early life as a California car. It was regularly serviced by Newport Auto Center, only collecting 1,251 miles before leaving California in 2011. The Carrera GT was recently inspected at Danbury Porsche in Connecticut, and as of August 2019 it was found to have to have no leaks. Seven years of service records, including a receipt for an engine-out appointment to replace the rear main seal, accompany the sale.

The exclusivity surrounding Singer, Rob Dickinson's Porsche upgrade outfit, means that his creations will never be confused with mere "outlaws." Multi-year waits are common to receive a 911 that has been "reimagined" by Dickinson's team of artisans, in part because of the complexity of modifications. The classic 911 shape has been retained, but nearly every part associated has been rethought in terms of performance and design. Body panels are fashioned out of carbon fiber, from the fenders to the subtle adjustable spoiler on the engine decklid. This 1991 Porsche 911 "Malibu" Reimagined by Singer, which was the 71st example to be fashioned by the firm, features an optional carbon-fiber roof trimmed in an Ivory-colored headliner.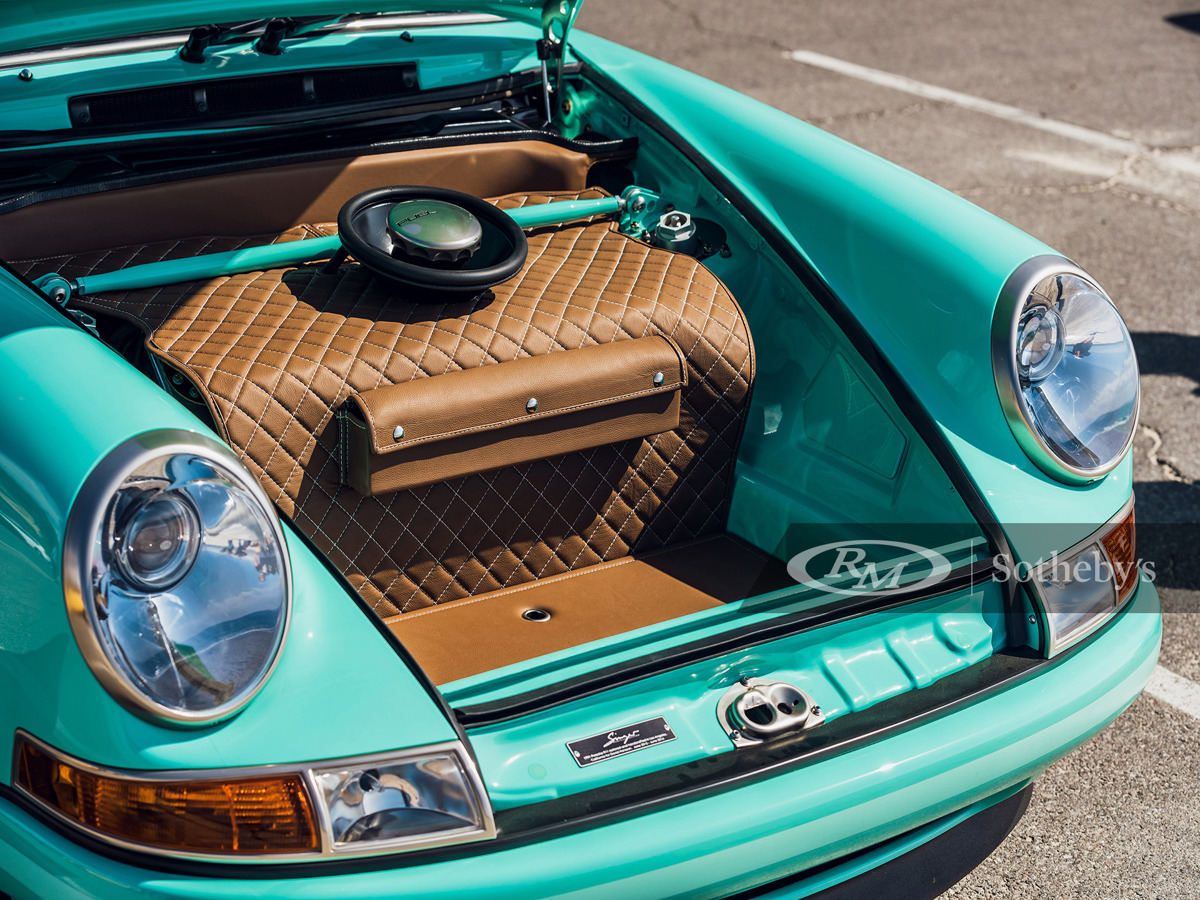 Other options chosen by the "Malibu's" first owner included Singer's signature chrome center-fill fuel cap, woven tan leather Recaro sport seats, and an upgraded Becker stereo with iPod connectivity. Unlike the Carrera GT, Singer offered a choice of engines with three different displacement sizes, all assembled by race builder Ed Pink. The "Malibu" features the largest of those engines, a 4.0-liter air-cooled six-cylinder packing sufficient power to accelerate to 60 miles per hour in less than 3.3 seconds—surprisingly faster than the Carrera GT.
Part of what the "Malibu" offers is the Platonic ideal of a Porsche 911, the ultimate sleeper with a 1960s shape and supercar-besting performance. A modern twist on the classic sports car, the "Malibu" only shows 1,400 miles since new. Though, with only 1,750 miles on its odometer, the Carrera GT could hardly be considered well used. Whether you would like to skip the line and make an offer on a Singer today, or whether you want the supercar feeling and subtle specification of the Carrera GT, both reflect careful stewardship, and it is impossible to say which would be the preferable Porsche to take on a spirited drive. RM Sotheby's Private Sales division is now accepting offers for these exceptional Porsches.