Riding a wave of horsepower, these seven Shelby sports cars tell a story about American speed and expose the differences between OEM manufacturing and the tuned and modified products that Carroll Shelby and his team were able to produce. Watching Matt Damon portray Shelby on-screen in Ford vs. Ferrari, viewers get the sense that Shelby's main obstacle wasn't the famous Italian race team, or Il Commendatore himself, but the bureaucracy inherent in all major car companies. But watching a series of "lost" interviews recorded before the outspoken American entrepreneur died in 2012, one realizes Shelby understood the delicacy of his relationships with Detroit's Big Three automakers.
"It's a very tight rope that we have to walk," Shelby confessed in this interview taken at The Henry Ford, "but we couldn't be in business if we were out there on our own…" So, Shelby focused on developing the best sports cars he could and left the expensive crash and emissions testing to the OEMs that could afford it. More than Shelby's personal victories as a race driver, more than his iconic aesthetic of a black cowboy hat and coveralls, Carroll Shelby's lasting impact lay in his ability to negotiate that balance between giant corporations in Detroit and the small, yet passionate, group of customers worldwide who demanded maximum performance.
RM Sotheby's is proud to present a veritable timeline of Shelby's greatest hits, all available for online bidding starting on 22 January 2021 at our annual Arizona auction: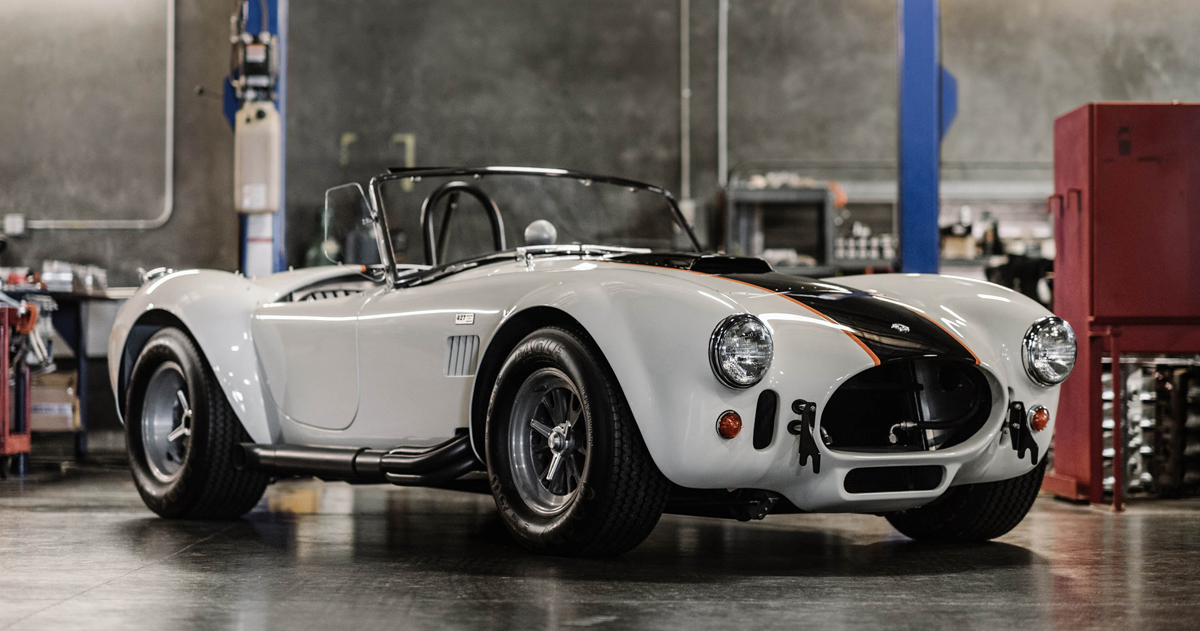 1965 Shelby 427 S/C Cobra 'Sanction II'
Estimate: $375,000 - $425,000 USD
Another insight you gain by watching the Shelby interviews is the constant competition, not just with European manufacturers, but with cross-town rivals in Detroit. "In 1965, I think it was, we had the 390 and General Motors had come out with a 454… Don Sullivan, one of the four engineers that built the first Ford V-8 in 1932, I believe it was, for Henry Ford. And he used to tell me this story, Henry came in three months before launch and said, 'You've got to take four inches out of the engine.' And he stuttered, he said, 'My God, we did it!'"
This legendary engine builder came in handy when Shelby wanted to go after GM: "Don Fry and Don Sullivan went down to the Cleveland engine plant one Friday night, put on overalls, and themselves changed the core so that Ford had the 427." The final series of Shelby's Cobras finally had an engine powerful enough to take on General Motors—and the world. This example was part of the 'Sanction II' series, with original 1965 chassis numbers, and completed by Shelby's team in 2014. A winning combination, then and now.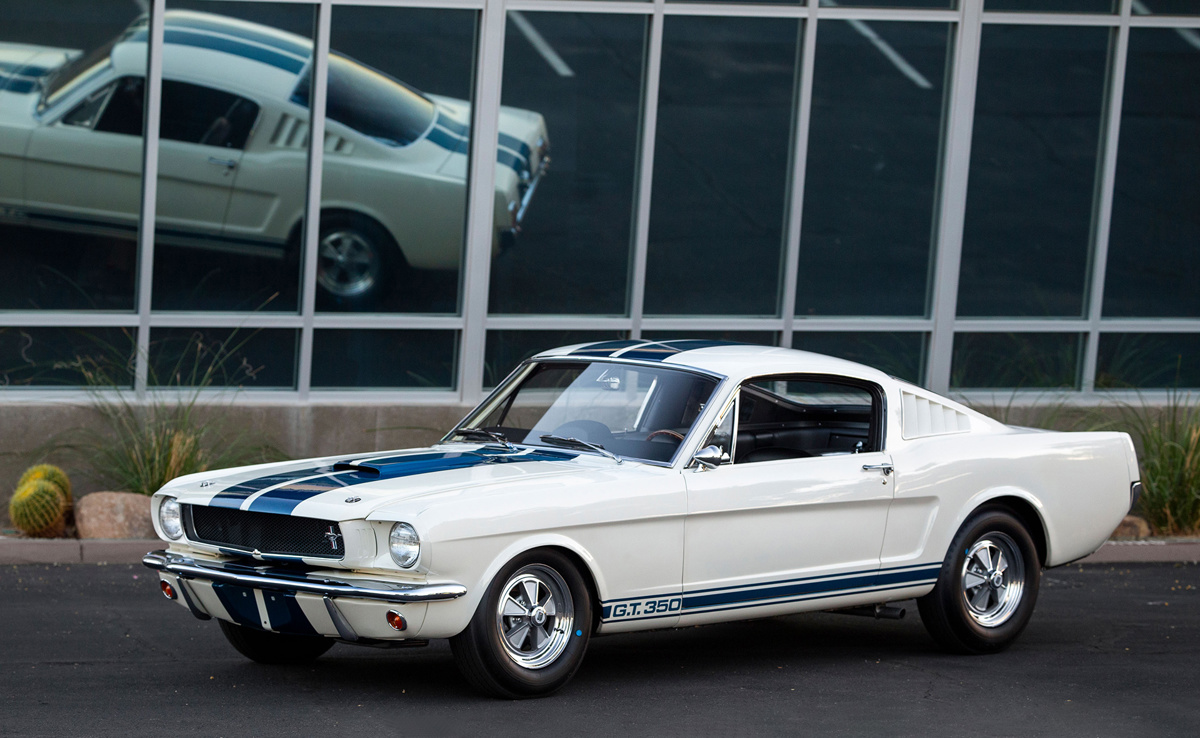 1965 Shelby GT350
Estimate: $350,000 - $400,000 USD
1965 proved to be a breakthrough year for Shelby, with the last of the 427-powered Cobras leaving Shelby American's Los Angeles facility and the first of the Mustang-based GT350 sports cars enjoying their formal debut. Never one to mince words, in this 1997 interview, Shelby told the full story of how the Mustang was finally approved for SCCA racing. Ford formally approached John Bishop after their pony car was first announced, in hopes of entering the new model in sports car racing. "But it's not a sports car," Shelby quotes Bishop as saying, "It's a secretary's car." Stymied, Ford turned to Shelby, who tried a different tactic. "I called up John Bishop, made an appointment with him, and said, 'John, what do we need to do to make this a sport car?' I asked him instead of telling him we were going to, as Detroit sometimes tries…" Shelby recalled.
"Oh, that's simple, Shelby," Bishop said, "First of all, it's got to be a two-seater. You've got to have a special engine for it… and you've got to put some kind of racing suspension, some shock absorbers onto it. So, I got the message." Shelby's talented team were able to execute the changes Bishop suggested in a mere three weeks, permanently establishing the Mustang's performance credentials in the process.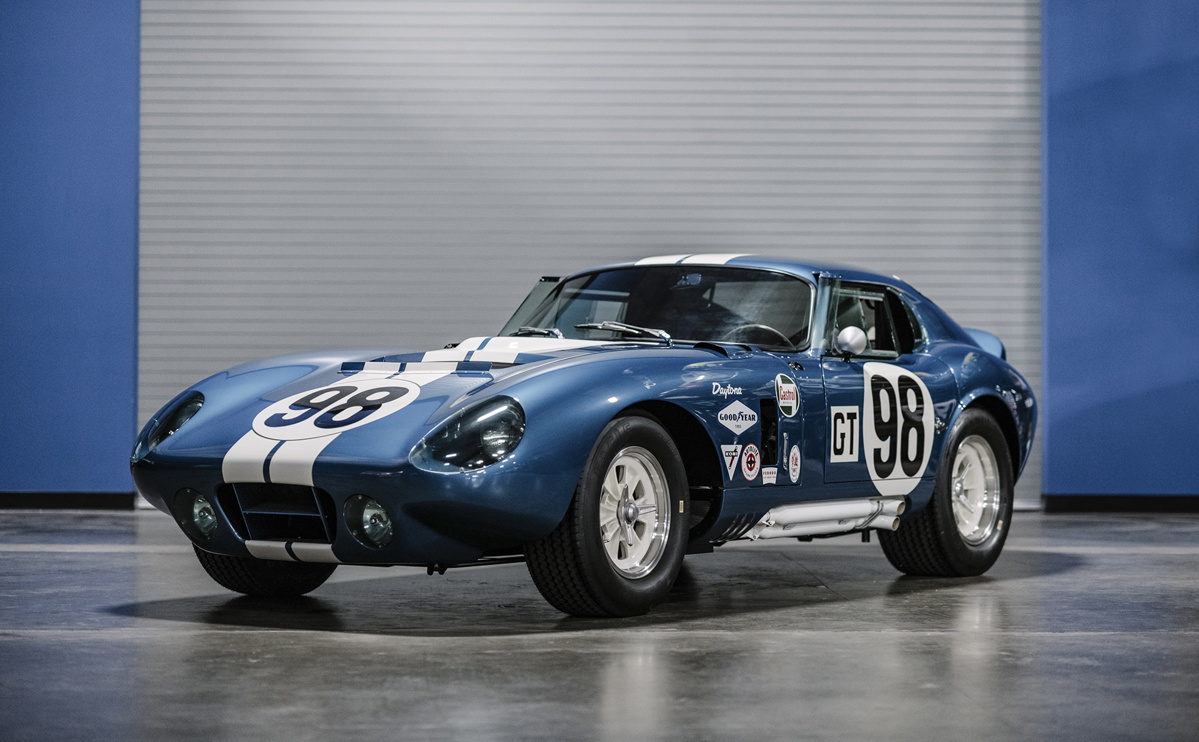 1964 Shelby Cobra Daytona Coupe Continuation
Estimate: $600,000 - $800,000 USD
Shelby was rather sage about the increase in values of his race cars once they left his possession. The Henry Ford interview captures him saying, "Our Daytona Coupe, I'm told that one sold for $22 million dollars in Germany the other day. I sold it for four thousand dollars. We built six of them; they won the world championship. People say, 'Why in the world didn't you save those cars?' I said, 'Because our company needed the four thousand dollars.'"
A staple of world-class automotive museums around the world, Shelby's low-production Daytona Coupe has rightfully become one of America's most valuable race cars. Eventually, Shelby American had to recognize the opportunity, and using original chassis numbers, created a series of aluminum-bodied Daytona Coupe Continuations. Built to the same spec as Shelby's original CSX9000, this car is a "blast from the past," defined.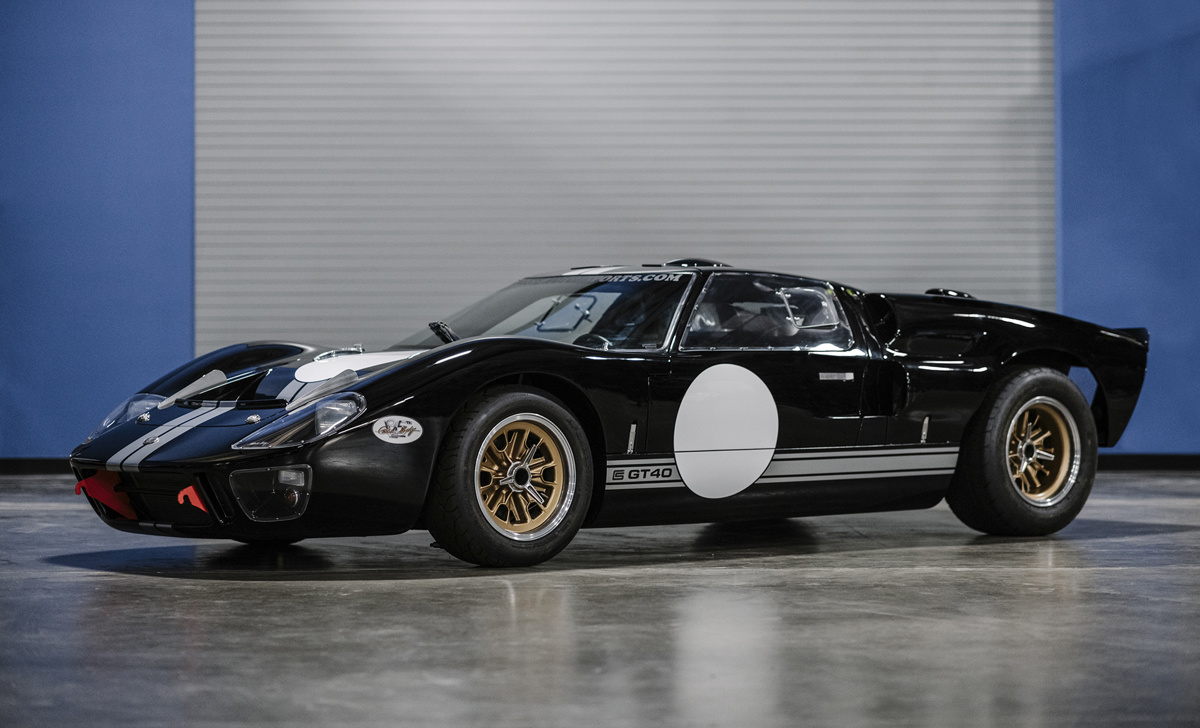 2008 Shelby GT40 Mk II 85th Commemorative Edition
Estimate: $225,000 - $275,000 USD
Perhaps Shelby's most famous project was the feature car in Ford vs. Ferrari, the GT40 that won Le Mans in 1966. Eagle-eyed enthusiasts will note that 1965 was not (thankfully) 85 years ago, so what explains the car's surname? The "85th Commemorative Edition" was actually in honor of Carroll Shelby himself, who celebrated his 85th birthday in 2008.
A well-deserved birthday present, this GT40 Mk II 85th Commemorative Edition was built to the same color scheme as the car piloted by Chris Amon and Bruce McLaren in 1966. Underneath the retro skin, modern components help bring this race car into the 21st century, including Wilwood brakes, Bilstein shocks, and H&R Springs. A classic, built for the future.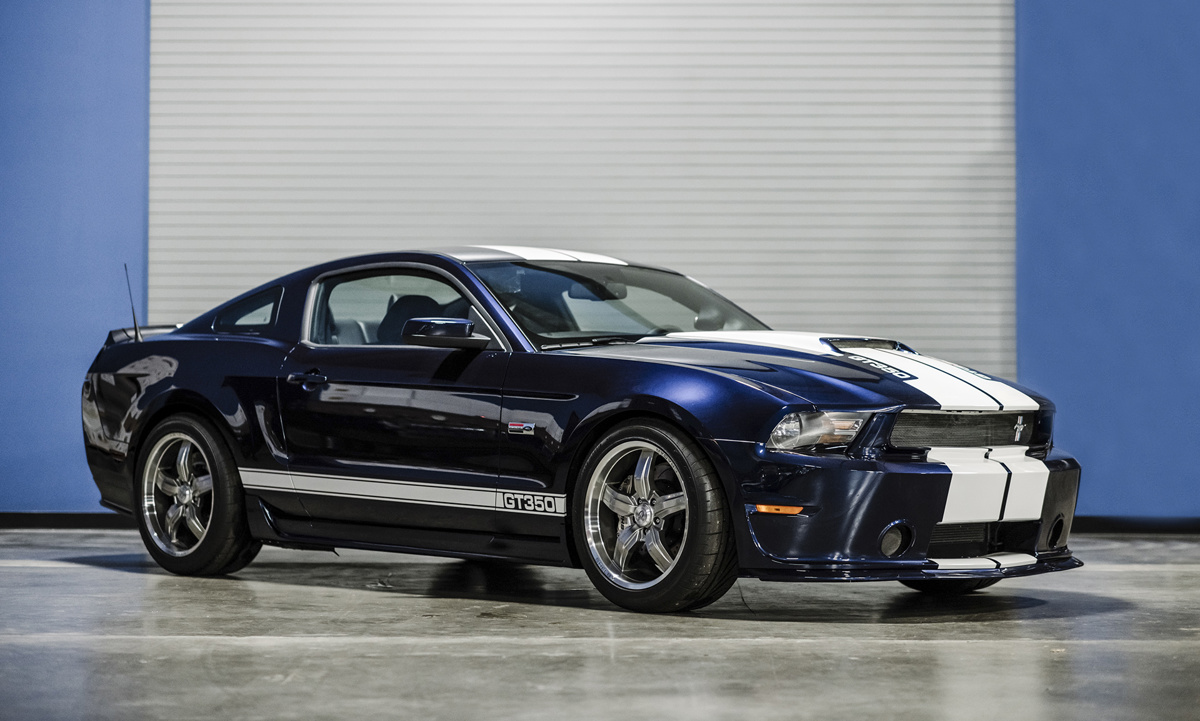 2012 Ford Shelby GT350
Estimate: $70,000 - $90,000 USD
Built the year the larger-than-life Texan passed away, the 2012 edition of Shelby's longtime collaboration with Ford produced a potent pony car, indeed. The 21st century GT350 also celebrated an anniversary: Shelby American's 45th year of operation, which occurred in 2011.
The return of perhaps the greatest American automotive performance collaboration ever proved to be a car worth preserving. This example has only 944.5 miles on the odometer. A more-or-less "Showroom Ready" Shelby which could be yours to keep or drive.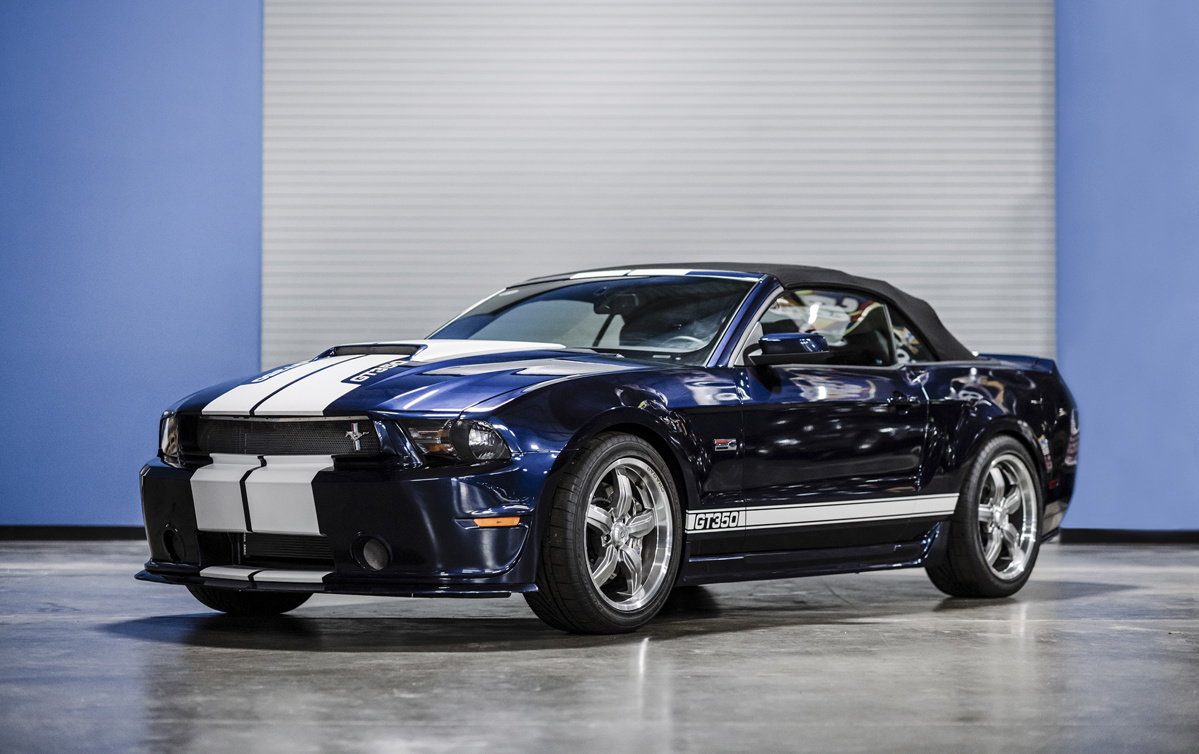 2012 Ford Shelby GT350 Convertible
Estimate: $75,000 - $100,000 USD
Perhaps the most interesting option available on the Shelby GT350 was a powered canvas top. Certainly, some of Shelby's Southern Californian customers would have appreciated an open-top Mustang back when his modified Mustang debuted in 1965, but due to the limited production time, a convertible variant was not offered until late 1966. And when Shelby's reimagined GT350 debuted in 2011, a convertible wasn't offered either.
In fact, this 2012 Ford Shelby GT350 was the first open-top offered by Shelby since 1970. Clearly worthy of preservation, this example's odometer reads even fewer miles than the coupe we covered earlier: Only 290.6 miles, in total. So fresh, you can almost smell the Sharpie from Shelby's signature on the glove box.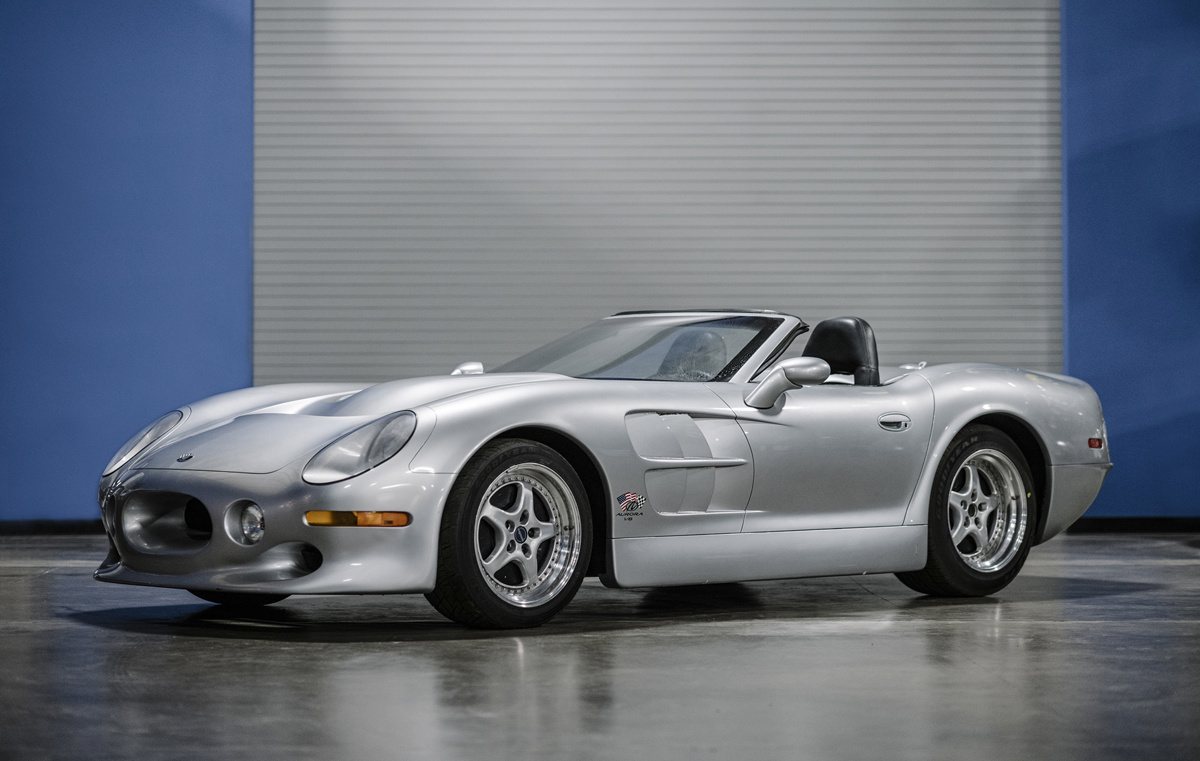 Shelby Series 1 Prototype Design Model
Estimate: $30,000 - $50,000 USD
 

|

 

Offered Without Reserve

 

Rounding out our list is a very special piece of Shelby history. This shapely sports car was the first to be produced by the legendary race builder from the ground-up. Though Shelby did still have an ally in General Motors to provide powerplants and some interior components, the Series 1 was envisioned from a clean sheet of paper. Advancements in modern materials, including Kevlar and carbon fiber, allowed Shelby to do more to extract performance than he could have imagined back in the 1960s.

Moreover, this example is exactly where Shelby's Series 1 began: The actual prototype design model for the final project from one of America's automotive pioneers. Truly a piece of history, this model is a stunning statement of design, and would be a significant piece of any American automobile collection.

We hope you've enjoyed this journey through Carroll Shelby's greatest cars, all available on 22 January 2021 from RM Sotheby's Arizona auction.