They say the trick to singing an anthemic song all starts by playing the first note as low as possible. Dynamically, this can set you up for big shifts in the second and final movements; a bit of long-term strategy that sets some artists above others. But this advice can also apply to the whole of an artist's career. From the sparse, soft sounds of the opening of "Yellow," the introduction for most of the world to the U.K.-based band Coldplay, to their triumphant rise through headlining gigs at Glastonbury and Coachella, it always seemed like the band consistently appreciated their potential, honed their skills, and then positively crushed the big crescendo at the end.
Sold-out shows are one thing, but enduring success and appeal play out over a long career. The recent documentary, A Head Full of Dreams, follows Coldplay from their formation in the early 2000s at University College, London through their most recent worldwide tour. Containing nearly two decades of behind-the-scenes footage, watching Coldplay collectively build some of the most recognizable rock songs of our time is a fascinating process, with Guy Berryman's consistent bass groove coming through as the backbone of the band's rhythm section. This commitment to quality paid off for Berryman, especially if one happens to be a fan of Ferrari sports cars.
RM Sotheby's is pleased to present these two tasteful Ferrari sports cars, both available as part of our Open Roads, May auction: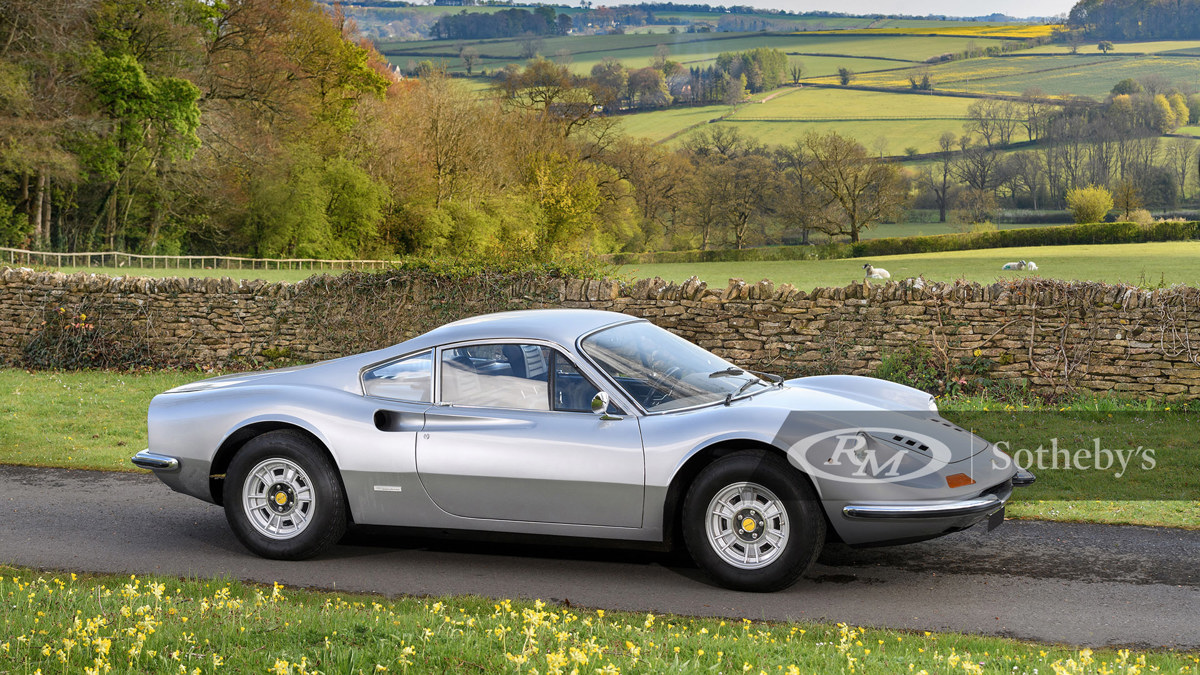 1971 Ferrari Dino 246 GT by Scaglietti
Estimate: £210,000 - £240,000 GBP
The sumptuous, flowing lines of the mid-engine Ferrari Dino 246 have attracted several rock star buyers, even from new. The two Keiths ­(Richards and Moon) both notably added the Scaglietti-built classic to their garages, as well as Pink Floyd drummer and well-known collector Nick Mason. For Guy Berryman, finding the right example was critical, as every rock fan knows well the story of Keith Moon's Ferrari Dino. By contrast, Berryman's example still retains its original shapely Scaglietti design.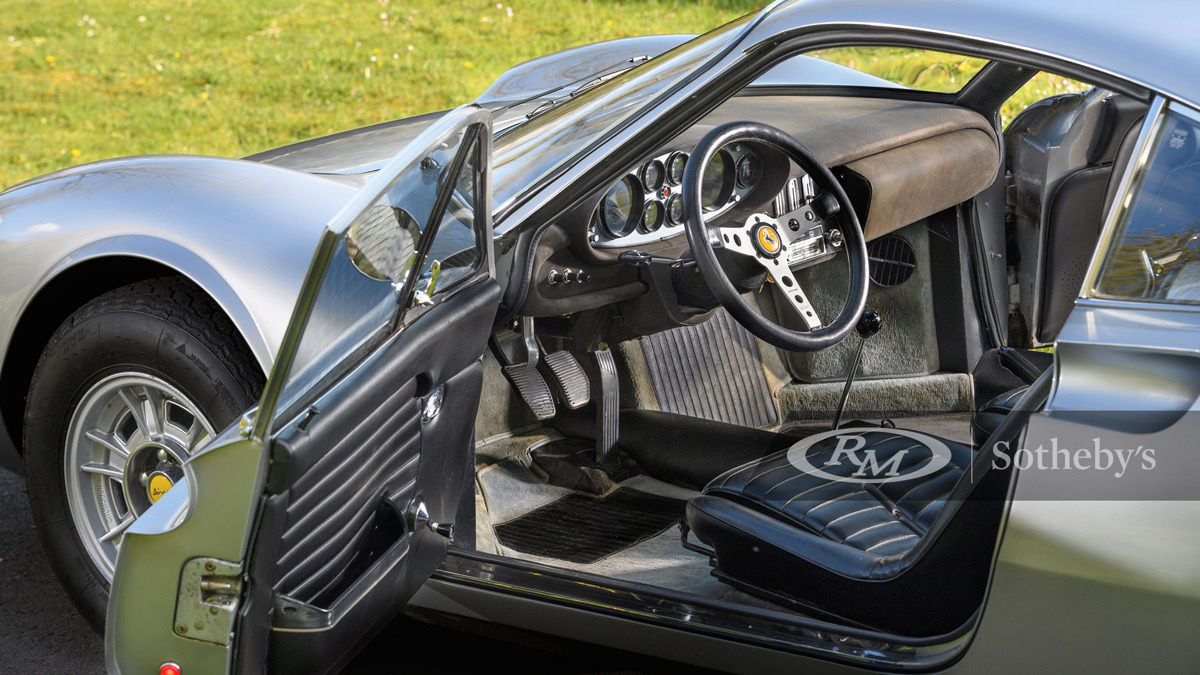 While finding a Ferrari that was better cared-for than Keith Moon's may be easy, finding a cherished example like Berryman did with this Dino is far more uncommon. With only five owners from new besides Berryman, this example originally was delivered in Italy and spent the first portion of its life there. Then, just seven years from new, the title was transferred to an American engineer, Loris J. Charchian of Troy, Michigan. The mid-1970s were a creative peak for Charchian, who racked up a series of automotive-related patents and proudly kept his Ferrari in the suburban shadow of Detroit's "Big Three" OEMs. Berryman bought the Dino in late 2014 after this example had spent 36 years in Charchian's careful custody.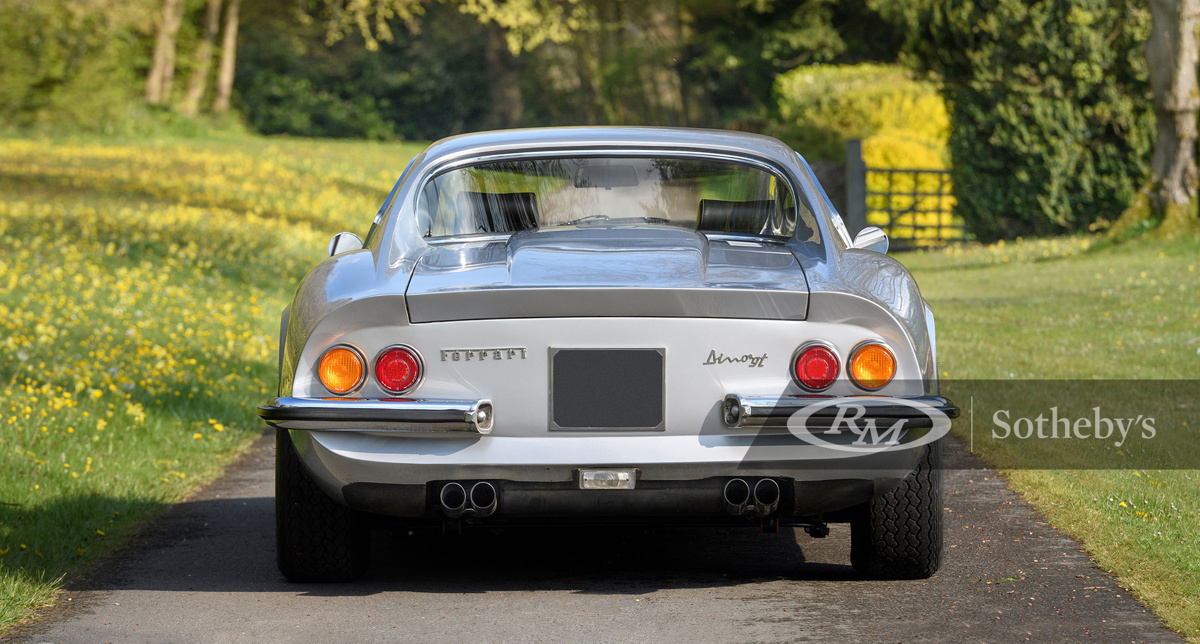 But the story of this fine Ferrari did not end there. One of the benefits of being a member of one of the biggest rock bands on the planet is that one gets the freedom to properly sort their vintage sports car. In advance of the 2017 Tour Auto, Berryman treated this Dino 246 example to a thorough overhaul, composing a complete engine rebuild, including full balance, crack testing, new bearings throughout, new piston kit (.020"), new valve seats and guides, new valves, new timing chain, new water pump, new exhaust, and rebuilt carburetors. Additionally, a new clutch kit was installed and the brake system overhauled. The suspension was rebuilt including new bushings. Furthermore, the car has also recently received a pedal box rebuild, new coolant pipes, rebuilt radiator, new cooling fans, starter motor, new alternator and regulator, new brake servo and brake master cylinder, and a new steering rack. All was work carried out by Glenn Moule Enterprises. Not your typical rock star's sports car, in other words.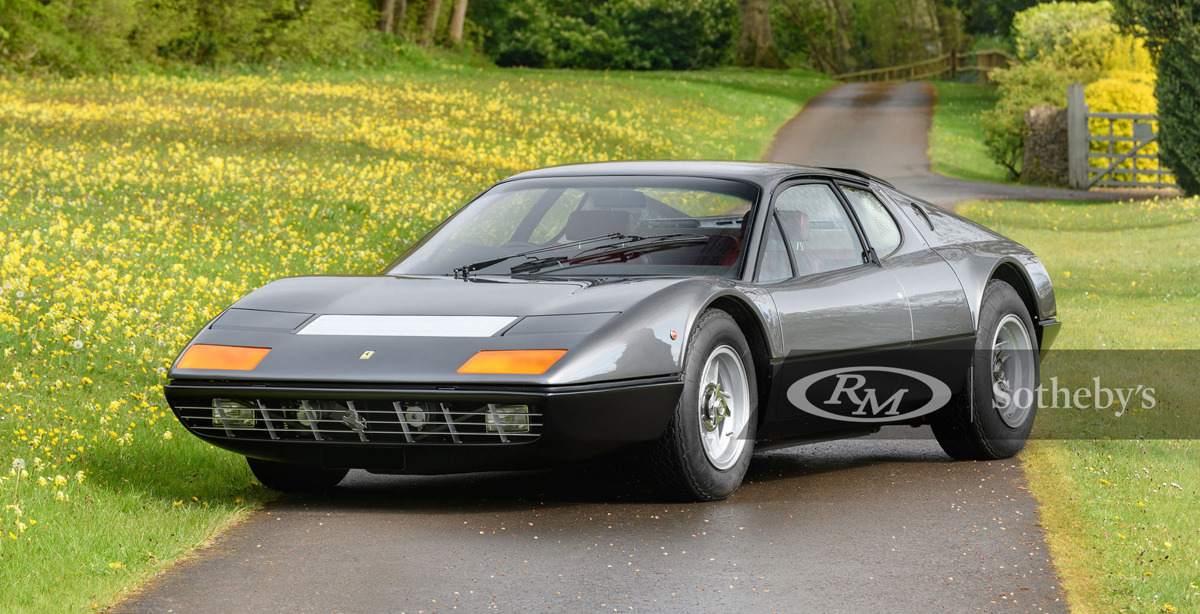 1974 Ferrari 365 GT4 BB
Estimate: £210,000 - £240,000 GBP
2014 proved to be a pivotal year for Berryman, as Coldplay moved labels to Atlantic and released their RIAA-2x Platinum-certified Ghost Stories. For the first time, Berryman was given songwriting credit, for a great tune called "Magic," which just happens to feature a positively vibrant bass-driven beat. Perhaps more pertinent to the discussion at hand, 2014 was also the year that Berryman purchased the classic Ferrari 365 GT4 BB pictured above. And much like the Ferrari Dino 246 we covered earlier, this tasteful Grigio Ferro over Rosso BB also was the product of careful ownership; its odometer reading only 52,410 miles upon Berryman's purchase.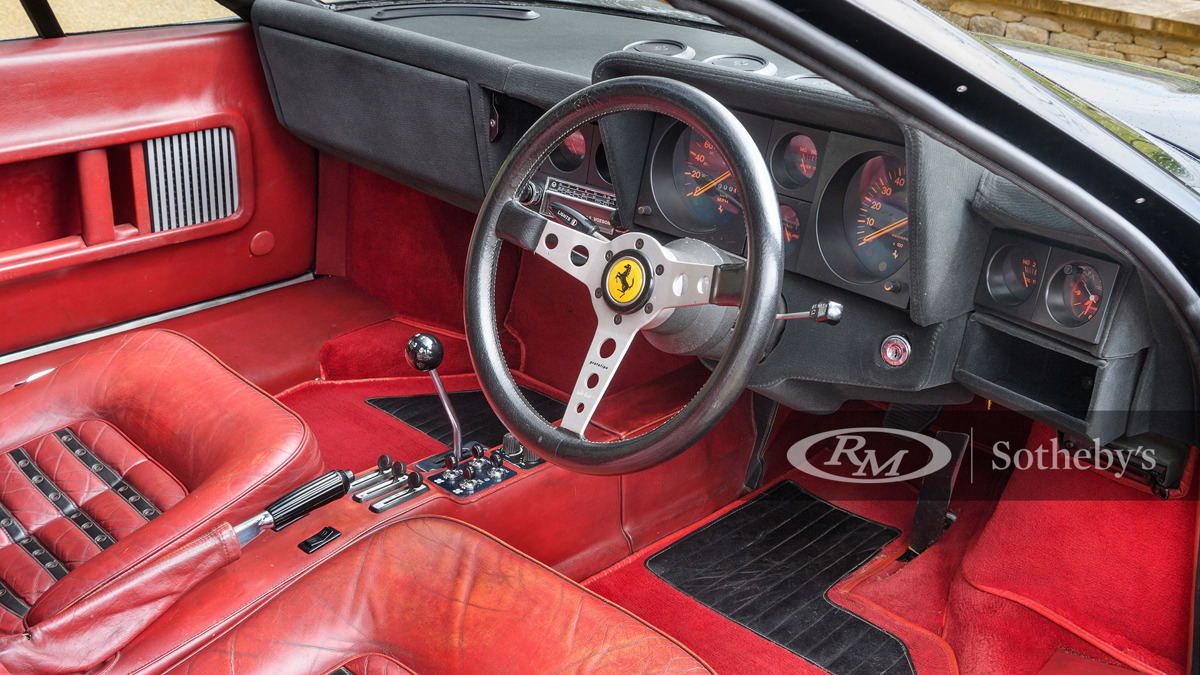 Much like the more silver-hued Ferrari noted above, soon after its purchase, Berryman treated this example to a comprehensive mechanical and aesthetic overhaul. Receipts totaling over £70,000 were tallied by marque experts RJ Panels (who completed the stunning bodywork and chassis repairs on this example) and Cotswold Prestige Cars (who managed the mechanical restoration). This complete restoration encompassed overhauling the top end of the engine on this example, as well as its suspension, steering, electrical, cooling, air conditioning, and braking systems.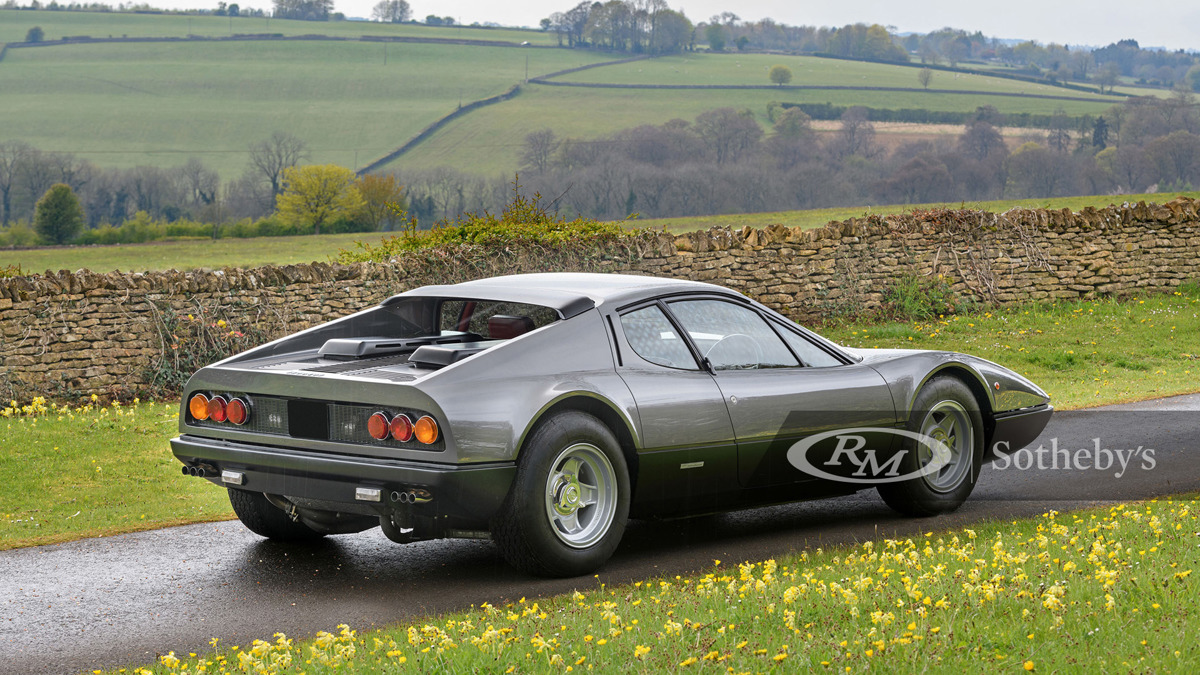 With the final stop for restoration of this Ferrari being Brookfield Classics for a professional-quality respray back to its original Grigio Ferro paint scheme, this example was ready for its own on-stage debut of sorts, appearing as part of the 2017 Ferrari Cavalcade Classiche in Tuscany. Showing off its tasteful color combination and proudly representing modern mid-engine Ferrari sports cars during this celebration of 70 years of the marque, when looking at images of the event, one is left inspired by observing the universality of adoration over the prancing horse brand. Everyone loves a Ferrari, from rock stars to more regular folk, after all.
And yet, not every Ferrari can claim to be an actual rock star's car. With this 365 GT4 BB being one of a total of 58 delivered for the U.K. market in right-hand-drive, the pedigree of this example for any fan of Great Britain is unquestionable. And for fans of the Grammy Award-winning modern rock band Coldplay, this BB is sure to leave one with a head full of dreams, indeed.