While Jaguar fans are well familiar with the C-Type and D-Type racers that defined the consummate British sports car brand, there is another motorsports-derived machine that deserves to be held in a similarly lofty regard. Perhaps more akin to a modern-day version of the venerable Jaguar XKSS from the 1960s, the XJR-15 was made in extremely limited quantities for a supercar built in the early 1990s. Developed by an all-new motorsports-oriented division called Jaguar Sport, the Tom Walkinshaw Racing-developed Jaguar XJR-15. One of a mere fifty-three examples ever made of this limited-edition Jaguar, RM Sotheby's is proud to present this pampered example as part of our ultra-exclusive Private Sales division, available now for immediate acquisition: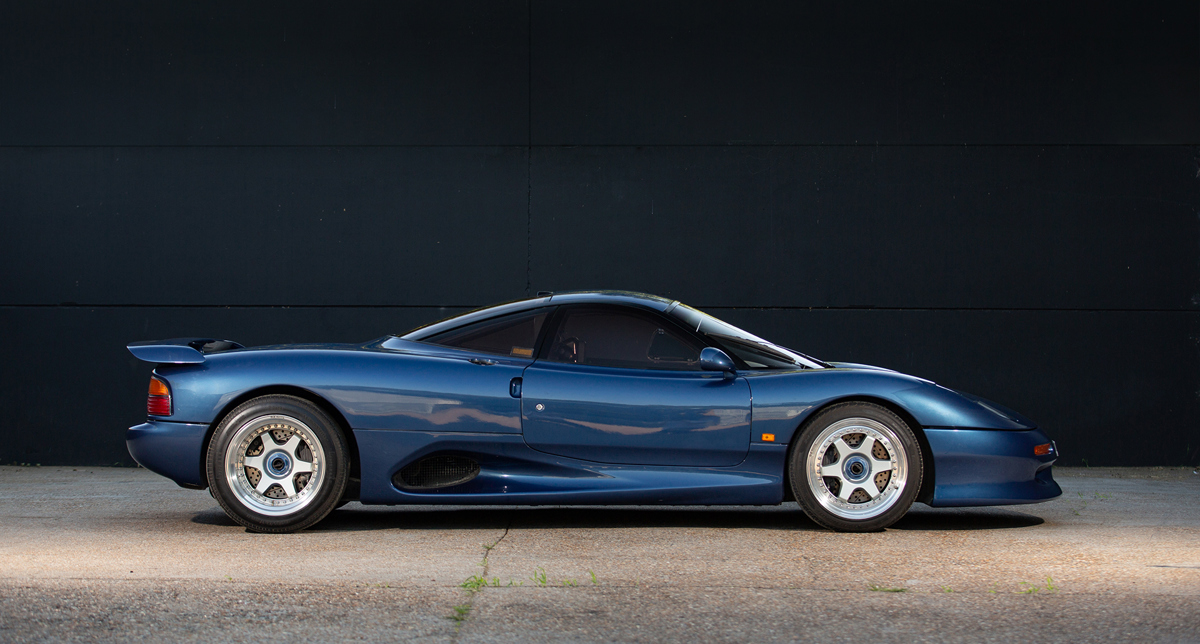 1991 Jaguar XJR-15
£1,450,000 GBP | Asking
Before the launch of their other nineties supercar, the Jaguar XJ220, the leaping cat brand's focus was directed mostly on endurance racing. Benefitting from a partnership with legendary driver-led team Tom Walkinshaw Racing, the quintessentially British sporting brand scored a series of successes in the late 1980s, with the Jaguar XJR-9 LM earning victory at its namesake endurance race with an outright win at the 24 Hours of Le Mans in 1988. Not long afterwards, Walkinshaw conceived the idea of creating a roadgoing version of his all-dominating racer and enlisted talented London-born designer Peter Stevens to craft a suitable shape for the new supercar. The result was a symphony in symbolic elegance.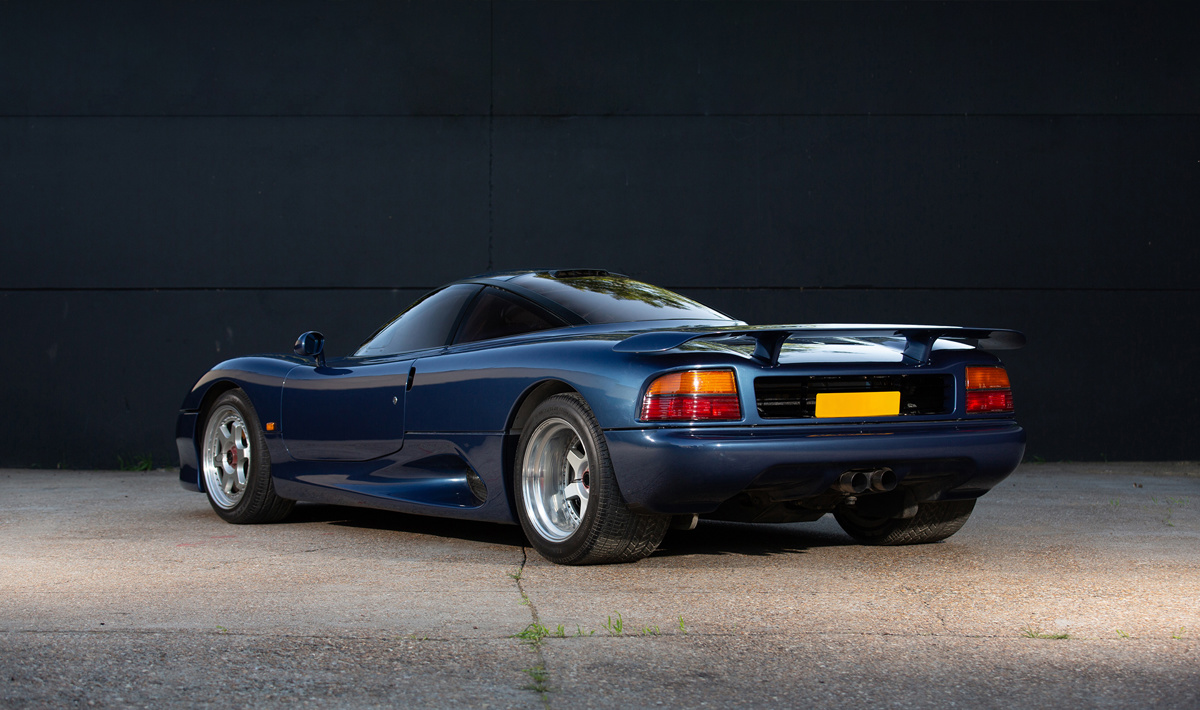 Now appreciated as one of the great automotive stylists of the era, Stevens, who is perhaps best known for crafting the McLaren F1, managed to create two of the decade's greatest hits without repeating his own designs. Part of the reason why the Jaguar XJR-15 is such a cohesive shape is that it was allowed to be a no-compromise sports car. Unlike the mighty McLaren, the XJR-15 did not require a side-mounted luggage compartment. Or a third occupant. Stevens' focus was all on delivering driver engagement.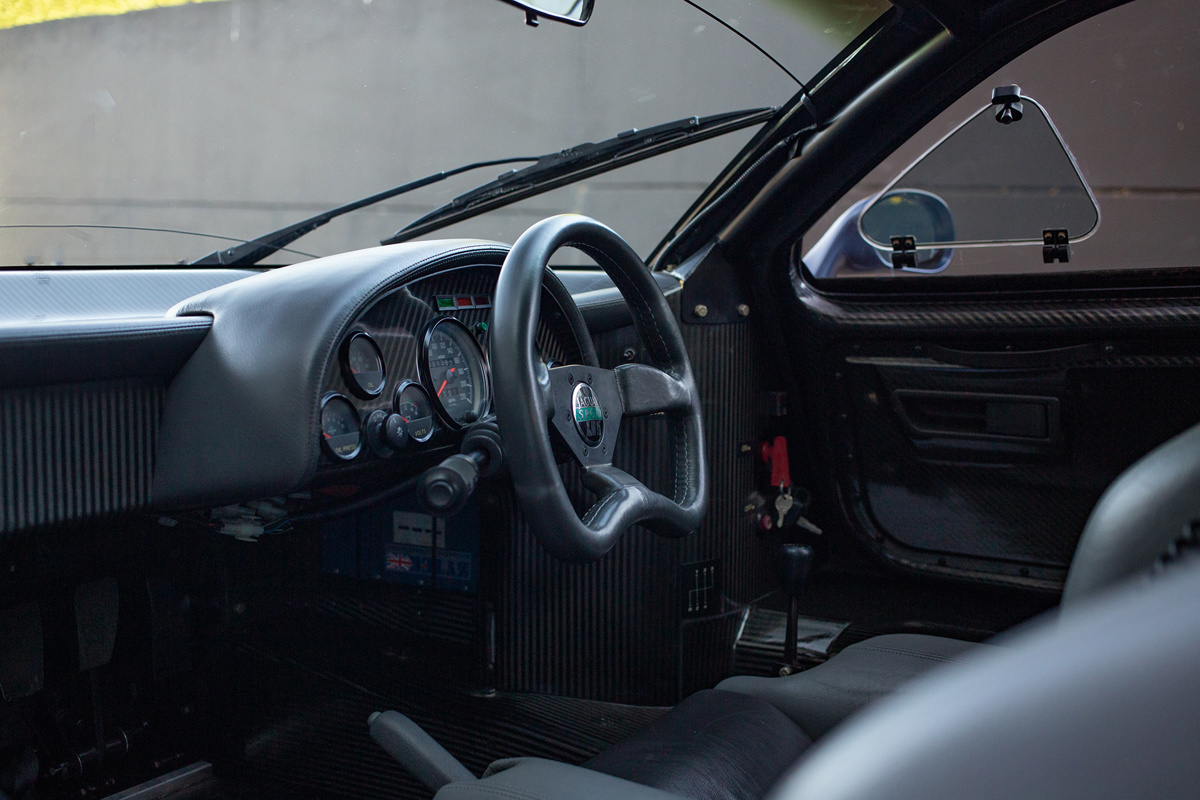 Inside, the purposeful cockpit of the Jaguar XJR-15 reveals the groundbreaking supercar's other claim to fame: The use of carbon fibre in the construction of the body and tub was a world-first on a road-going automobile. Underneath the XJR-15's body panels, the hard work and dedication of the Jaguar Sport team is on display, with the woven fibres presenting an atmosphere of high technology for the early 1990s. As the XJR-15 was meant to allow for some creature comforts, Stevens' design team raised the height of the roofline by 1.6 in. as compared to the Le Mans racer to allow easier ingress and egress.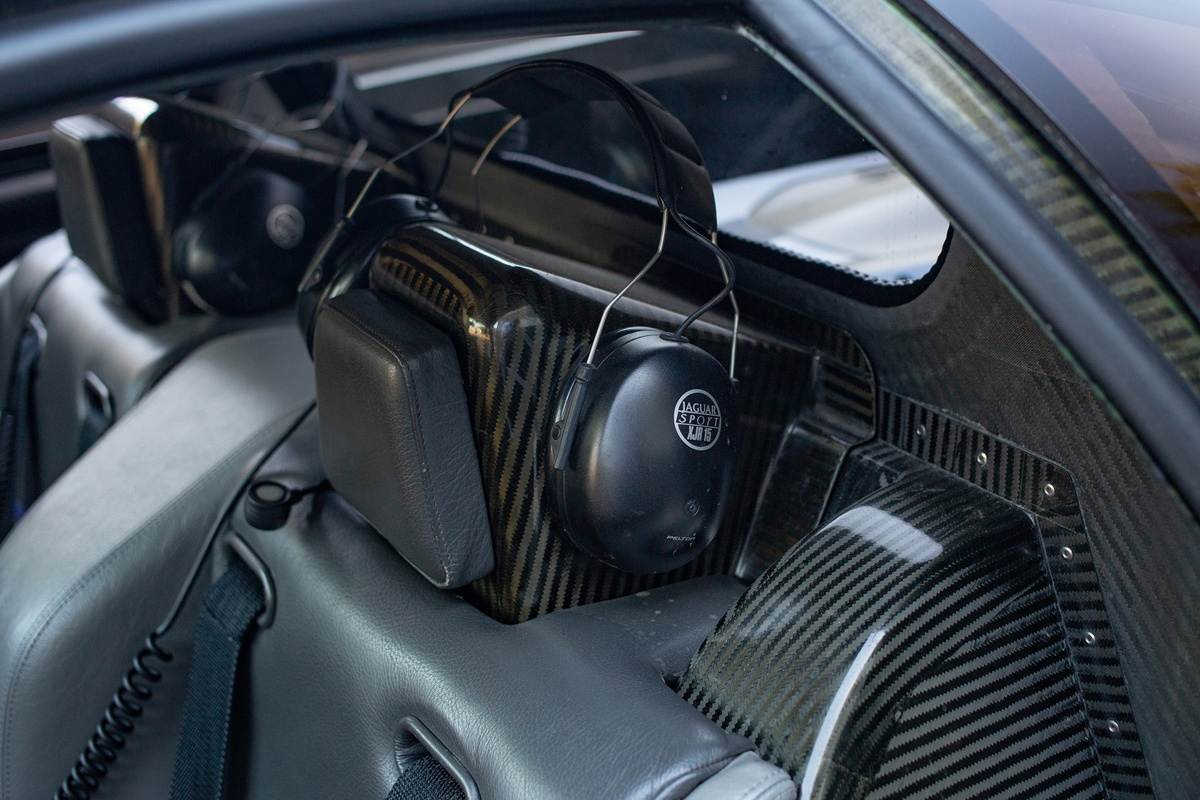 The pinstripe-style woven carbon fibre extends throughout the cabin, framing the twin race-style buckets for an altogether purposeful look. Race-inspired innovations extend to the five-point harnesses and the gray leather seats themselves, which feature colour-matched electric blue inserts and are designed to maximize this supercar's centre of gravity. The final accessory is a two-way intercom radio, meant to ease communications both between driver and passenger as well as with team leaders on track days. A recent appearance by a different XJR-15 example on Jay Leno's Garage proves a thrilling experience can be had on the road as well.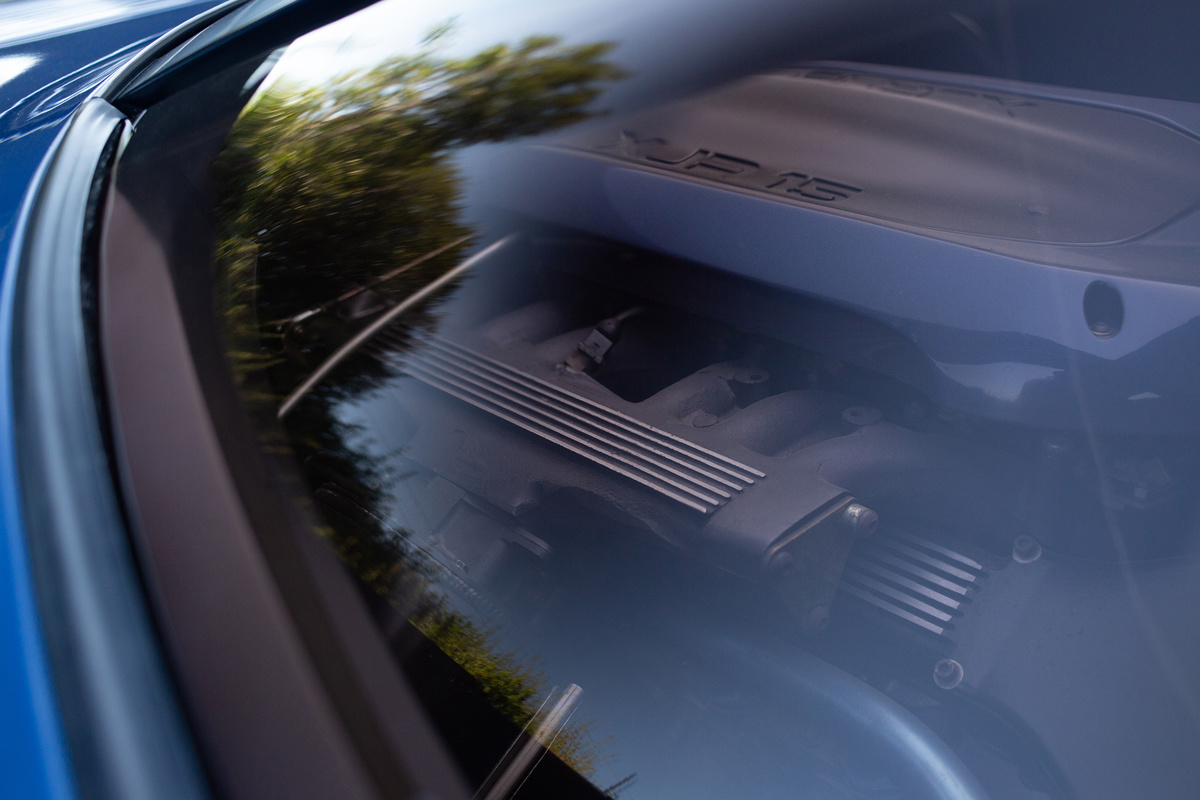 Gazing rearward, one can witness the true centrepiece of this car and the item that alone set it apart from its XJ220 sibling: A heavily tuned version of the 6-litre V-12 engine which powered the XJR-9 to victory on the World Sports Car circuit. The motor, set low in the supercar, was attached to the chassis as a stressed member and featured a Cosworth forged crankshaft and aluminum pistons. The rest of the suspension was competition-grade as well: Double-wishbone suspension at every corner, with pushrod-activated horizontal springs and dampeners. Unlike more modern offerings, the operatic engine on the XJR-15 was operated by the driver themselves, with a five-speed, unsynchronized gearbox providing the ultimate in driver-oriented operation. And, it must be mentioned, a twelve-cylinder engine was exactly what Jaguar aficionados were hoping would power the XJ220 supercar, also developed by Jaguar Sport.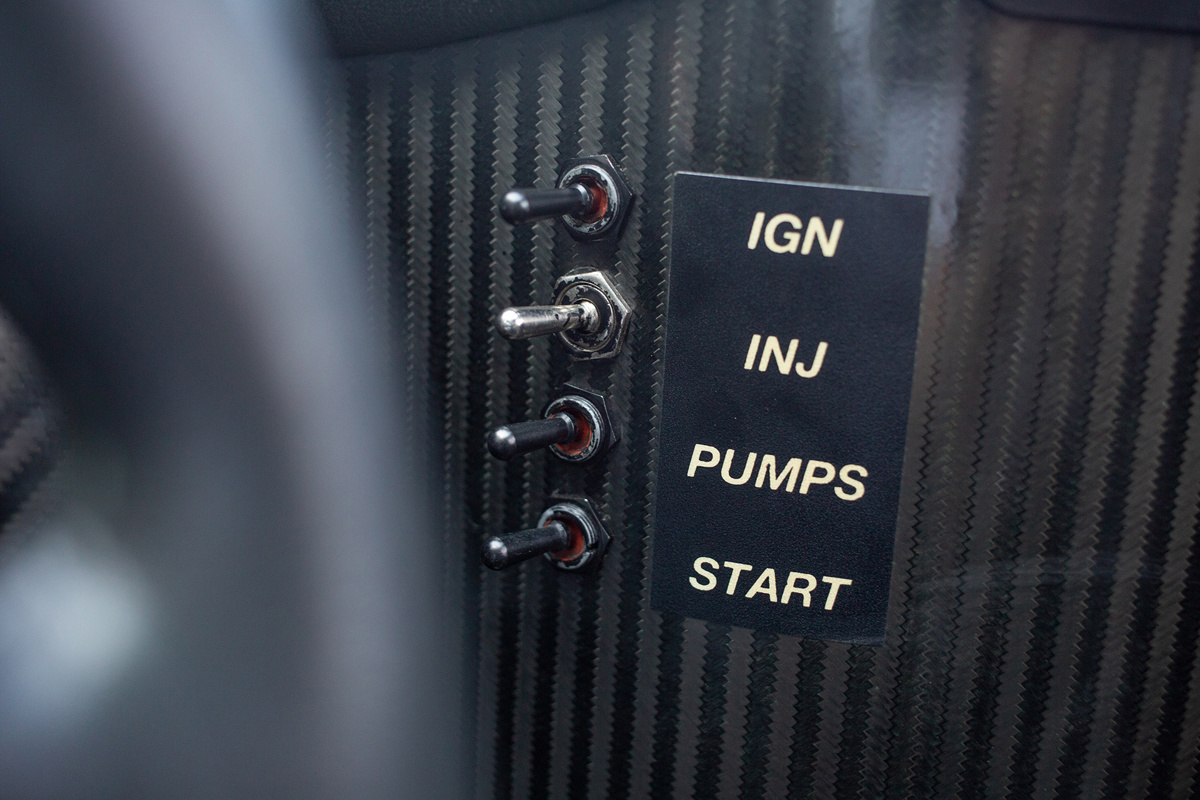 The interior cabin's purposeful toggle switches show the starting procedure of this unique supercar and provide even more evidence of this Jaguar's on-track abilities. However, because a mere 53 of these early nineties supercars were ever made, the XJR-15 is comfortably more collectible than many of its in-period peers. Recognizing the rarity of this Jaguar from very early on, this Japanese-delivery example has been devotedly cared for over the course of its ownership, and at the time of cataloguing showed a mere 1,362 miles. Original TWR stickers identifying this example as VIN no. 21 still remain fixed on this example's lightweight windows. In an effort to increase the usability of this no-compromise model, its bonnet and engine bay latches, which originally were quite difficult to remove, have been replaced with easy-to-open hinges and locks.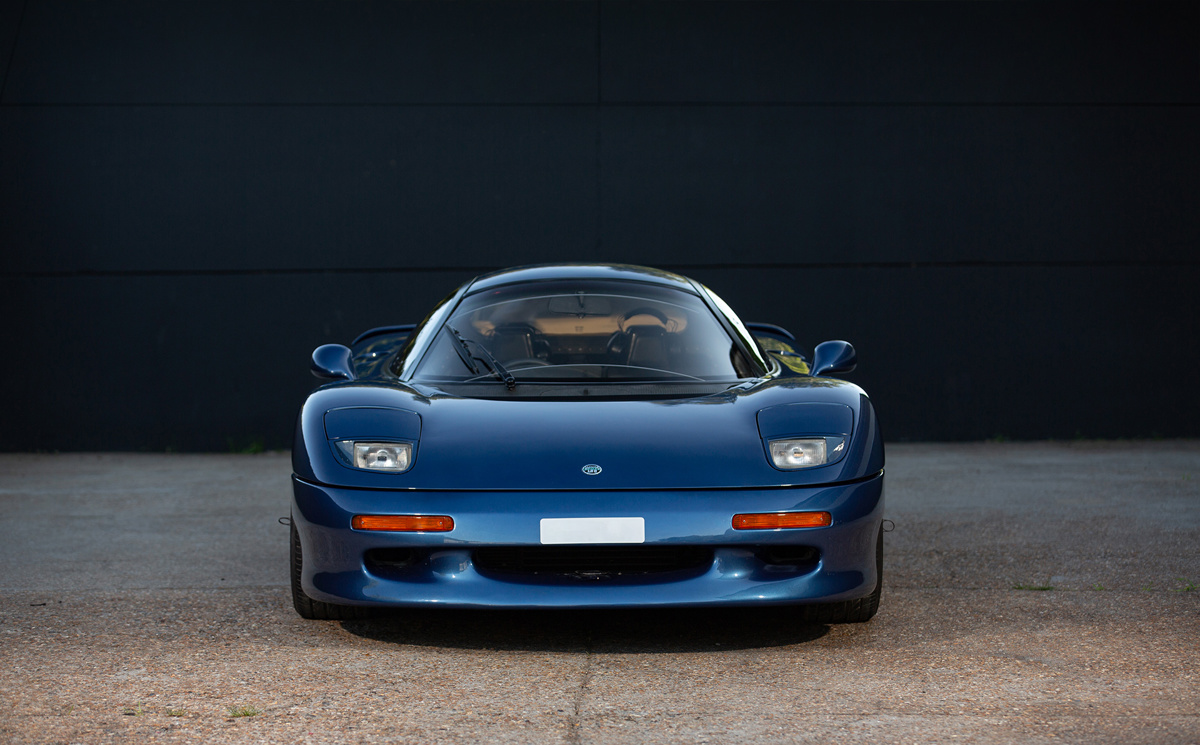 Having now enjoyed the appreciation that it deserved upon its debut, this relatively rare supercar was imported to the United Kingdom in 2014. Purchased by the current consigner in 2017, this example received a thorough reconditioning by a marque expert to bring it up to modern standards in 2018. The all-important fuel bladder replacement service was accomplished; this example is now FIA approved and fully registered. Brand-new tyres were added, as well as a thorough servicing of all pipework, including a rebuild of the fuel pump and refurbishment of the water pump. This thorough servicing accompanied a comprehensive detail and full paint correction, all photographed and documented for interested bidders. With a genuine lineage from an icon of British motorsport and an all-conquering, twelve-cylinder engine on tap, Jaguar fans are sure to be captivated by this no-holds-barred supercar, available immediately from RM Sotheby's Private Sales division. For true collectors of the most sporting Jaguar examples ever made, the time to act is now.