With summertime just around the corner in the northern hemisphere at least, the prospect of open-top cars has gone from faraway possibility to an inevitable certainty. Not if one chooses to drop the top, but when and more importantly, how often. For a summer cruise to be properly carefree, it is far easier if the car you are driving has the right amount of mileage for its age—too few and parking near the beach can become an exercise in anxiety. Too many, and the drive gets uncomfortable for other reasons.
RM Sotheby's has gathered a selection of impressive open-top cars, all ready to use how you wish—hardtop or soft, up or down—on your choice of roads. A wide-ranging collection of makes and models, all sharing the same spirit of limitless possibilities only offered with open-air motoring on the open road: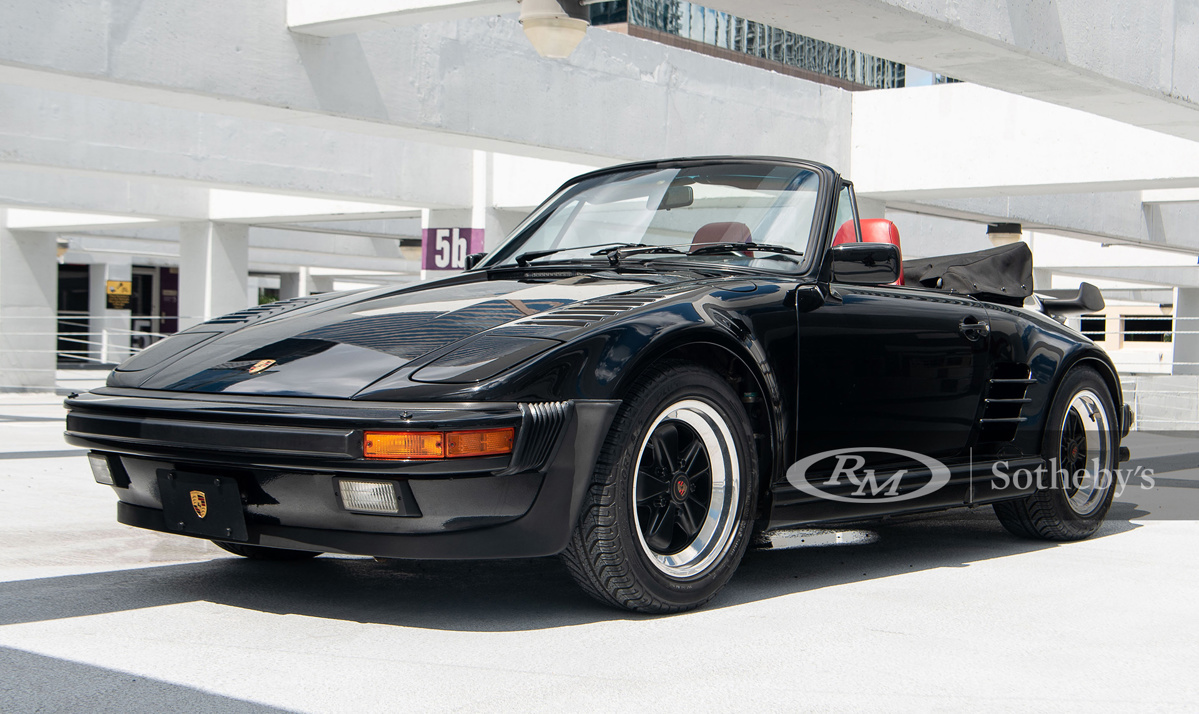 1987 Porsche 911 Turbo 'Flat-Nose' Cabriolet
Estimate: $275,000 - $325,000 USD
For some die-hard Porsche fans, this turbocharged 911 'Flat-Nose' Cabriolet is the last word in open-air motoring. With a sharp look designed to mimic the aerodynamic lines of the race-ready Porsche 935 and the most potent variant of the air-cooled, turbocharged 930.66 engine, this Black-over-Lipstick Red, numbers-matching machine showed the equivalent of 21,441 miles on its odometer at the time of cataloguing. The extensive photo gallery is worth a closer look for any Porschephile, as this 'Flat-Nose' example is one of only three built to a similar spec.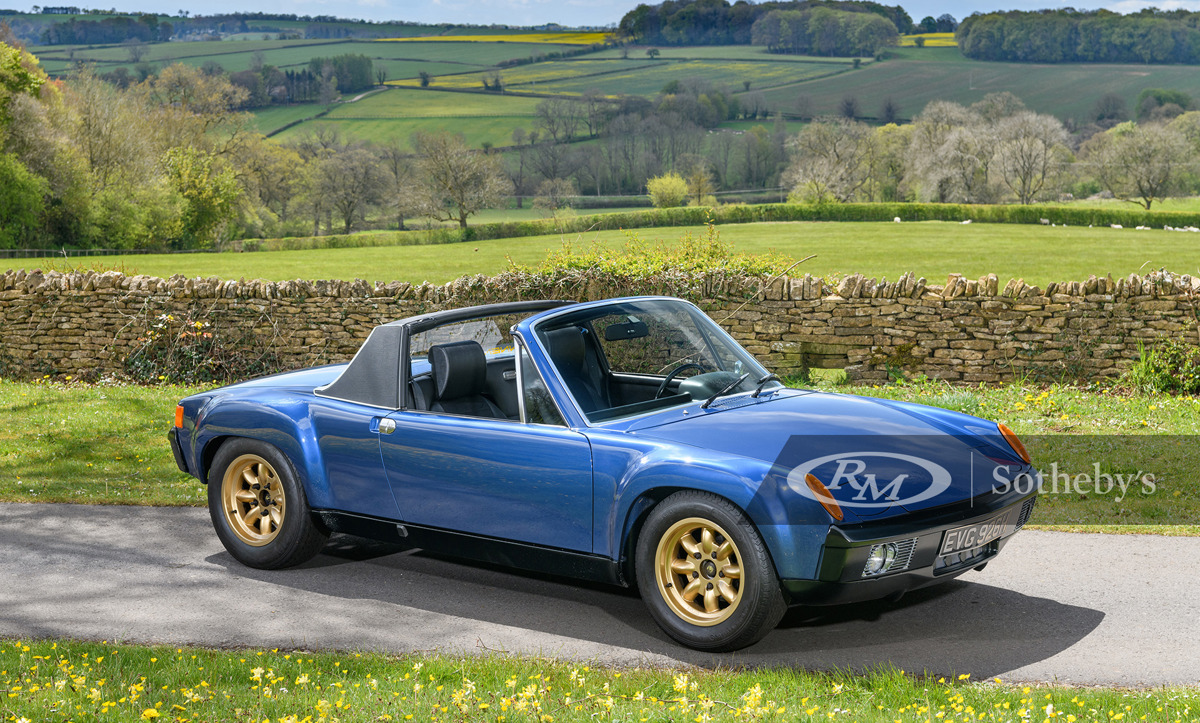 1970 Porsche 914/6
Estimate: £80,000 - £100,000 GBP
In terms of overlooked values, the mid-engine Porsche 914 has long been considered a junior sibling to its legendary, rear-engine older brother, the 911. And yet, especially when sporting six-cylinder power like this 914/6, the superior steering feel and balance derived from when a car's powerplant is placed in-between its front and rear axles proves that Porsche produced worthy driving cars even above and beyond their legendary 911 line. The practicality added from the stowable targa top only serves to underline this point.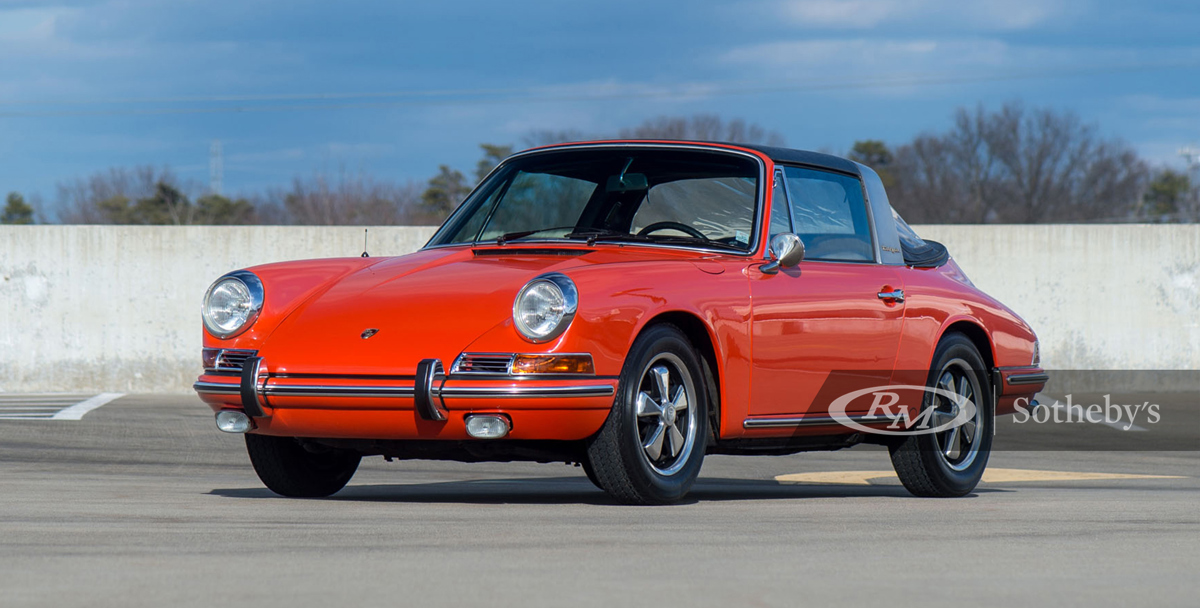 1968 Porsche 912 'Soft-Window' Targa
Estimate: $50,000 - $60,000 USD
And yet, for some Porschephiles, there is no model other than 911; and no Targa more desirable than a 'Soft-Window.' Named for the zip-out, canvas-and-plastic, see-through rear window found only on the earliest examples, the 'Soft-Window' Targa has become its own vector of Porsche collecting. This handsome 912 example shows 27,586 miles, perfect for a carefree summertime cruise. And with the rear window removed, the Targa's signature roll bar can stand out as intended.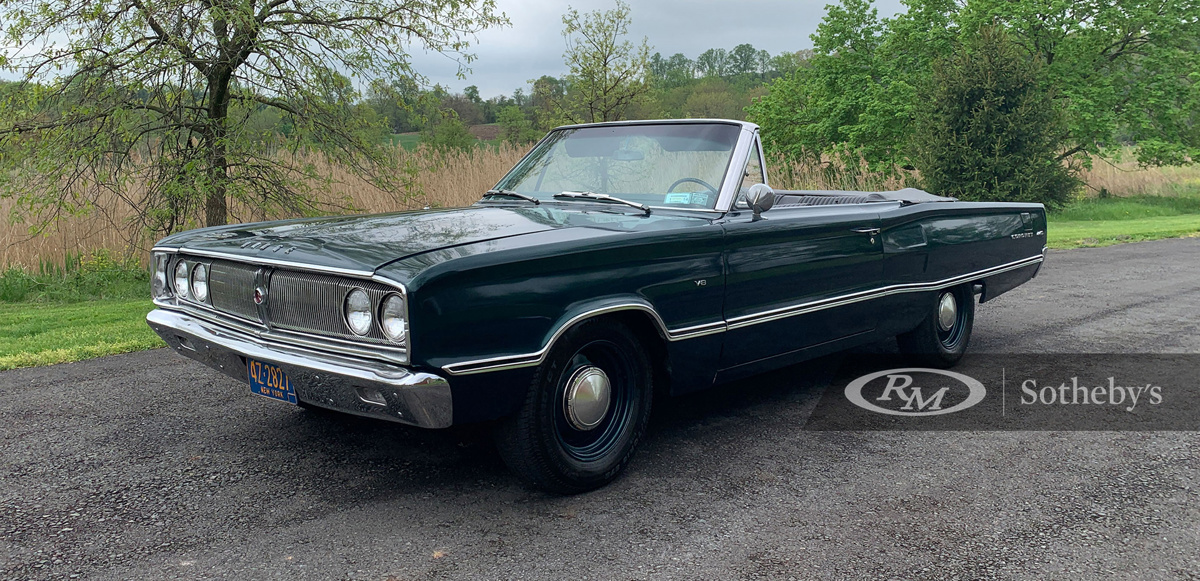 1967 Dodge Coronet 440 Convertible
Estimate: $28,000 - $32,000 USD
In contrast, check out what the American OEMs were producing in the late 1960s. No less a classic, the Dodge Coronet 440 Convertible is like the spiritual predecessor of the Dodge Challenger SRT Hellcat or Demon, only with a power-operated top. For our continental readers, the 'Magnum' 440 engine translates to 7.0-liters of "big block," V-8 power. Has it got a hemi? Not exactly, as Dodge's signature hemispherical combustion chambers could be found on the even-larger 446 powerplant. And yet, one should not count out the viability of the wedge-shaped combustion chambers found in this 440; Jay Leno's latest restoration blog features a Polara with a similar powerplant. And on open-air examples like this one, that Dodge V-8 soundtrack is that much closer to the driver.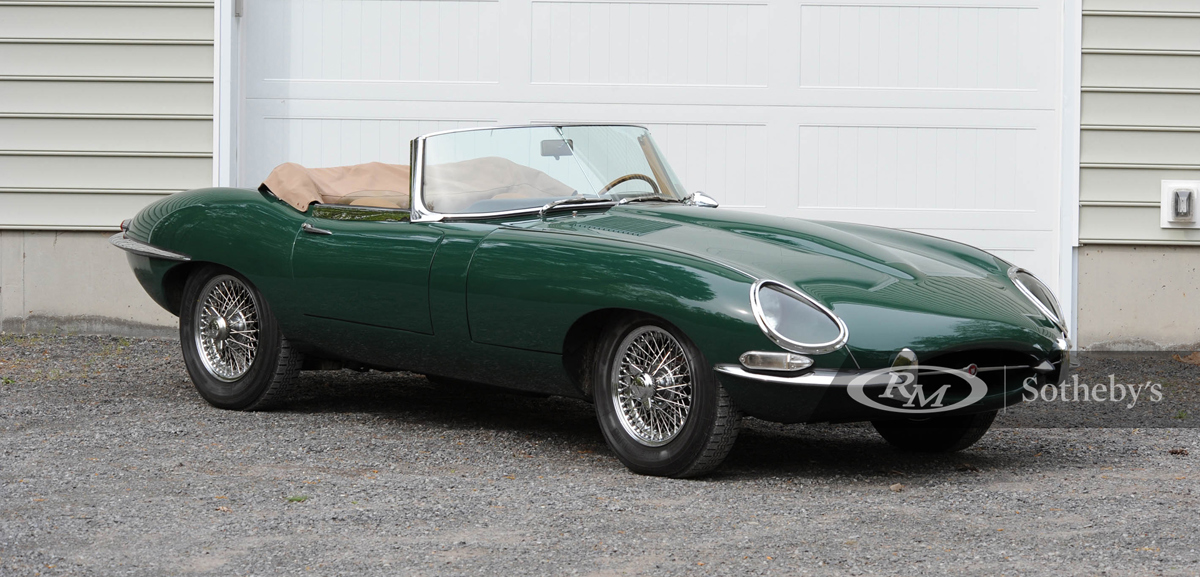 1962 Jaguar E-Type Series 1 3.8-Litre Roadster
Estimate: $150,000 - $175,000 USD
Our quick jaunt into 1960s-era open-top sports cars has to spend at least a second considering the roadster which even non-automotive aficionados can appreciate as sculpture. The appearance of this Series 1 Jaguar E-Type is made all the more iconic by way of its classic 'full-English' color scheme of British Racing Green over a Biscuit interior. Yes, Biscuit (not "cookie"). For many Jaguar fans, the headlight treatment of Series 1 E-Type Roadsters makes this generation the most desirable choice.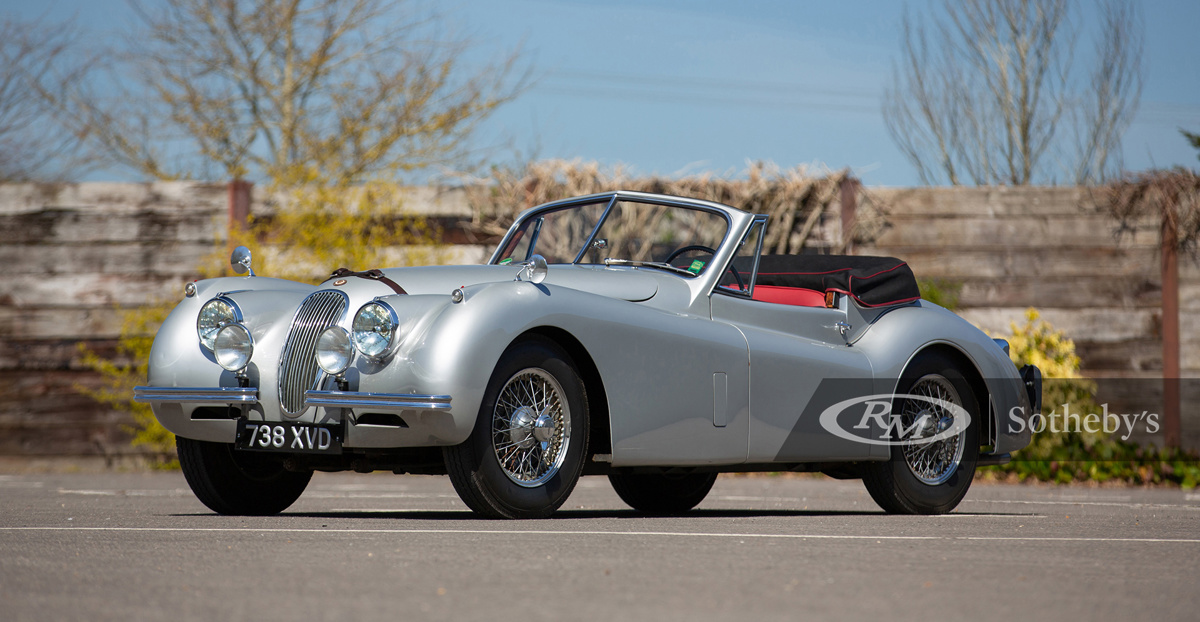 1954 Jaguar XK 120 SE Drophead Coupe
Estimate: £75,000 - £90,000 GBP
Moving a bit further back in time in Jaguar history, this Drophead Coupe describes the ethos of fine sporting cars in the mid-1950s. In an era where some roadsters were a bit lacking in terms of creature comforts, Drophead Coupes like this Jaguar XK 120 SE were instead posed as a well-appointed alternative. The fine leather interior and deep burl wood dashboard are evidence of this, but what really sets this Drophead Coupe apart is the lined canvas soft top, complete with a glass rear window and even an interior cabin light, all to complete the 'coupe' look with the top raised.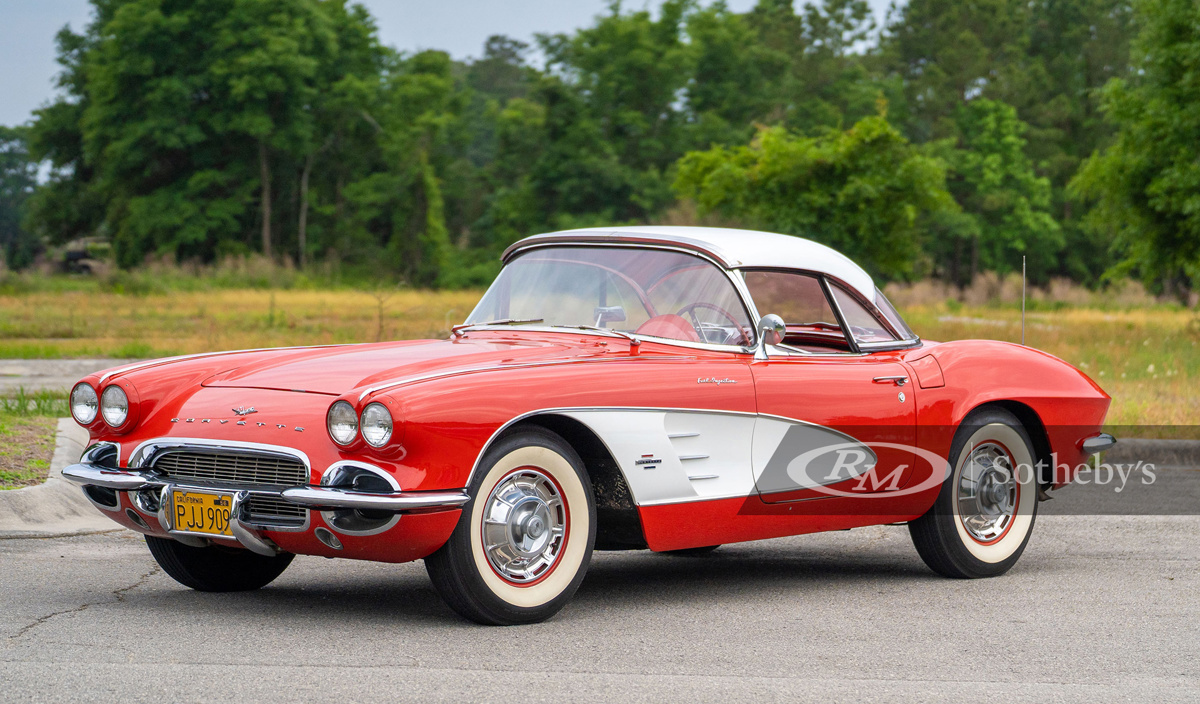 1961 Chevrolet Corvette 'Fuel-Injected'
Estimate: $85,000 - $95,000 USD
Debuting one year prior to the Jaguar Drophead Coupe we just covered, the C1-generation Corvette was America's official answer to the open-top British sports cars popular during the era. By 1961, with the addition of a fuel-injected, small-block V-8, the Corvette could credibly boast about its performance against its European rivals. With the Corvette team putting up a strong showing at Le Mans the previous year, American car fans finally had a sports car that could measure up against the best in the world. This example also sports an aesthetic touch that briefly disappeared after 1961: Two-tone paint.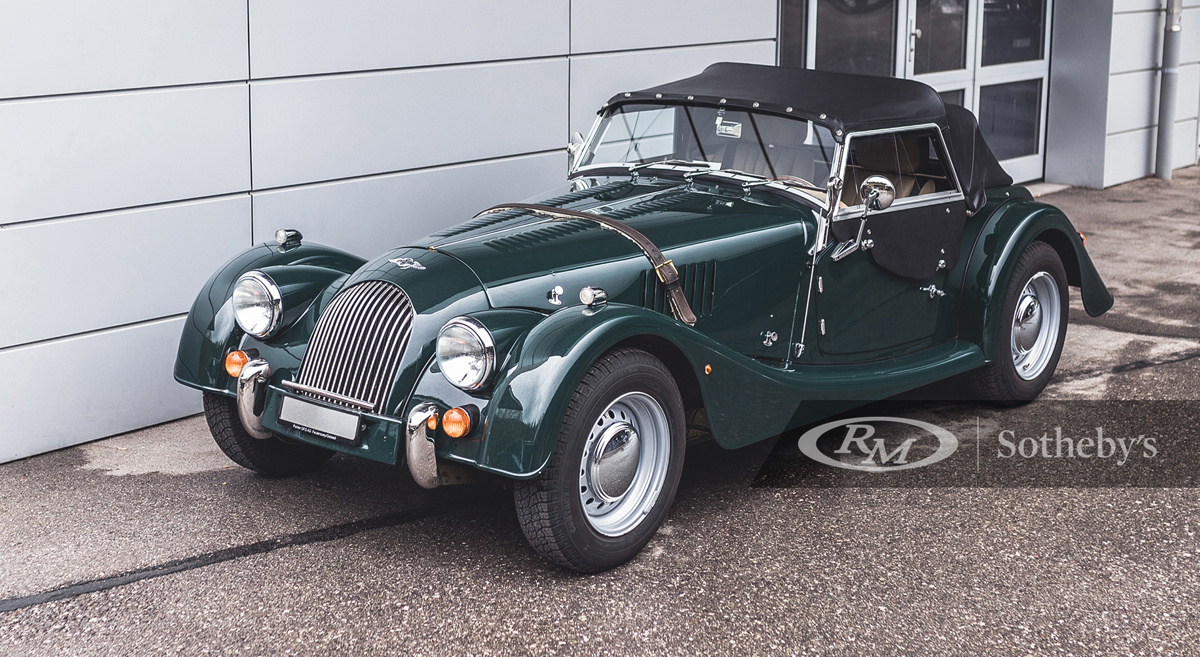 2006 Morgan 4/4 '70th Anniversary'
Estimate: CHF30,000 - CHF40,000
If this list of roadsters is intriguing, but only reveals a desire for a modern car with a vintage appearance, look no further than this Morgan 4/4. Built to celebrate seventy years of dedication to the Morgan ideals of lightweight construction and perfect long-hood, short-deck proportions, this 2006 example proudly wears all the characteristics of a classic British roadster, from its British Racing Green-over-tan leather color scheme to its classic steel chassis, a nod back to the original Plus 4 from 1936. This rare anniversary roadster is one of a mere 20 built by Morgan.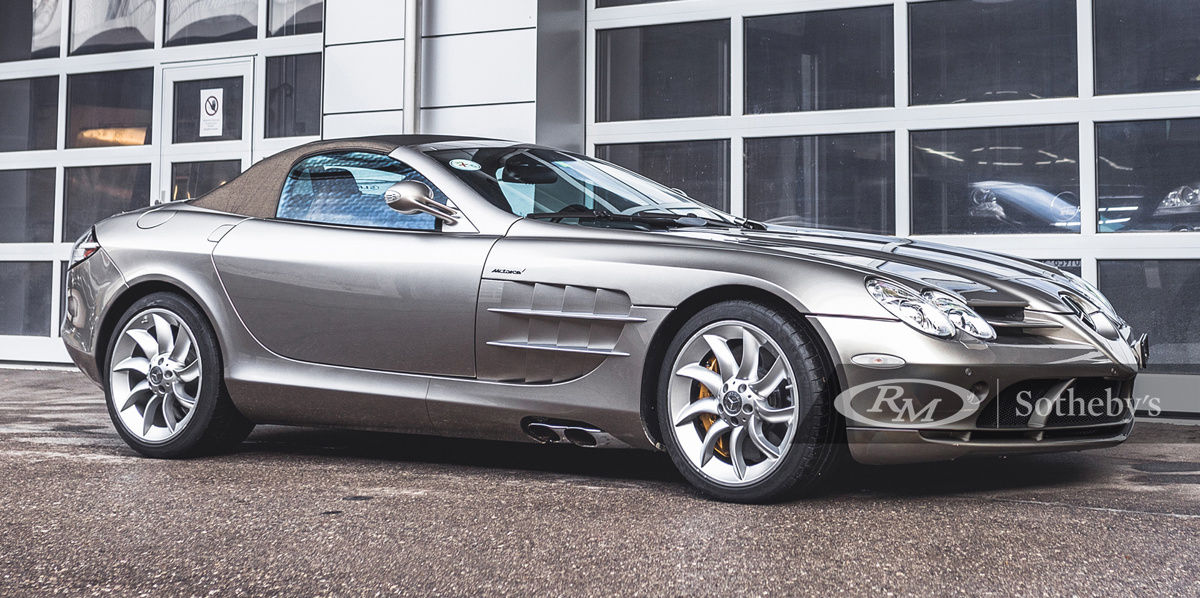 2008 Mercedes-Benz SLR Roadster
Estimate: CHF320,000 - CHF360,000
Our final example is perhaps the most top-tier version of a roadster possible, this 2008 Mercedes-Benz SLR Roadster does have a folding canvas soft top, a long hood, and short deck, so at least on paper, it satisfies all our "open-air" requirements. Co-developed by legendary British firm McLaren, the SLR also packs a bit of British credentials as well; the signature exhaust note on the supercharged 5.0-litre V-8 engine is said by some to resemble the rumbling sound of a British Spitfire airplane. Sharing the same 'Butterfly' doors, hinged on the A-Pillars, that made its closed-roof sibling such a standout car upon its debut, examples like this SLR Roadster prove that, when it comes to open-air motoring, one can indeed have it all.