It is easy to assume that, with an adjective as imperious as "classic," those select automobiles in the post-antique, pre-war era were always regarded with equal renown. And yet, if you trace the history of what is now considered the most prestigious showing of vintage vehicles in the world, you will find a decidedly non-classic past. Though it now seems impossible to believe, the first five winners of the Pebble Beach Concours d'Elegance were all brand-new cars. Four were late-model Jaguar sports cars, then Phil Hill broke the mold.
Already a favorite among racing fans, when Phil Hill entered his family's 1931 Pierce-Arrow 41 in the 1955 Pebble Beach Concours d'Elegance and won, it was the dawn of a new era. No deference to a European marque was necessary to participate in the upper echelon any longer; the New York-built powertrain and Le Baron body on the Pierce-Arrow were more than adequate. That the Convertible Town Cabriolet was Hill's college car did not matter; the family story behind the automobile, combined with the fact that it was likely the first pre-war car ever to be restored, won the judges hearts. Ever after, Pebble Beach distinguished itself as a competition between classic cars. To compete at this level, one must first source the right classic.
As a figurehead auction event—the capstone of Monterey car week for decades—RM Sotheby's has prided itself in offering not simply a smattering of classics, but serious selections, encompassing some of the greatest profiles of the pre-war era. The only important choice now becomes: Do you prefer American or European?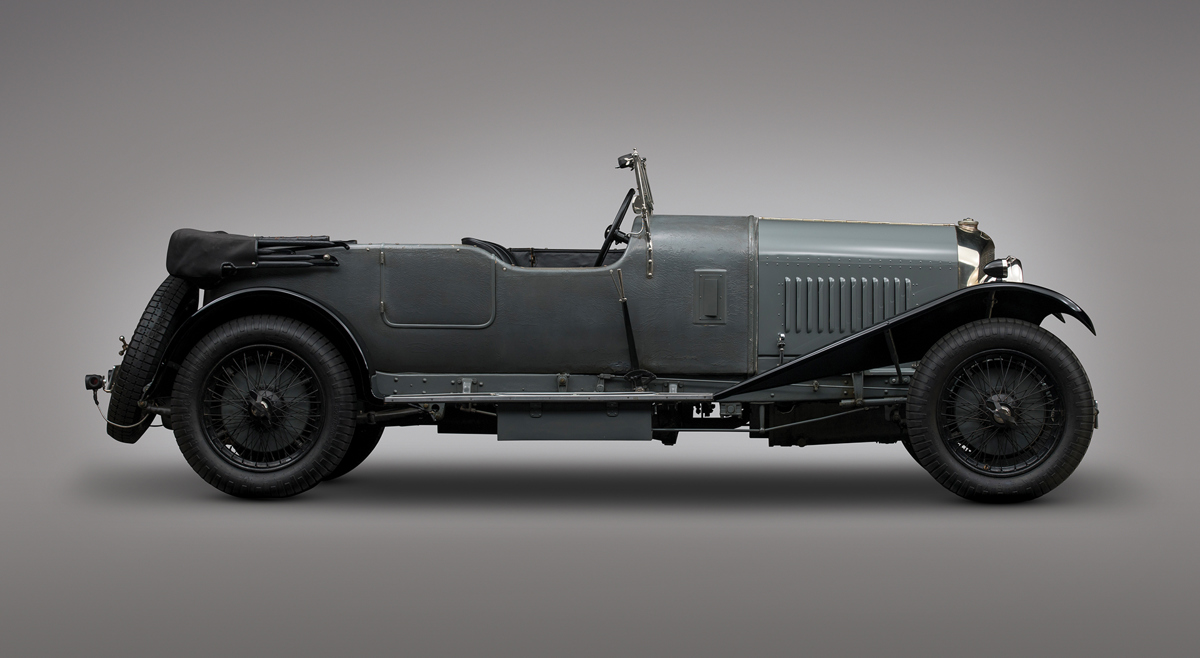 1929 Bentley 4½-Litre Open Four-Seater Sports by Vanden Plas
Estimate: $1,100,000 - $1,300,000 USD | Offered Without Reserve
The Paul Andrews Estate Collection
Though today we typically associate quick cars with as few doors as possible, for a brief period, the sporting saloon was the go-to variant. Period regulations at endurance races like Le Mans required that entrants with large-displacement engines carry seats accommodating four occupants. In 1929, Bentley were defending champions at Le Mans. During a time when the firm's biggest financial backers were also their top drivers, Woolf Barnato led the so-nicknamed "Bentley Boys" to victory, also claiming the inaugural prize for overall distance. As a result, the Vanden Plas-bodied Bentley cars, with their stout 4.5-litre inline four-cylinder engines and open coachwork, became endlessly emulated and replicated. This example, with numbers-matching engine and chassis RL3427, is the genuine article, documented in-period by preeminent Bentley scholar Dr. Clare Hay, and possessing an unmatched provenance. The epitome of a classic driver's car.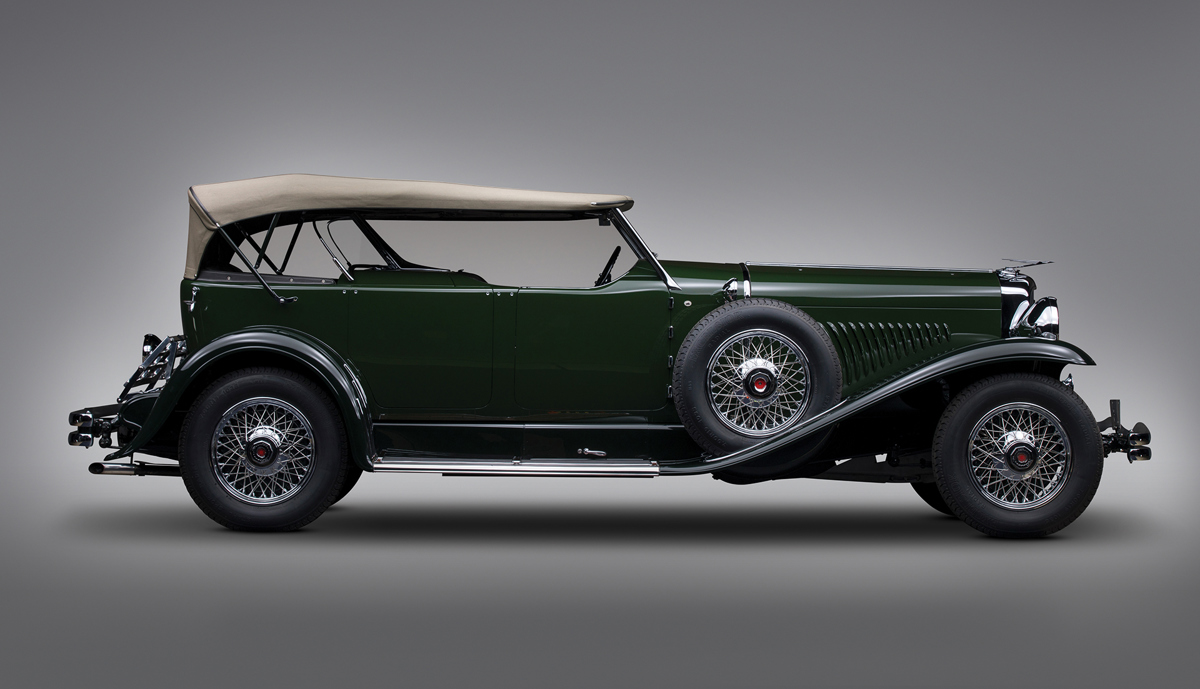 1929 Duesenberg Model J 'Butterfly' Dual-Cowl Phaeton by Murphy
Estimate: $2,750,000 - $3,250,000 USD | Offered Without Reserve
The Paul Andrews Estate Collection
If the Bentley above is a dream classic for driving, this Duesenberg Dual-Cowl Phaeton is a prime choice for either driving or being driven in. With its California-built, Murphy body featuring a one-of-three 'Butterfly' design by Franklin Q. Hershey (one of the early fathers of the tailfin), either position would be optimal. As a driver, one would be treated to arguably the strongest engine of the era, a twin-cam, inline eight-cylinder beast producing 260 horsepower. The still-respectable power output was absolutely astonishing in-period; offering a still-usable capability that has no doubt allowed this example to participate in three Duesenberg rallies, including the Pebble Beach Motoring Classic and the Colorado Grand. When lifting the intricate, integrated rear cowl to allow access to the backseat, one is treated to stadium-style seating offering an unparalleled view of the road, while still protected by the speedboat-style split windshield of its second cowl.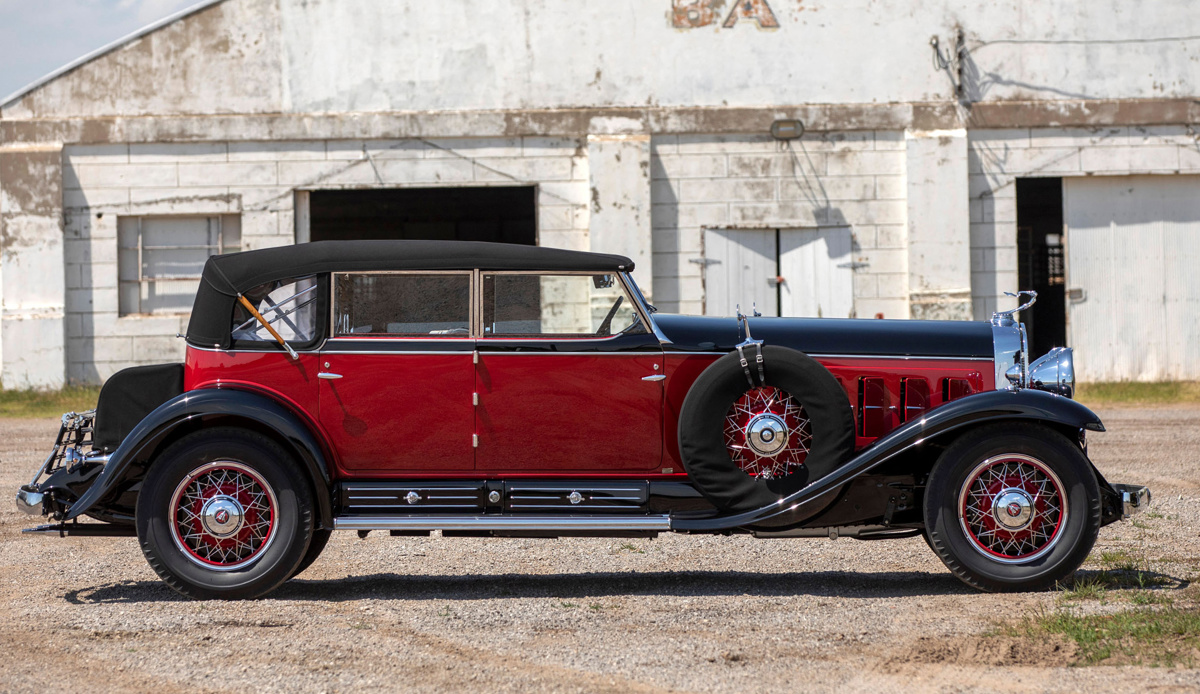 1930 Cadillac V-16 Convertible Phaeton by Murphy
Estimate: $1,500,000 - $1,800,000 USD
Though Duesenberg is perhaps the best-remembered American car of the 1920s and 1930s, by no means did they exercise total dominance of the premium market. Touting a sixteen-cylinder powerplant, the first engine to itself be styled (courtesy of Harley J. Earl), Cadillac was so proud of their newest creation, they labeled it a "supercar" in period advertisements. This example is made even more special, with its one-of-one body completed at the Walter M. Murphy Co., of Pasadena, CA. The second car on our list featuring exceptional Art Deco styling courtesy of the master of the coachbuilding era, Franklin Q. Hershey, this is the only V-16 Cadillac chassis to have received a Murphy body. The slight dip underneath the most rearward window is made to accommodate the folding top. With a known history, and provenance from one of the most prominent GM families in California, this Cadillac has been certified a Full Classic by the Classic Car Club of America.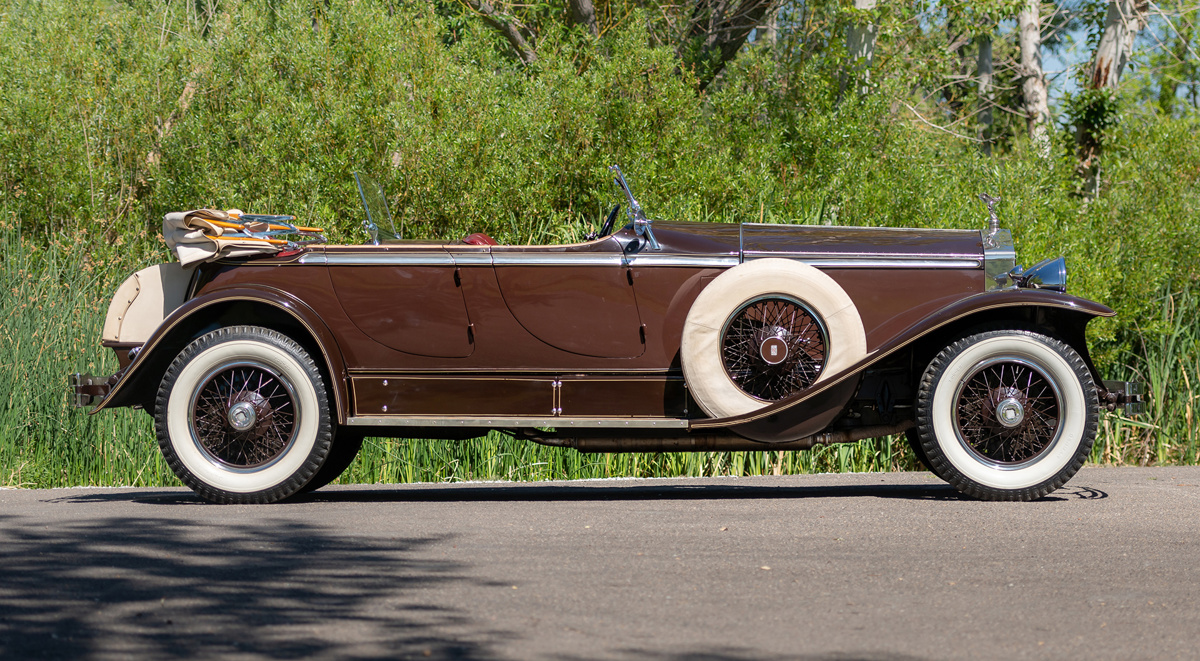 1930 Rolls-Royce Phantom I Derby Tourer by Brewster
Estimate: $425,000 - $525,000 USD
Perhaps the most elegant compromise between European and American conceptions of what makes a classic is an example representing both sides of the Atlantic. Combining the consummate British badge with a body by one of New England's finest coachbuilders, the Springfield, MA-built chassis on this 1930 Rolls-Royce Phantom I wears a body style considered by some marque experts to be "perhaps the handsomest bodies ever put on a Rolls-Royce chassis." Strong words, but coming from Rolls-Royce historian John Webb de Campi, they carry considerable weight. Moreover, this example was the very chassis used to document the Derby style in Campi's essential Rolls-Royce in America—observing how the spectacular cut lines on the doors of this Tourer echo the graceful curve of its flowing fenders, one can easily see why he felt so.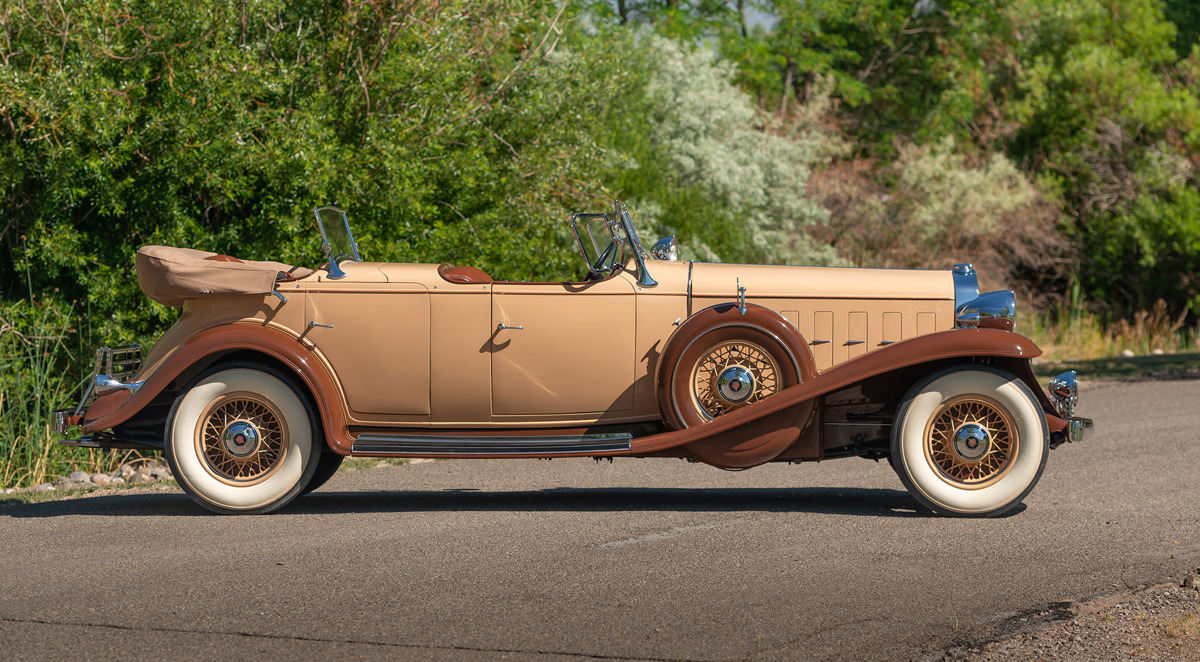 1932 Cadillac V-16 Sport Phaeton by Fisher
Estimate: $1,000,000 - $1,400,000 USD
If the measure of a classic can be determined by its former owners, this sixteen-cylinder Cadillac can claim to have been in the company of greatness. Purchased by Otis Chandler, publisher of the Los Angeles Times and pioneering classic car collector, in 1972, the newspaper magnate used his considerable network to commission an investigation into the rare Sport Phaeton's original owner, who was finally discovered and interviewed in 1974. First owner Francis Lieber was a commercial pilot and admired the engineering involved in Cadillac's flagship powerplant. Lieber was one of a mere 300 purchasers of a V-16 that year—arguably the height of the Great Depression—and one of only one original Sport Phaetons known to have been built. That exclusivity did not keep the aviator from testing the mettle of his sporting classic, at least according to Lieber's 1974 interview: "I raced it at Daytona Beach, in '33 clocked in at 116 mph. Not many cars could handle that kind of speed at the time."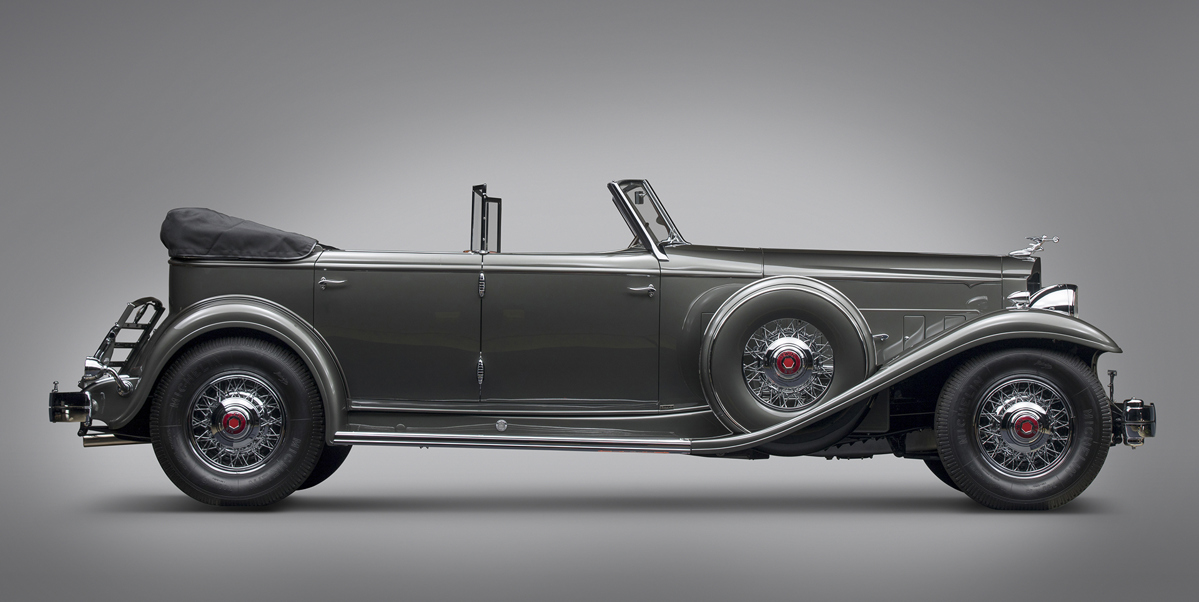 1932 Packard Twin Six Individual Custom Convertible Sedan by Dietrich
Estimate: $1,200,000 - $1,500,000 USD | Offered Without Reserve
The Paul Andrews Estate Collection
We started this piece discussing the ultimate compliment for a classic car: Being judged favorably at Concours d'Elegance events. This Dietrich-bodied, twelve-cylinder, open-air Packard Convertible Sedan was not only invited to show at the Pebble Beach Concours (already an honor), but it won First in Class—twice. With a provenance stretching back to its original owner, black-and-white era film star Al Jolson, the individual features on this top-of-the-line Packard proved sufficient to impress the elite Pebble Beach scrutineers. During its first showing in 1963, wearing a two-tone-blue paint scheme to complement its vogue skirted front fenders, extended hoodline, and vee-shaped front windshield, this rakish Packard was awarded Reserve Best of Show. Forty-nine years later, reflecting the amassed knowledge and experience as well as changing tastes, this Dietrich-bodied custom returned to the field at Pebble Beach, with its original finishes and paint scheme resurrected, and again was awarded First in Class. Twice judged a perfect 100 out of 100 points by the CCCA, this Packard defines classic.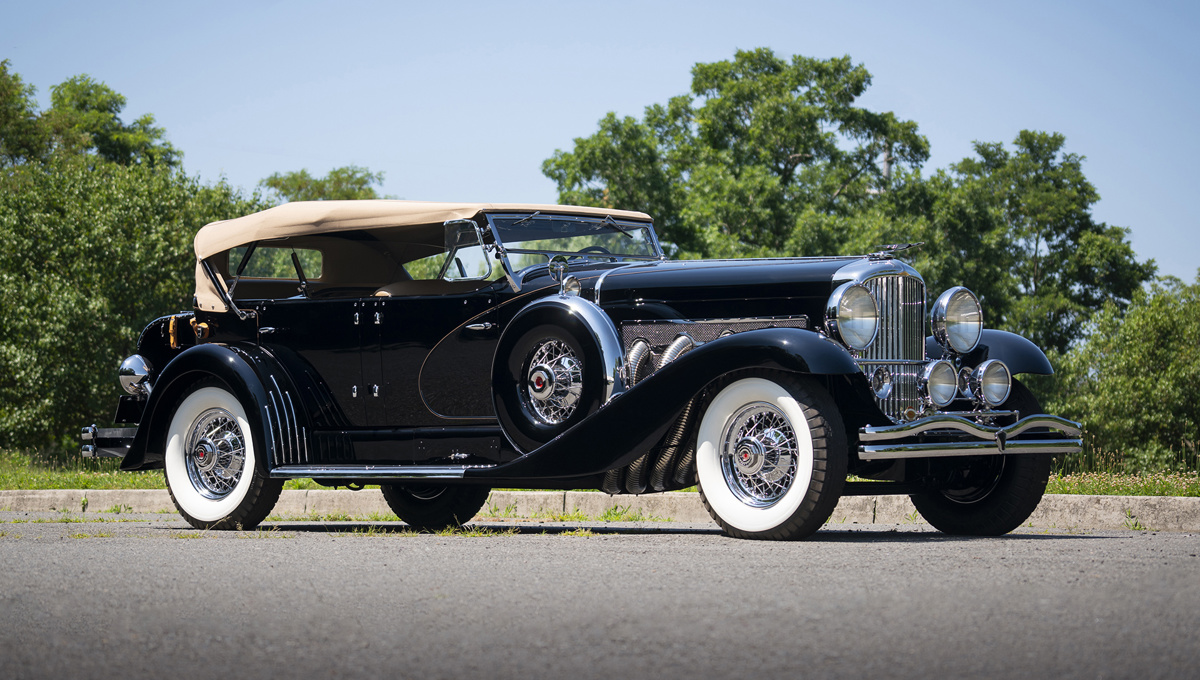 1935 Duesenberg Model J 'Sweep Panel' Dual-Cowl Phaeton by LaGrande
Estimate: $3,000,000 - $4,000,000 USD
Only a car as epic as a LaGrande Duesenberg could properly finish our list of exceptional classics. Known for their elegantly arching "Sweep Panel" styling on its front cowl, and the numerous opportunities for iconic paint schemes that this design detail allows, the LaGrande vision of Duesenberg's most luxurious variant, the Dual-Cowl Phaeton, was executed by notable designer Gordon Buehrig, who also penned the iconic "coffin-nose" Cord 810. This example, with its chrome side exhausts, skirted fenders, and rear-hinged front doors, represents the last LaGrande "Sweep Panel" Dual-Cowl Phaeton ever built. Tasked initially with serving as the factory branch demonstrator for the New York Duesenberg branch, this example has gone on to be shown and awarded at Concours d'Elegance including Meadowbrook in 2004, Amelia Island in 2007, and twice at Pebble Beach in 2002 and 2003, where it won First in Class, a Lion Award, and the Buehrig Memorial Award. From an era when American classics could compete with the best in the world, every car on our list is worthy of your attention.
For more sports-oriented pre-war classics, both European and American in nature, stay tuned to this space in the run up to RM Sotheby's Monterey auction this year.