29 May - 1 June 2019
Auburn Spring
Auburn Auction Park, Auburn, Indiana
A SPRING TRADITION
RM | AUCTIONS
A spring tradition for collector car enthusiasts across the country, RM Auctions' 2019 Auburn Spring sale returns to the historic Auburn Auction Park in Indiana with a new extended four-day sale on 29 May–1 June.
Last years sale resulted in $6 million in total sales with an 84 percent sell-through rate. The RM Auctions brand increased global marketing reach and drew bidders from 16 countries (11 in 2017) and 38 states across the U.S., with one-third of bidders raising their paddles for the first time. Auburn Spring's top sale was the weekend's headline offering, a low-mileage 2006 Ford GT, offered from single ownership since new. Featuring three of four available factory options and showing less than 3,800 actual miles, the GT sold for a final $297,000 to a bidder over the phone (Estimate: $250,000–$300,000, offered without reserve).
This years 2019 Auburn Spring auction, now in its 18th year, will see approximately 400 quality collector cars and a huge selection of automobilia cross the podium during a four-day sale, catering to a variety of automotive tastes and budgets and ranging from American classics to European sports cars, Detroit muscle, hot rods, customs, and modern collectibles. In addition to the auction excitement, Auburn Spring features an onsite Swap Meet and Car Corral, including the AACA Annual Grand National who has paired with the RROC in their first ever joint national meet.
With locations worldwide and offering services in a number of languages, RM has the largest and most experienced team in the industry—and we are the only company that can ensure your consignments are marketed to a truly global audience to achieve the best possible results.
If you're interested in consigning a vehicle to the Auburn Spring sale, please contact one of our knowledgeable Car Specialists, e-mail us, or call us at +1 260 927 9797.
STRAUSS COLLECTION HEADLINES AUBURN
AN AMAZING YEAR FOR MEMORABILIA AHEAD


This year at Auburn, the festivities begin on Wednesday and Thursday with two full days of memorabilia on offer, highlighted by the exceptional collection of the late Bob Strauss. The Strauss Collection is one of the finest signage and neon collections in the country and it's our honor to present it entirely without reserve. Please take note of the following times:
Wednesday: Auction starts at 10AM with over 450 lots of memorabilia
Thursday: Auction starts at 10AM with over 350 lots from the Bob Strauss Collection
Friday and Saturday: each auction day of cars is preceded by over 50 lots of memorabilia.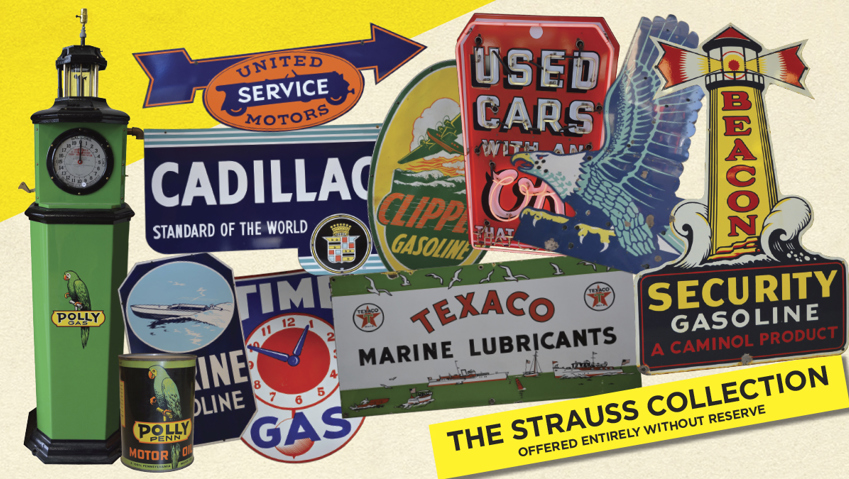 CLICK TO VIEW MAP
(Park Grounds)





FOR MORE INFORMATION ON BECOMING A VENDOR OR CAR CORRAL PLEASE CONTACT THE VENDOR OFFICE
vendors@rmsothebys.com
+1 260 927 9797

RV PARKING FORM
---
The auction is approaching fast, and consignment space is limited. Follow the instructions to the right to consign your car today. The event will attract the top collectors and enthusiasts from around the globe into one room while your car is sold. As market leaders in the collector car industry, you can rest assured that RM Sotheby's will exhaustively research, market, and present your vehicle to the people it needs to reach.
Consign Today
---
Access the knowledge
History is important to us, and we work hard to make sure all lots we offer are fully researched and historically accurate. With this in mind, we make sure to include all corresponding information and accessories, from certificates to tool kits, with the lots we sell. All of this is held at our history library on site, under the Access the Knowledge banner, so please visit us if you require further information on a lot being sold in our auction.
---
5536 County Road 11A
Auburn, Indiana
United States 46706
Conditions of Business
Auction Contact Info
Admission Information




RM Auctions Lic. No. 1800217/Licensed Auctioneer Brent Earlywine #AU 01049489
Sale Produced By
RM Auctions, Inc. d.b.a. RM Auctions
5536 County Road 11A
Auburn
United States (US)
46706
Catalogue
Auburn Spring, 2019